Home Chef
30 Ratings | 18 Reviews
Home Chef is a meal kit subscription that delivers a weekly box of the pre-portioned ingredients needed to make 2-6 meals that feed two, four, or six people. Home Chef advertises easy recipes that can be made in about 30 minutes. They say their ingredients are fresh (though they don't provide a lot of information about their sourcing practices), and they offer vegetarian, gluten-free, and calorie/carb-conscious recipes.
This is a review of my customized plan that includes:
A mix of shellfish and pork options (starting at $9.95 per serving) for two people, with two meals a week ($39.80),
5-minute lunch ($7.99 per serving), 
And a smoothie ($4.95 per serving) for a $65.68 total.
Delivery is free for orders over $45. Shipping is $10 for orders less than $45.
My Subscription Addiction paid for this box. (Check out the review process post to learn more about how we review boxes.)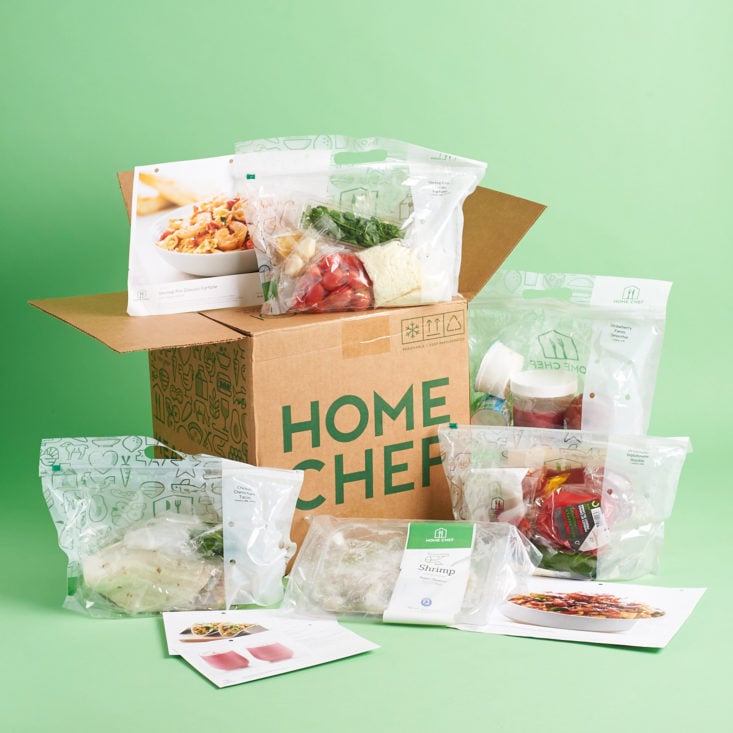 About Home Chef
The Subscription Box: Home Chef
The Cost: Meals start at $9.95 per serving, and delivery is free for orders over $45. Shipping is $10 for orders less than $45.
The Products: Fresh ingredients and chef-designed recipes—everything you need to make restaurant-quality meals at home.
Ships to: 90% of the U.S. (You can check to see if Home Chef delivers to your zip code here.)
Home Chef August 2019 Review
When you first sign up for Home Chef, you take a short quiz about your meal preferences and dietary restrictions. They ask what you like to eat, as well a what you tend to avoid. Based on your answers, Home Chef will choose recipes for you to get each week. As is the case with most meal kit services, you can log in and hand-select the recipes you'd like to receive. Note though, that the more particular you are with your diet, the fewer options you'll have. There are also some "Add-On" items like fruit, smoothies, or quick lunches that you can choose to include in your box.
Let's take a look at what was in our green promo envelope:
There was a promo card for Geico, along with donation materials for St. Jude Children's Hospital and a voucher for Naked Wines. Curious about this frequently-advertised wine subscription? Megan can give you the full report right here.
So, about the packaging situation...
If you've been here before or are already a subscriber to this meal kit, it's business as usual. If you're new here, welcome—and allow me to explain! The box was cushioned and insulated with packaging comprised entirely of recycled water bottles. The whole lining can be placed in a curbside recycling bin, in locations that accept RIC 1 recyclables. How easy is that?
Beneath the insulated flap and top cardboard divider lies all of this month's meals, neatly packaged into individual, recyclable bags with convenient handles and slide-zip closures. Underneath the ingredient bags is another cardboard divider that keeps the meats separated from everything else. And, beneath the cardboard divider is a nest of reusable/recyclable ice packs, which keep the meats and chilled. 
As previously mentioned, every Home Chef meal comes in a plastic bag, except for the meat, and some ingredients that are too large (such as ears of corn). Most things tend to fit, though.
The bags are also labeled with the title of each recipe for clarity. They really thought of everything!
Shrimp Fra Diavolo Farfalle with Cheesy Bread
Calories: 733 per serving
Time to Table, According to Home Chef: 30-40 minutes
Actual Time to Table: 46 minutes
Cook within: 3 days
Difficulty: Intermediate
Spice Level: Mild
One quiet evening several weeks ago, my boyfriend and I had some friendly debate over which recipes to select for this month's review. There were a ton of enticing options, and this was his choice! I was surprised he opted for a pasta dish, as that's usually my schtick.
To get things started, I boiled 4 cups of water, rinsed the produce, and patted everything dry. I also set the oven to 400 degrees. The water was boiling before I knew it, so I tossed in the farfalle to cook for 8 minutes. The recipe card suggested 10 minutes to cook, but I consider myself a master of al dente pasta, and 10 minutes is far too long for most kinds of pasta I regularly enjoy. My noodle intuition served me correctly—8 minutes was the perfect amount. At the 7 minute mark, I carefully reserved 1/4 cup of pasta water and set it aside for later.
As the noodles boiled, I halved the cherry tomatoes (which were so cute and perfectly firm), minced up the two pre-peeled cloves of garlic, and gave the parsley a rough chop after removing the leaves from the stems. I've mentioned this before, but I love when Home Chef includes pre-peeled garlic. It's a simple little convenience that I'd expect from any meal kit, and I find it to be a decent time saver.
Next up, I patted the shrimp dry on both sides with a paper towel, then seasoned them generously with salt and pepper.
Lucky for me, the French roll was already scored, so it was simple to split in half. I drizzled the tops with some olive oil, sprinkled on some of the parmesan, then finished everything off with mozzarella. These baked in the oven on 400 for 7 minutes, followed by another 4 minutes to achieve the irresistible golden brown finish I desired.
In a large, non-stick pan, I heated a little bit of olive oil, then cooked the shrimp undisturbed on one side to achieve a decent sear for 3 minutes. This took me about two batches. I was careful not to overcrowd the pan (as I have a history of doing) to maintain the heat. These newly-pink shrimp were then transferred to a plate.
To that same hot pan, I cooked the minced garlic in some more olive oil for about a minute. Then went in the tomatoes, followed by some salt and pepper for 7 minutes. I smashed down the tomatoes as they cooked to get a pan sauce going. As a tip, I recommend smashing them sliced-side down, so you don't wind up covered in hot tomato guts. I may or may not speak from experience.
A small, unassuming splash of red wine vinegar went into the tomatoes, along with the remaining parmesan, the shrimp, the pasta, and the reserved pasta water. Everything simmered together until the sauce coated the noodles, and until the shrimp reached an internal temperature of 145 degrees. That took about 3-5 minutes.
Lastly, I stirred in the remaining mozzarella, red pepper flakes, and parsley. Parsley is such a magical thing—it elevated the visual appeal of my dish from a 7 to a straight-up 10!
WOW. A dish this beautiful makes me feel like I'm running a high-end restaurant out of my exceedingly modest kitchen! The cheesy bread tasted as good as it looks, the shrimp was tender and delicious, and the sauce was a heavenly blend of juicy tomatoes, salty parmesan, and the perfect amount of kick from the red pepper flakes. The real star of this dish was the splash of red wine vinegar. I know, right? Who'd have thought! It gave everything a slight, yet excellent acidity that really transformed this meal into something special. The only point of feedback I'd relay to Home Chef about this dish is considering using de-veined shrimp. While the shrimp do come peeled and ready to cook, and the veins aren't entirely necessary to remove, it's just a preference of mine. All that said, this dish was an absolute winner—and pretty easy, to boot. I can't wait to make it again.
Prosciutto Ratatouille Risotto with Parmesan and Sun-dried Tomatoes
Calories: 696 per serving
Time to Table, According to Home Chef: 45-55 minutes
Actual Time to Table: 54 minutes
Cook within: 6 days
Difficulty: Expert
Spice Level: Not Spicy
This is my first expert-level Home Chef meal, which I felt very equipped to prepare. In case you aren't familiar with cooking risotto, it is a commitment; a true labor of love, if you will. In theory, 30+ minutes of stirring doesn't seem that difficult, but it requires patience, a strong wrist, and some more patience. I'm not always up for the endless stirring commitment, but this dish had so much visual appeal and so many syllables, I couldn't let it slip by.
Off to the side, I started to boil 4 cups of water. The fresh produce was rinsed and dried, then everything was given a quick chop: shallot, zucchini, red pepper, and all. 
In a large skillet on medium-high heat with just a drizzle of olive oil, I cooked up the prosciutto in batches until it got crispy, about 2 minutes on each side. I wasn't entirely satisfied with how everything cooked through the first time, so while working at the risotto on the other burner, I wound up throwing the prosciutto back into the pan to get it *extra* crispy. From there, I left everything rest on a paper towel-lined plate as the rest of the dish took shape.
When I was ready to get to work on the risotto, I transferred the boiling water to a heat-safe mixing bowl, then drizzled a little bit of olive oil to the bottom of the pot. To this, I added the shallot, sun-dried tomatoes, and arborio rice to get everything warmed up for about 4 minutes, which was about when the rice was totally opaque. Then, I added one cup of the boiling water, followed by the 2 packets of demi-glace. It was at this time, the endless stirring commenced. When just about all the water was absorbed, I'd add another 1/2 cup of water and continue stirring. This went on for about 30 minutes compared to the suggested 18-20—on what planet would that timeframe be feasible for risotto? Or, is my attitude purely the product of having an unreliable stove? Anyway, it took all of the water I boiled to get the rice nice and tender.
In the same pan used for the prosciutto, I added just a touch more oil, followed by my chopped zucchini and red peppers. They were generously seasoned with salt and pepper, and left to cook on medium-high heat while I stirred my life away.
When the rice was no longer crunchy after what felt like 10 years of aimlessly moving a spatula around the pot (it was actually 30 minutes), I tossed in half the Parmesan, the butter round, and my cooked veggies. This was all given a generous stir until incorporated.
To serve, I topped each bowl with the rest of the parmesan and the prosciutto I had broken apart with my hands. What savory goodness! The toppings were a wonderful bomb of salt, while the risotto was creamy, robust, and delicious. The veggies retained an excellent texture despite how long I had them cooking away in the pan. This meal was so decadent and really made our Sunday night feel special. It was good to get a feel for what expert-level Home Chef dishes are like. I didn't find it particularly difficult, just time-consuming! It's probably worth noting that I have many years of home cooking experience, so I wouldn't recommend ordering a dish like this if you've never cooked before in your life. However, if you've clocked some time in your own kitchen and feel satisfactory in your cooking confidence, this could be a fun one to try out. Home Chef makes it darn near impossible to tragically mess up their meals, unless you manage to burn something. All that said, I'm so glad I ordered this risotto.
5 Minute Lunch: Chicken Chimichurri Tacos
Time to Table, According to Home Chef: 5-10 minutes

Actual Time to Table: 9 minutes

Difficulty: Easy
Spice Level: Not Spicy
The 5-minute lunches from Home Chef rule so hard and if you haven't tried them yet as part of your subscription, I highly, highly recommend doing so.
After all of that hype, I am deeply saddened to inform you that this lunch started off on the wrong foot, and I'm likely to blame. The first step, as always, was to wash and dry any fresh produce. I removed a small plastic bag from my ingredients bag to find a slimy wad of arugula, clinging to itself in all its dark, horrible glory. There was no salvaging it. I took it out of the bag, thinking I could perhaps pat it dry with some paper towels, but it was futile. What I should have done was take the arugula out of its bag and store it in a paper towel-lined container upon receipt of the box about five days prior. I won't blame Home Chef for this incident, and will instead assume accountability for my own storage negligence. 
I microwaved the chicken for a minute and a half until warmed through, then tossed it with the chimichurri and sour cream. I've become quite a fan of Home Chef's lunch chicken—it never tastes odd, it heats quickly, and the texture is always good.
Once the chicken was out of the microwave, I quickly replaced it with the tortillas wrapped in a damp paper towel. These were heated through for one minute.
To each taco, I added crispy onions and crumbled cotija cheese. They were so good! Yet another win for the 5-minute lunch team. My boyfriend and I agreed that the omission of the ruined arugula didn't detract from the dish at all. I will say, the portion was on the sparing side, but I had the clever idea to serve these with the smoothie below. Those two things combined made for a filling, fantastic lunch. If not for the smoothie, I could have eaten at like 4 more of those tacos, no questions asked.
Strawberry Fields Smoothie with Pineapple and Yogurt
Calories: 190 per serving
Time to Table, According to Home Chef: 5-10 minutes
Actual Time to Table: 7 minutes
Cook within: 7 days
Difficulty: Easy
Spice Level: Not Spicy
Though I feel slightly less passionately about the Home Chef smoothie add-ons compared to the 5-minute lunches, I still enjoy them!
For prep work, all I had to do test the pear for ripeness (it was perfect), quarter it, then core it.
Everything went into the blender, along with 2 cups of ice. It took my blender a minute or two to effectively break down the pear hunks and all of the ice, but once it started rocking, there was no stopping it. That thing is a beast.
No hyperbole here—this is my favorite smoothie I've received from Home Chef so far! It was a creamy strawberry dream, with just a hint of something special, courtesy of the pear. Plus, the serving size was very generous. So tasty!
Verdict: I've yet to have a Home Chef experience that skews anything less than incredibly positive. Every dish I ordered was spectacular, which more than made up for the one snag I hit with that soggy arugula, and that is likely my fault anyway. My favorite dish this month was the shrimp pasta due to its ease of assembly and its complexity of flavor. I truly appreciate the convenience, the recyclable packaging, and the cost per plate, because although it's not less than making these things from scratch-purchased items at the grocery store, it is considerably less than ordering takeout, which I find myself doing much less these days. Also, I'd easily spend more than the $65.68 box cost on a night out with dinner for two, so having three meals and a little smoothie time with my guy definitely puts that value into further perspective. Another great month for Home Chef!
To Wrap Up:
Can you still get this box if you sign up today? Since Home Chef menus change weekly and you must choose them ahead of time, you won't be able to order these dishes unless they are offered again in the future. Should you notice any of these meals in your offerings sometime down the line, I highly recommend adding any and all to your order!
Value Breakdown: At $65.68 for this box, each dinner was $9.95 per serving, the chicken tacos were $7.99 per serving, and the smoothie was $4.95 per serving (with free shipping). Per Marne's advice, it's always a good idea to get at least one add-on if you're only ordering 2 dinners since it pushes you over the free shipping threshold.
Check out all of our Home Chef reviews and find other meal kit boxes in the Food Subscription Box Directory!
Keep Track of Your Subscriptions: Add this box to your subscription list or wishlist.
Are you loving Home Chef as much as I am?