So Susan Color Curate Subscription Box Review – May 2019
So Susan Color Curate is a monthly makeup subscription service that sends 4 full-size beauty items in a makeup bag. All products are 100% Cruelty-Free, Vegan and Paraben-Free!
This box was sent to us at no cost for review. (Check out the review process post to learn more about how we review boxes.)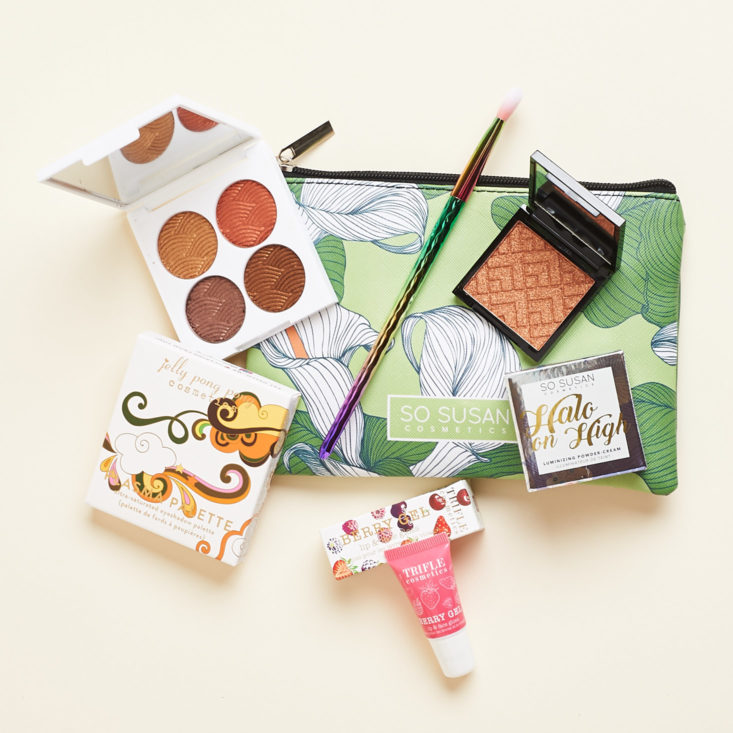 About This Box
The Subscription Box: So Susan Color Curate
The Cost: $20.95 a month + free shipping
The Products:  Four full-sized beauty items + a makeup bag. 100% Cruelty-Free, Vegan and Paraben-Free.
Ships to: This subscription ships to the US only; you can purchase older bags and have them shipped worldwide here. 
May 2019 So Susan Color Curate Review
Included this month is an info card with a list of all of the included products. It looks like this bag has a listed value of $111.50!
Limited-Edition Makeup Bag May 2019  – Retail Value $12.00
This is just a spring dream! I love the calla lilies against the pretty green background. The inside of this water-resistant bag is a cheerful butter yellow.
Trifle Cosmetics Berry Gel Lip & Face Gloss, 7 ml – Retail Value $7.50
I am obsessed with this fruity, shiny, pink tinted gel! It smells like berry candies and is so wonderfully glossy without being sticky. I love the pretty pink glow it gives to my lips. You can also use this formula on your eyelids, cheeks, and collarbones, though I think this would be weird, at least for me and my routine. And I could never waste this wonderful formula by using it anywhere else but my lips. Formulated with sunflower oil and strawberry extract, it is moisturizing as well as pretty. For $7.50, this is probably my favorite new summer gloss.
So Susan Cosmetics Halo On High Cream-To-Powder Luminizer in 'Candles & Kisses', 6 g – Retail Value $25.00
These highlighters have made a few appearances in this sub recently: a single in March and a super similar quad in February. I am a little luminizer'ed out, especially as these shades are always too dark for me to use as an actual highlighter. The shade is a lovely metallic copper, and the formula is super smooth and highly pigmented. I can always use something like this as an eyeshadow, but once we get to the product below you will see why that would be a little redundant!
Jelly Pong Pong Cosmetics Plasma Palette Ultra-Saturated Eyeshadow Palette, 10 g – Retail Value $45.00
This again feels an awful lot like a highlighter from last month's bag. While the eyeshadow last month was a single and this is a quad, it would have been nice to get a different color from a different family. The formula is really great and the pigment is intense. This spongy eyeshadow feels very much like a true cream to powder texture and wears for a really long time. These shades are a little autumnal for my taste (especially for a springtime bag) but they are very versatile and will be easy to wear by a ton of different people.
Top to bottom: Berry Gel, Candles & Kisses highlighter, Plasma Palette Quad
Jelly Pong Pong Cosmetics Diamond Twinkle Shadow Buffing Brush – Retail Value $22.00
Finally, we received a very pretty shadow buffing brush that is coated in metallic rainbow colors. Really nothing not to love here: the brush is springy, dense, wonderful for blending powders, and vegan. I didn't think it worked very well with the cream shadows that also came this month, but it worked well with the luminizer and some of my pressed powder shadows at home.
Verdict: So Susan Color Curate might benefit from some variety. I have seen a few repeats over the last few months and there has been an overabundance of bronze/gold/browns. While the shadows would be wearable for almost anyone, the highlighter is going to be harder for cooler skin tones. I do feel I have to say that if I had not gotten the previous month's bags, I would absolutely love this month's items because they are all solid formulas with tons of pigment payoff. I just have so much of them now! I absolutely adore the lip gel and totally plan on buying more. The shadow brush is of good quality and would make any shadow or brush collector very happy. This month had a value of $111.50, which is (as usual) great for this $21 bag. 
To Wrap Up:
Can you still get this box if you sign up today? Yes! If you sign up in May, the May box will be your first box.
Value Breakdown: At $20.95 for this box (including shipping), here's what you are paying approximately per item:
Makeup Bag $2.25
Lip Gel $1.41
Luminizer $4.70
Eyeshadow Quad $8.46
Eyeshadow Brush $4.13
Alternatively, each of the 5 featured items in the box has an average cost of $4.19.
Check out all of our Color Curate reviews and our other favorite makeup subscriptions!
Keep Track of Your Subscriptions: Add this box to your subscription list or wishlist!
What do you think of this month's So Susan Color Curate subscription?
So Susan Color Curate
How do subscribers rate So Susan Color Curate?
---
Want more So Susan Color Curate? See our:
Never miss a post: get email alerts about So Susan Color Curate!
Enable notifications (

) to get the latest So Susan Color Curate spoilers, reviews, deals, and news delivered to your inbox.