Knit Picks Yarn Subscription Box Review – April 2019
Knit Picks
Knit Picks is an online yarn and knitting supply company that specializes in providing high-quality materials at a reasonable price. They recently launched a line of monthly subscription boxes featuring their products!
The options for boxes are as follows:
This review is of the Skill Builder box, $48.00 per month. This is the box that won your vote last month! Vote in the comments for which box you'd like us to review next!
My Subscription Addiction paid for this box. (Check out the review process post to learn more about how we review boxes.)
About Knit Picks
The Subscription Box: Knit Picks Skill Builder Box 
The Cost: $48.00 a month + free shipping. Save with longer subscription plans.

The Products: a surprise assortment of yarn, patterns, knitting needles and tools, and fun extras

Ships to: US
Knit Picks Skill Builder April 2019 Review
Knit Picks is a fantastic online store for knitters and crocheters, and it's always been one of my favorite places to shop for yarn and tools! They recently launched a line of subscription boxes that feature different products, and the Skill Builder box showcases a different knitting technique or skill that you get to try out each month.
The theme this month is short rows, and the box includes two different projects that feature this technique. Short rows create depth in one area of your knitting (versus across the entire width) and allow you to create more complex shaping. Short rows seem to be a lot more difficult than they actually are, and learning how to do them is a great skill that can be used in a lot of different patterns. Personally, I'm a big fan of German Short Rows, but there are a lot of different variations on how to do this technique out there that you can learn.
One complaint I have about this box is there is no instruction on this technique at all, either in the patterns or separate from them. Since this box, in particular, is designed to teach different knitting skills, I would love to see either an instructional booklet or links to videos showing how to do the techniques featured in the box.
There was a second card in the box that goes into more details on each of the different boxes available. MSA plans to review a different box type from Knit Picks each month, and we are leaving the choice up to you! Please let us know in the comments below which box type you'd like to see reviewed for May!
Now, onto the good stuff – the yarn!
Fer Shawlette Pattern – Retail Value $4.99
The first project is a long, slim shawlette pattern that features a lace border and a garter stitch body (this is where the short rows are). It's long enough to wear draped around your shoulders as a summer wrap, or it can be worn wrapped around your neck as a fun scarf. I love how versatile it is, and I think the colors are gorgeous too. See below to read more of my thoughts on this pattern!
KnitPicks Lindy Chain (5) in colors Ash and Clarity – Retail Value $27.45 ($5.49 per skein)
The yarn for the first project is the same that is featured in the sample shown in the pattern photos. We received dark and light gray to make the shawlette, and my neutral-loving heart is so happy with these colors! The yarn has a subtle shine to it, which I think lends itself well to your finished project being a great accessory to a fancier outfit. I picture wearing this to weddings this summer – it feels that luxe!
This fingering weight yarn is made of 70% linen and 30% Pima cotton. There are 180 yards in each 50-gram skein. The actual strand of yarn is a chainette construction, where small loops are pulled through each other to make a long chain. This construction gives your final knitted fabric a loose, drapey feel and it's very lightweight, due to the amount of air contained in each stitch.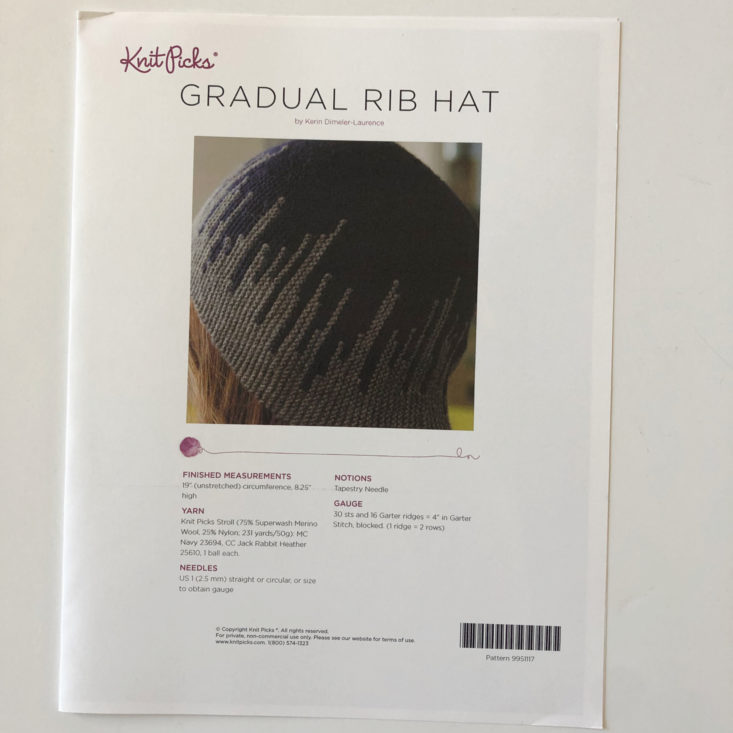 Gradual Rib Hat Pattern – Retail Value $4.99
Similar to the Skill Builder box last month, where one project showcased the technique in a simpler way, and then the second project showcased the technique in a more advanced way, the box this month does the same. The second pattern uses short rows across the brim of a hat to give a staggered two-color design. This looks so intriguing to me! I love the way this could look like so many things, from a city skyline to a row of icicles.
Stroll Sock Yarn in Dove Heather – Retail Value $4.99
Stroll Sock Yarn in Pucker – Retail Value $4.99
The yarn for the hat pattern is also a fingering weight yarn, but it is more of your typical sock yarn construction and made with 75% Superwash Merino wool and 25% nylon. The colors I received were a light heather gray and a bright fuchsia. I think the pop of the hot pink color would look great in the ribbed hat design! The Stroll yarn line is a great workhorse yarn, as it comes in a wide variety of colors and weights. I think this would be an excellent yarn to choose for colorwork designs.
Nickel Plated Fixed Circular Needle, size 1, 2.50mm, 24" – Retail Value $5.49 (found here for $3.84)
Radiant Wood Fixed Circular Needle, size 3, 3.25mm, 24" – Retail Value $7.49 (found here for $5.24)
The box included two fixed circular knitting needles this month – one that corresponded to both of the patterns for this month. I always love getting additional knitting needles, as you can truly never have enough if you are like me and have many works-in-progress going at one time! KnitPicks has great interchangeable circular knitting needle sets, but the smaller sizes (size 3 and under) are too thin to be included in those sets, so I love that they sent us the fixed circular versions for these patterns.
I am a big fan of the KnitPicks Nickel-plated needles, and they are one of my go-to lines of needles. I think they have fantastic glide and they wear very well. I'm less familiar with the wood line of knitting needles (I personally prefer metal ones), but the one in this box is lovely. The wood has a clear glaze that makes the tips feel harder and smoother than other wood needles I've tried.
One of my favorite things about the KnitPicks boxes is the wonderful curation of knitting tools and accessories that they include each month. While it's always great to receive the knitting needles required for the project sent, having the extras for this box be two needles (and nothing else) fell a little bit flat for me. I hope to see more variety in the accessories in future boxes!
Here's the start to my shawl pattern made with the Lindy chain yarn. I'm using the Radiant Wood circular needle to make this, and I've found the needles to be very easy to use. The yarn is a little bit slippery and I found that I really liked that the wood gave me a little bit extra grip on the yarn.
The yarn itself feels very much like a linen yarn, in that it has no stretch and feels a little bit rough when working with it. I typically don't like working with linen because it feels like I'm knitting with string or ribbon, rather than the feeling of knitting with soft wool. However, I love the drape of linen, especially with this particular linen yarn. The chainette construction of the yarn allows for a lot of air within the strand of yarn, so this finished fabric feels so light and airy and drapey. It's absolutely perfect for an elegant shawl, so I can't wait to have this project done!
Here's a close up of the stitches. I will need to block the fabric after I'm done, and the lace will relax and open up more after that. My favorite method of blocking linen is with steam (either with a handheld steamer or the steam setting on an iron), and I'll post an updated photo to this review once the shawl is complete so you can see the difference!
Verdict: I thought this was a good Skill Builder box. I like that the skill focused on was a fun technique and I really liked the inclusion of two projects – you were able to learn how to do short rows with the shawl (where they are a smaller portion of the project), and then take that new skill into a larger project with the hat pattern, where short rows make up the majority of the pattern. I do wish that the box included more instruction on the technique featured, either in a booklet or video links. The inclusions this month were useful, but a little bit boring. I look forward to what KnitPicks sends next!
For $48.00, we received 7 skeins of yarn (350 grams total), two patterns, and two circular knitting needles total retail value of $60.39. KnitPicks advertises the boxes as having a $60 value, so this is spot on with what they promise. If you know you are a fan of Knit Picks products, or you want to try new yarn and knitting items at a great discounted price, I think this box has a great value!
To Wrap Up:
Can you still get this box if you sign up today? If you sign up before June 15th, you will get the May box.
Value Breakdown: At $48.00, here's approximately what you are paying for each item:
Lindy Chain yarn – $21.82

Stroll sock yarn – $7.93

Shawl pattern – $3.97

Hat pattern – $3.97

Nickel plated knitting needle – $4.36

Radiant wood knitting needle – $5.95
Check out all of our Knit Picks reviews and the best arts & crafts subscription boxes of 2019!
Keep Track of Your Subscriptions: Add this box to your subscription list or wishlist!
What did you think of the April 2019 Knit Picks Skill Builder box?
My Subscription Addiction is planning to review each of the box types on a rotating basis, and we are letting YOU choose which one we review next. Leave a comment below on which box you would like to see reviewed next month: the Fan Favorites box, the Skill Builder box, the Sock Yarn box, the Crochet Lover box, or the Sock Labs box! Thank you!
"Whether you're a Knit Picks super fan or just discovered us, you'll love receiving brand new items and best sellers every month. Each box includes Knit Picks products that are sure to become your favorites."
Krista entered the subscription box world through beauty boxes and quickly became hooked on boxes! She loves knitting, crocheting, all things crafty, and her cat! Her favorite boxes are KnitCrate, Allure Beauty Box, and FabFitFun.
Krista entered the subscription box world through beauty boxes and quickly became hooked on boxes! She loves knitting, crocheting, all things crafty, and her cat! Her favorite boxes are KnitCrate, Allure Beauty Box, and FabFitFun.
You Might Also Like
Our reviewers research, test, and recommend the best subscriptions and products independently; click to learn more about our
editorial guidelines
. We may receive commissions on purchases made through links on our site.