JourneeBox
35 Ratings | 30 Reviews
JourneeBox delivers a quarterly lifestyle experience that features designer-produced, sustainably-made fashion, home, body, and culinary goods.  The JourneeBox direct-to-consumer business model — meaning they design and produce all of their goods —keeps costs and environmental impact down. This model guarantees subscribers quality, vetted products made from sustainable materials with that are ethically made.
My Subscription Addiction paid for this box. (Check out the review process post to learn more about how we review boxes.)
About JourneeBox
The Subscription Box: JourneeBox
The Cost:$54.99 per quarter + free US shipping. $49.99 for a pre-paid annual subscription.
Coupon: Use coupon code spring15 to save $15 off your first JourneeBox!
The Products: 6+ sustainably-made or fair-trade items with customizable products focusing on accessories, apparel, home and beauty goods.
Ships to: All 50 United States, Puerto Rico and most parts of Canada. Subscribers in Puerto Rico, Alaska and Hawaii will be charged an $8 shipping fee and subscribers in Canada will have to pay international shipping fees.
Good to Know: You can choose from different styles or "themes" when you sign up for your subscription. This influences the look of certain items you receive in your quarterly box. You can also select individual products in the period before your box ships. We did not choose any specific products in our review below.
JourneyBox Spring 2019 Review
Ever since our first JourneeBox, I have been really excited about the second. This box caused waves by replacing the Sugarbash subscription when that sub vanished with very little notice. I was very impressed with the selection and the message behind the products, but I was hoping for more info about the products and especially the ethical and sustainability details since this was a huge feature of the box. I am SO thrilled that the JourneeBox team provided us with a detail-heavy and over the top informative booklet to accompany all of our products this month. This is a huge win in my book! This book really was the missing piece for this sub and I loved pouring over all of the details of each item and where it came from. I also enjoyed reading more about Kevia herself, her background, and her vision for her brand and this box.
Charcoal Mask - Retail Value $32.00
If you read any of my reviews, you know I don't do clay masks because I have dry skin. This one is pretty heavy in terms of kaolin but I decided to try it anyway because I have recently had a bad breakout and I always try to objectively try most things I receive here at MSA. This stuff feels so smooth and rich and is so much more glossy than other masks I have tried. It smells very creamy and earthy, and was jet black, even with a thinner coat. This is not a peel-off mask, but rather one you wash away after 15 or so minutes. I was impressed that my skin did not feel even a little bit stripped but felt a little bit moisturized! I am guessing this is because this mask also has large doses of shea and aloe. My skin was also much less red after using this, which I have found is typical for me after using anything with dead sea mud. While I can't see myself using this all the time, it might be a good once a week skin treat.
Gwen Duffel - Retail Value $109.00
This bag is huge! Like perfect weekender or carry on size. I could easily fit a few outfits, my makeup bag, and a pair of shoes in here with no trouble. (The booklet lists it as being 18 inches wide and 7 inches deep.) Made of vegan leather and organic cotton canvas, it is heavy duty enough to last quite a while without being heavy. Since the cotton is a cream color, I plan on waxing mine so it doesn't get dirty and gross. It features two roomy front pockets for smaller essentials and an adjustable shoulder strap in a shiny seatbelt like brown material.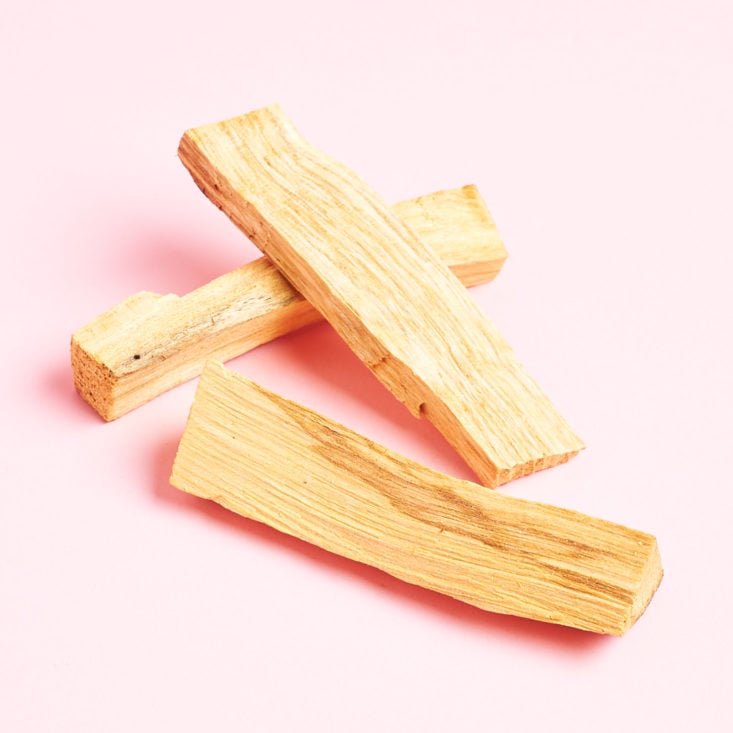 Palo Santo - Retail Value $11.00
I absolutely love Palo Santo, but I recently read that (sadly) this wood is quickly becoming commercially trendy, meaning it is on the fast track to endangered simply because of a spike in demand. If you decide to purchase Palo Santo, this is absolutely something to be very mindful of, especially since this holy wood (the name literally translates to holy wood) is sacred in some cultures. From Well + Good:
"Palo santo, which is scientifically known as Gonopterodendron sarmientoi (or Bulnesia sarmientoi) is used medicinally by locals throughout its native range in the Gran Chaco boreal region, which primarily spans Argentina, Paraguay, Bolivia and parts of Brazil," Oakes tells me. "The tree has recently been added to Convention on International Trade in Endangered Species (CITES) Appendix II, which includes species that aren't necessarily threatened with extinction, but due to a certain level of popularity in international trade, must be controlled in order to prevent becoming threatened, endangered or extinct."
I know the inclusion of this item was of some concern to our readers when it was announced in our spoiler post, so I am thrilled that Kevia proudly sources hers from a supplier that firmly follows the National Forestry and Wildlife Service of Peru's guidelines. They also partner closely with the communities closely linked to these trees to improve the lives of the people responsible for the care of these incredibly special and sacred trees. Palo Santo actually takes 4-10 years to mature and develop that intoxicating scent, and then even more time to dry and develop after the precious branches fall from the trees.
I love burning Palo Santo when I am just feeling like the world is slipping out from under me. In addition to smelling like a giant earth hug, it is also incredibly grounding. As with any sacred ritual plant, burn this special wood with intention and respect and please take the time to research your sources to make sure this gift is available years and years from now.
Glass Tea Infuser - Retail Value $23.00
Yes! This is the sort of item that makes a tea addict very happy indeed! Though this three-piece tea infuser set feels impossibly delicate, it is made out of very strong, hand-blown borosilicate glass. This piece was included as a partner to the special teas below, but you can also use it with any loose leaf tea because the inner straining piece has very tiny slits to allow water to meet your tea without the tea itself escaping into the main vessel. It also includes a lid to cover your brewing tea and then set the strainer in after your brewing is complete. I love this item so much it has yet to leave the office, as watching the beautiful way tea brews at my desk is so relaxing and beautiful.
Blooming Tea - Retail Value $14.00
These blooming tea orbs feel so special! Each is a blend of black tea with either roses, peonies, or chrysanthemums. The tea itself is very mild yet energizing, and I enjoyed it without the addition of cream or sugar, though you could easily add either. Wait to add any cream until after brewing so you don't miss the blooming flower show in your mug! You can resteep this tea at least one more after you drain your first cup. Of course, these magical teas are fair trade and in compliance with IMO Switzerland Organic regulations, and Rain Forest Alliance certifications, which means you can enjoy them for being even more beautiful!
It is like art, right?
Stationery Set - Retail Value $16.00
I really like these moody navy and gold cards. There are a few different designs happening in this set and they seem to take their inspiration from natural lines and botanical patterns Made with soy ink and recycled paper, you have a total of 5 different designs to send love notes to your closest friends and family. I love the handsome navy envelopes and the gold dragonfly sealing stickers.
Annual Subscriber Item: Daily Stud Set - Retail Value $48.00
Finally, we have this really sweet little stud set in a lovely box. This set of 5 different styles is included in all annual subscriber boxes. I like that annual subscribers get a little bonus item and I think it is totally fair to include something like this for someone who has committed to this subscription long-term. These are all 18K gold plated and are allergen and nickel free. I have slightly metal sensitive ears (getting worse as I age) so I am thrilled with these as they don't upset my lobes! Though these are all smaller studs, they have a ton of variety and are fun to mix and match if you have multiple piercings in the same ear.
Verdict: I am SO impressed with JourneeBox. I knew I would probably end up loving this box from my first review, but truly the inclusion of the info booklet was the icing on the cake this time. It is one thing to brag about being an eco-conscious box and quite another to back up those claims with actual information. In addition to those good feels, the items are great! There wasn't a single thing I didn't love and each felt special and totally useful in my everyday life. While it would be nearly impossible to select a favorite item, I would have to choose either the tea mug/infuser or the Palo Santo wood. I also just really adored everything, so don't make me rank the rest! If you value ethically sourced and environmentally sensitive items, this will be a winner for you. You can really feel the heart behind the curation, and I can't wait until next quarter. The overall value of this box is around $253, which is great for a $54.99 box. Keep it up Kevia and team!
To Wrap Up:
Can I still get this box if I sign up today? Yes, as of publication, you can choose the Spring Box!
Coupon: Use coupon code spring15 to save $15 off your first JourneeBox!
Value Breakdown: This box costs $54.99 + free shipping, which means that you are paying approximately the following per item:
Charcoal Mask $6.96
Gwen Duffel $23.69
Palo Santo $2.39
Tea Infuser $5.00
Blooming Tes $3.04
Stationery Set $3.48
Stud Set $10.43
Alternatively, each of the 7 items in the box has an average cost of $7.86.
Keep Track of Your Subscriptions: Add this box to your subscription list or wishlist!
What did you think of the new JourneeBox?