Tribe Beauty Box Subscription Review – April 2019
Tribe Beauty Box is a bi-monthly beauty subscription box that sends you 4-5 full or deluxe size products in each box: 1 face product, 1 tool, 1 eye product, 1 lip product and/or 1 skin prep product. This box caters to makeup artists or anyone who wants to build their makeup collection.
The packaging is so nice and everything is designed to look good together.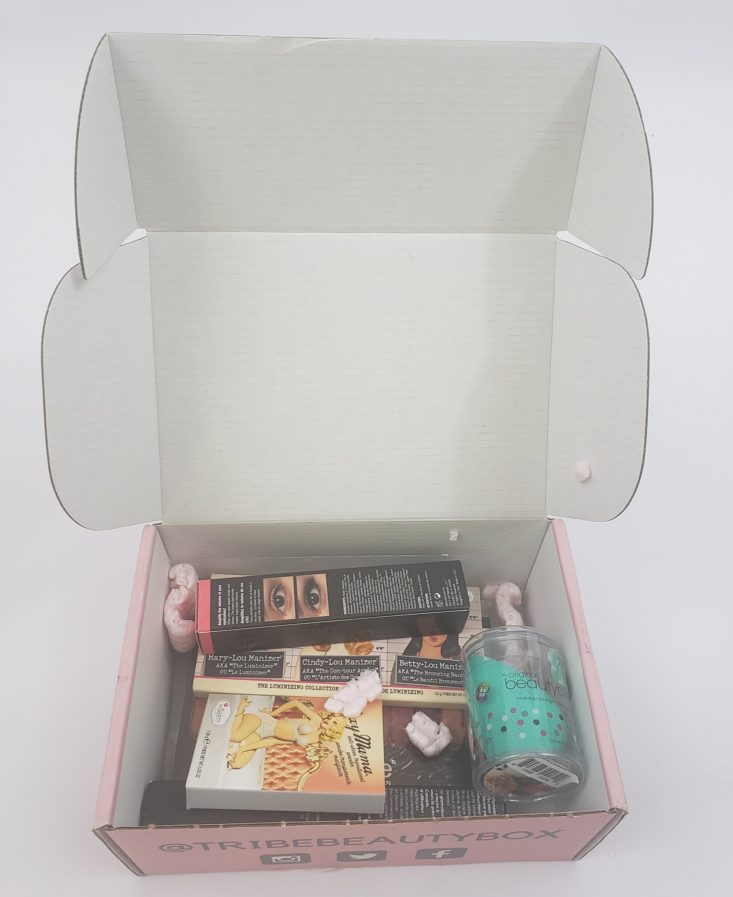 This box was sent to us at no cost for review. (Check out the review process post to learn more about how we review boxes.)
About Tribe Beauty Box
The Subscription Box: Tribe Beauty Box
The Cost: $34.99 a box + shipping (bi-monthly)
The Products: 4-5 full or deluxe size makeup products from beloved and up-and-coming brands. Each box will have a value of at least $100.
Good to Know: Tribe Beauty Box has a members-only Facebook page where members can share their tips for the products.
Ships to: The US for $7, Canada for $6 and the UK for $18. International shipping costs vary.
Tribe Beauty Box April 2019 Review
My box came with a card that introduces the products, lists the value and gives a description and instructions to use the products received in my box. This month the card introduces 5 products but my box has 6, so I guess there is a bonus item!
Just Chill Beauty Blender – Retail Value $19.00, Listed Value $20.00
When it comes to makeup, I do my best not to take the cheaper for convenience route as experience has shown convenience isn't always best for my skin. But when it comes to some of my beauty tools, sometimes cheaper is easier. I have never splurged for a Beauty Blender sponge and have used the Ulta brand many times, so I was pretty excited to get this in my first Tribe Beauty Box. My current sponge has had it and it is time to throw it out.
The Beauty Blender came in a nice plastic tube and with simple instructions.
I love the color of this Beauty Blender in bright turquoise. I use sponges specifically for blending. I do not put my foundation directly on any sponge because my foundation doesn't spread well and it really ends up soaking into the sponge – which isn't surprising considering the sponge is, well, a sponge. I start with putting a pump of foundation on my hand and use a foundation brush, which resembles a paintbrush, and spread the foundation. I then take my sponge to blend it in and my foundation always looks flawless.
Bellapierre 12 Color Pro Lip Pallette – Retail Value $50.00 (found here for $29.00), Listed Value $50.00
When we released the spoilers for this box showing this item, I was pretty stoked. Lipstick is my favorite makeup product and I am kind of a lipstick hoarder. I love trying all shades, purples and greens, nudes and pinks and especially love reds. When I do my makeup, it all centers around the shade my lips will be. One of my favorite products is my Vice Lipstick palette which is gorgeous, so I had high hopes for this.
The packaging showed the colors from pink nudes to pink, oranges, some purple and dark nudes. The back even showed them on lips and they look awesome! The back also shows an image of the brush which looks great – I loved the lip tool in my UD lip palette, so I was so psyched to have another one.
I slid the palette out of the sleeve and was presented with a sleek black palette with the colors on the front and back. Cue shimmy shoulders and pure joy.
Then this happened. The entire palette slipped right out like one of those water snake toys that just slip out of your hand when you play with it.
The lip palette came unglued from the base of the cover and just fell to the ground. While I am a crafter and own a couple of hot glue guns, I don't want to put this back together. It is obviously not made very well and felt cheap in my hands. Even the amount of glue used to hold this together is just ridiculous.
When I went to pick up the brush, I couldn't help but let out an "ugh." It resembles a paintbrush included in the watercolor paint palette's I buy the kids for school supplies. The end is even bent just like them! At this point, I am so over this palette and cannot even fathom its $50 price tag. The only thing that could fix everything would be highly pigmented and long-lasting formula in the lip colors.
The colors are really pretty, though! The palette has 12 total: envy, catwalk, la diva, mandarina, bellalicious, vava voom!, ruby, cherry pop, burlesque, couture, fierce and luminous. I love them all!
I took my brush and gently went to test drive the colors and then has hit with another disappointment. The formula was almost melted and what I thought was a gentle dive was obviously a bit aggressive. Instead of a little bit of product, I got an entire scoop.
Here are the swatched colors in palette order. From top to bottom: envy, catwalk, la diva, mandarina, bellaicious, vava voom!, ruby, cherry pop, burlesque, couture, fierce and luminous. All the colors are highly pigmented and really nice, so I am not as bitter. And they really are soft on my lips making it hard to remember that I am wearing a bright color and not just a moisturizing chapstick.
Here they are again after "blotting" them, to give the appearance of some wear. While I was not, and am not, totally pleased with the palette and brush, I like the colors. The formula is soft and it is definitely not long lasting. After eating, drinking and normal wear, the color came off rather quickly. It's not like I can just stick this is my purse though for reapplication, especially since it isn't secure and I am afraid any sort of heat will cause them to melt. For me, this palette is a total disappointment.
TheBalm: Sexy Mama Anti-Shine Translucent Powder – Retail Value $20.00 (found here for $11.99)
I love this packaging and a good anti-shine powder, so I was definitely excited to try and receive this product.
The product was secured in a sliding jacket type packaging and slid right out.
It has a mirror in case you need to apply on the go and has a bit of a shimmer to it. When I tried to swatch on my wrist, it really faded in (it is translucent!) so this was the best I can do to really show what it looked like. This product blended so well and really did help resolve the shine my foundation left. My skin looked completely natural, I love it.
TheBalm: Manizer Sisters "The Luminizers" – Retail Value $28.00
After loving the powder by the same brand, I was pretty stoked to try this palette.
The colors are exactly what I have been needing – a light shimmer and nothing too bold. When I opened this up, I really just fell for the shades I received.
When I swatched them, I knew immediately that this is probably my favorite thing in this box as far as product goes (still pretty excited I have a Beauty Blender now!). The colors are soft and shimmery and just really go together so well.
I know its hard to see, but here they are blended in. It gives a really nice shimmery, sun-kissed look. I love natural looking makeup, so this is a definite win for me.
Rodial: Glambrow in Dark Ash Brown – Retail Value $26.00
Yes! I love to explore new products, but there aren't very many brow ones that I love. I have a beloved brand that I use daily, so I was optimistic about this one. Eyebrow pencils are a godsend for me, especially since I don't have as much time as I wish I did to keep these brows waxed and perfect. A good brow tool helps me blend in and tame them to appear to be looked well maintained.
The brush is dual ended, one side has an ultra-fine retractable tip for filling in brows. The other side is bristled for brushing and shaping. The name of the color is spot on – a dark ashy brown and is perfect for my dark brows. It was rather easy to use, too. First, I brushed using the bristled side, then I filled in my brows using upward strokes. To finish it off, I brushed again with the bristled side.
Sistar Lash Boom Mascara – Retail Value $7.99
The final item in my box is this bonus mascara! The tube has a fun shape and boasts of a volumizing formula that should make my lashes bold! It took three coats to get a good, full look without clumping. While it isn't my favorite mascara, it still gets the job done.
Here is my completed look. I used every product in my box, using the Beauty Blender to blend my foundation, all three luminizors, the translucent powder, mascara, brow pencil and the lip color in mandarina.
Verdict: This box has a retail value of $150.99 (less with sale prices), including the mascara which is almost triple the $41.99 box cost ($34.99 plus $7 shipping). While the lip palette "hero" item was a total loss, all the other items really made up for it. I appreciate that I got products from different categories too: eye, lip, face. And I really loved getting such an expensive makeup tool – the Beauty Blender. If I had to choose a favorite item from this box, it would be the Beauty Blender, since it is something I have always wanted and never could bring myself to buy.
To Wrap Up:
Can you still get this box if you sign up today? No, this box is now sold out, but join the June waitlist here.
Value Breakdown: At $41.99 for this box, including shipping, here's what you are paying approximately per item:
Beauty Blender – $5.28
Lip Pallette – $13.90
Translucent Powder – $5.56
Luminizers – $7.79
Glamobrow – $7.23
Mascara – $2.22
Check out all of our Tribe Beauty Box reviews and the best beauty and makeup subscription boxes of 2019!
Keep Track of Your Subscriptions: Add this box to your subscription list or wishlist!
What do you think of the April Tribe Beauty Box?
Tribe Beauty Box
How do subscribers rate Tribe Beauty Box?
---
Want more Tribe Beauty Box? See our:
Never miss a post: get email alerts about Tribe Beauty Box!
Enable notifications (

) to get the latest Tribe Beauty Box spoilers, reviews, deals, and news delivered to your inbox.