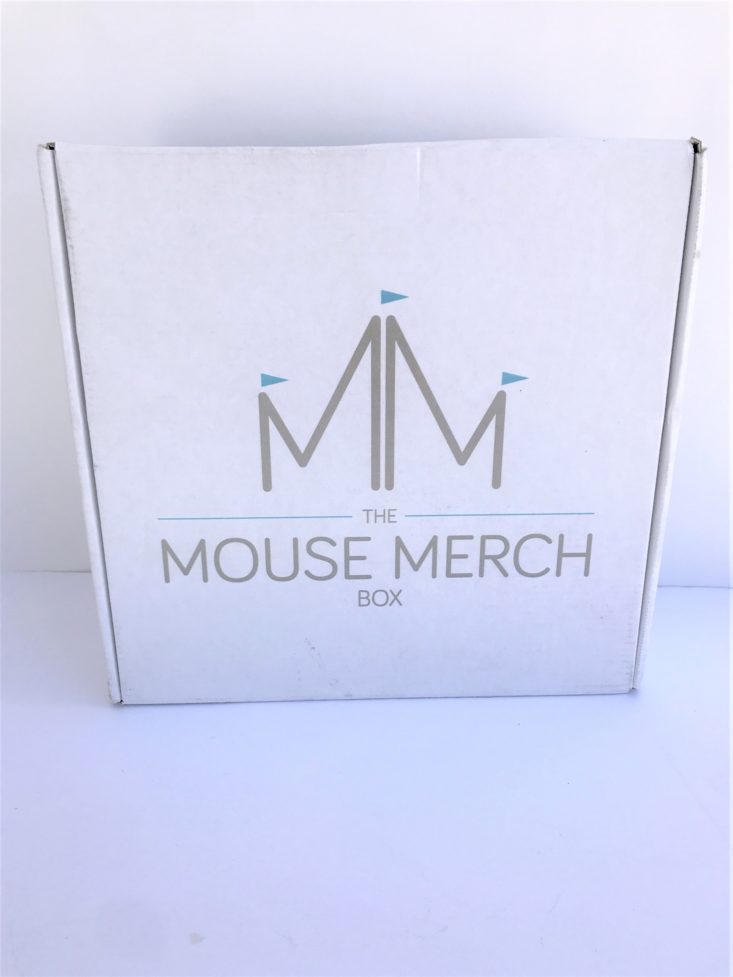 The Mouse Merch Box
8 Ratings | 8 Reviews
The Mouse Merch Box is a Disney subscription geared towards women. Each quarter, customers will get 3-4 Disney-licensed products such as headbands, bracelets, shirts, and bags. Items range in size from XS to XL. It is a great subscription for Disney obsessed gals!
The Mouse Merch Box is available as a subscription or a one time purchase. They also feature fun Disney products in their online store!
This box was sent to us at no cost for review. (Check out the review process post to learn more about how we review boxes).
About The Mouse Merch Box Subscription
The Subscription Box: The Mouse Merch Box
The Cost: $59.50 a quarter + $8.00 shipping (a one-time purchase can be made for $70.00 + $8.00 shipping)
The Products: Specially curated Disney Licensed accessories geared toward women. Items may include headbands, bracelets, shirts, bags, hats, or other accessories Items range in size from XS to XL.
Ships to: Worldwide
The Mouse Merch Box Spring 2019 Review
Danielle Nicole Handbags Daisy Cosmetic Bag - Retail Value $24.00, Listed Value $36.00
The first item I pulled out of the box was this adorable Danielle Nicole Daisy Duck cosmetic bag. It is light pink polyurethane with silver glitter and measures 8.5" W X 5" H X 3.5 D." The silver zipper has "Danielle Nicole" embossed on the pull, glides smoothly and seems high quality. I LOVE Daisy's big glittery bow, but I did notice some glitter fall out.
The back of the bag also features the "Danielle Nicole" logo embossed on it.
The inside of the bag also contains a tag. It is sewn with perfect stitching and has "Disney" and "Danielle Nicole" written on it.
The lining of this bag is black polyester with "DN" printed in matte black lettering.
Dumbo Bracelet Set - Retail Value $24.00, Listed Value $40
The next package I opened was this awesome set of Dumbo bracelets. This was an exciting piece since the new version of Dumbo is coming out at the end of the month! These bracelets are beautiful and I wore them right away!
The white bracelet features white and grey mottled beads with a gold feather charm. I have a large wrist and I can fit 2 fingers in between the bracelet and my wrist without stretching the cord.
The next bracelet is gold with red "D" emblems on either side. This bracelet also features a little gold Dumbo charm that slides from side to side. This bracelet is adjustable and fits my wrist great. This bracelet is one of my favorites!
The third bracelet is made out of blue suede with gold rhombus shaped beads in the middle. It has a large Dumbo charm that can slide from side to side. This bracelet has a toggle clasp which has a really large opening. I wore it all day today but was a little worried it might fall off.
Isn't this bracelet beautiful? Honestly, I have never seen a bracelet like it. It is gold with red triangles which looks like it is straight from the circus but in a classy, sophisticated way. "Disney Dumbo" is also printed on the front in black, and it has 2 red tassels and gold chains for closure. While this bracelet is beautiful, while I was gently pulling the chains to close, both sides broke. I was able to fix it, but be cautious when putting this one on!
Aren't they fun on all together?!
Mickey Exhibition Sparkle Ears - Listed Value $35
The last item in the box was this heavy duty set of Minnie Mouse sparkle ears. I have to say these are the prettiest ears I have ever seen! They are made of metal and have turquoise, light pink, yellow, and silver glitter floating in each ear. It also has a heavy duty bow featuring the same colors. This headband has metal picks to stick in your hair to hold it on. I put this on with my hair down, and it is honestly so heavy it wouldn't stay on my head. I will have to try it with my hair teased up and see if it holds better.
I was unable to find this item for purchase online, so the value is based on what's listed here.
Verdict: This was a really fun box of Disney items to receive! If you are looking for high-quality Disney items, you have come to the right place! The Dumbo bracelets are my absolute favorite item, but I also love the Daisy cosmetic bag. The ears are super fun but not that practical for me - maybe I can talk my son into having a Mickey Mouse themed birthday party so I can use them!
This box costs $59.50 + $8.00 shipping per quarter, totaling $67.50. Using a combination of retails prices and The Merch Mouse Box listed values, you are getting $83 worth of items ($111 listed value on their website). This sounds like a good value, but I found 2 out of the 3 items through other retailers for much cheaper, making me wish there were more items in a box this expensive.
To Wrap Up:
Can you still get this box if you sign up today? Yes, this is the Spring edition of the box, and as of publication, it is still available for purchase as a subscription or a one-time box.
Value Breakdown: This box costs $59.50 + $8.00 shipping, which means that each of the 3 items in the box has an average cost of $22.50.
Check out the best women's subscription boxes for 2019!
Keep Track of Your Subscriptions: Add this box to your subscription list or wishlist!
What did you think of The Mouse Merch Box? Where would you wear these ears?!