SnackSack
4 Ratings | 0 Reviews
SnackSack is a monthly snack subscription box that focuses on natural, better-for-you snacks. Each month you receive snacks that are either USDA organic, non-GMO project verified, certified vegan, fair-trade, or gluten-free.
SnackSack delivers good-for-you snacks from great companies making delicious, creative, and healthier snack foods. There are three box options: Classic, Vegan, and Gluten-Free.
This review is of the Gluten-Free, $24.95 a month, box.
This box was sent to us at no cost for review. (Check out the review process post to learn more about how we review boxes.)
About SnackSack
The Subscription Box: SnackSack
The Cost: Classic: $22.95 a month, Vegan: $24.95 a month, Gluten-Free: $24.95 a month
LIMITED TIME DEAL: Use code SMART20 to save 20% off your first box!
The Products: Each box contains 12 healthy junk-free snacks
Ships to: Free to the US, $9.99 flat rate to Canada
SnackSack Gluten-Free February 2019 Review
SnackSack sends a pamphlet pictured above every month that contains an abundance of information including social media handles, a menu for their three box options and some promotions to win snacks and prizes.
Every first-time subscriber receives a reusable tote, which is meant to hold all your snacks.
Now onto the goodies! I have to preface this review by saying that I am in no way "gluten-free," so this should be an interesting experience for all of us!
Surf Sweets Fruity Snack Goodness, .5oz - Buy a 2.75oz bag for $2.59 (found here for $2.15)
This brand shows up a lot in SnackSacks, and I am always amazed at the number of calories and sugar in their products. This sample of 6 gummies is 45 calories and has 8 grams of sugar, which is probably the healthiest I've seen from them! They were tasty, but I always feel a little guilty eating them, knowing what I know, haha.
Watusee Foods Zesty Ranch Chickpeatos, 8oz - Buy a 4oz bag for $3.79 (found here for $2.77)
Best new find this month! Puffs are my very favorite of savory snack categories, and these are just bursting with ranch flavor. I love the crunch in every bite, and this bag has 100 calories, 3 grams of protein and fiber. Not bad!
Popchips Sea Salt Chips, .8oz – Buy a 5oz bag for $3.49
Popchips make some of my favorite snacks, and I actually sampled these before thanks to December's Classic box. Although the flavor of this bag is just sea salt, it is packed with savory, salty goodness. I would choose these over any plain chip found at the grocery store, and this bag is only 100 calories.
Real Food Cherry Cashew Bar, 2.18oz - Buy a box of 12 for $35.99 (found here for $34.99)
I was stoked to try this bar because cherry cashew sounds like a match made in heaven, but this bar didn't taste like either cherry or cashew. This has your typical protein bar taste, and I didn't like it. The consistency is odd, too; it has a chewy center, but the outside of it is crisp. The entire bar has 240 calories and 10 grams of protein and sugar, so I don't feel like I am missing out on much.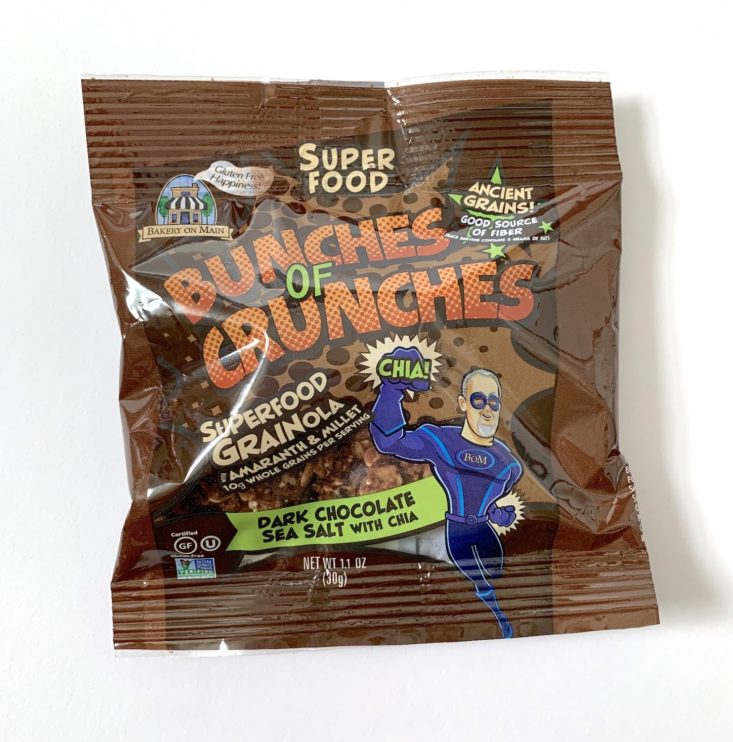 Bakery On Main Extreme Grainola, 1.1oz - Buy an 11oz bag for $7.19 (found here for $5.83)
Grainola is a great word, first of all, and this particular grainola tastes great! The chia seeds and chocolate oats give this a great crunch, and the chocolate chips tiptoe the line between a delicious snack and dessert. Yum!
Skout Backcountry Roasted Pumpkin Seeds, 1.1oz - Buy a sleeve of 6 2.2oz packs for $23.95
I am SO HAPPY that SnackSack sent out a Salt and Vinegar flavored snack! Skout's pumpkin seeds are black, which I wasn't expecting (but are aesthetically pleasing), and the salt and vinegar taste is mild and delish! Each bag contains 10 grams of protein, and these pumpkin seeds are an antioxidant powerhouse high in zinc, magnesium and omega 3 making them a perfectly healthy snack.
Hubs Peanuts Power Peanut Pack, 1oz – Buy a box of 20 for $22.95
I also sampled this snack in December's Classic box, but I am happy to revisit such a classic treat. Super salty, giant peanuts like these from Hubs are such an underrated snack. This 0 sugar snack is a good source of protein and is a perfect follow-up to a rich dessert.
The Gluten Free Bar Twin Bites, .85oz - Buy a 4oz bag for $5.14 (found here for $4.88)
Even though I am nowhere near gluten-free, I enjoyed this healthy treat. The coconut and dark chocolate mixture is unbeatable! The wholesome bites have 180 calories collectively, and even though I feel that is quite high for two bite-sized almost-truffles, they quenched my sweet tooth, so I'll let it slide.
Buckwhat! Snacks Buckwheat Super Snacks, 2oz - Buy a 6 pack for $22.50
This combo of oatmeal, buckwheat, sweet dates, chewy raisins and a hint of cinnamon did not do it for me. This has that classic health food taste that I can't get past. I will say that if not for the taste, I really would have enjoyed the delightfully chewy texture in any other cookie.
NTH Degree Snacks Ancient Grains Bar, 1.2oz - Buy a box of 8 for $15.99
Ooof I bit into this superfood bar, and I am having regrets. It tastes like dirt. Literal dirt. This snack is made up of popped amaranth, honey, pumpkin seeds, and pea protein crisps, and for a "powerhouse of protein" I'd expect more than 5 grams.
Nature's Bakery Gluten Free Raspberry Fig Bar, 2oz - Retail Value $1.49
Nature's Bakery makes the very best fig bars, and I've always been curious how the gluten-free sizes up to the original. Well, I have to say the raspberry is more flavorful and tart, and the grain part is sticky. It turns out I love both versions for different reasons, win-win!
Hippeas Vegan White Cheddar Puffs, 1oz - Buy a box of 12 here for $19.99
Two bags of puffs in a box is a major win for me! These delicious puffs are vegan cheddar flavored and have a magnificent crunch to them. This snack bag has 130 calories and 4 grams of protein, which is a pretty solid snack I don't feel guilty about indulging.
The Verdict: This is my first Gluten Free SnackSack, and it really wasn't bad! For someone who enjoys a mild amount of gluten in her life, I didn't feel like I was missing out on anything when eating these snacks, although there were a few that I didn't love in this box. I love SnackSack's curation every month, between sweet, savory and salty, SnackSack never fails to tick every box.

To Wrap Up:
Can I get this box if I sign up today? No, you'll receive the March box. Be sure to sign up by the 18th of the month to get the current month's box.
LIMITED TIME DEAL: Use code SMART20 to save 20% off your first box!
Value Breakdown: This box costs $24.95 + free shipping, which means that each of the 12 items in the box has an average cost of $2.08.
Check out all of our SnackSack reviews and the Food Subscription Box Directory to discover other snack subscription boxes.
Keep Track of Your Subscriptions: Add this box to your subscription list or wishlist!
Have you tried the SnackSack Gluten-Free box yet?