Yuzen
42 Ratings | 12 Reviews
Yuzen is one of the original eco subscription boxes. It's a mix of spa, beauty, and the occasional food item, and everything is made with natural ingredients.
FYI: Yuzen Box subscriptions are sadly ending. This will be their final monthly box, though there will still be boxes up for sale individually in their shop. Find more info about this news here!
This box was sent to us for review purposes. (Check out the review process post to learn more about how we review boxes).
The packaging is gorgeous, and all items arrive in a bag:
About Yuzen
The Subscription Box: Yuzen
The Cost: $35
The Products: Eco-friendly products to nourish the body and soul.
Ships to: US only
Yuzen Winter Beauty Box Review
Yuzen always includes a little pamphlet with a note from the curators and a guide to what we will find inside the box this month.
I certainly appreciate the details they include about each product and the reasons why they chose it.
Let's dive in!
Algenist Complete Eye Renewal Balm, 0.23 fl oz - Estimated Value $26.97 (Buy Full Size 0.58 fl oz here for $68.00)
Although this little container may feel small, it is about half the size of the full size, so its a generous sample. The balm inside is more of a cream in my opinion, but a little goes a very long way! It is light and spreads easily, which is perfect for that super sensitive skin around your eyes.  I like my eye creams applied before bed right after I tone and before I moisturize. The balm was super hydrating and interacted with my other products well. This formula is super packed with all my favorite skincare ingredients (hello green tea and caffeine!) so I am excited to try this out for the next week or so and see what happens.
Andalou Apricot Probiotic Cleansing Milk, 1.7 fl oz - Retail Value $2.99
This smells very much of apricots and a little of yogurt, but that might be because it is super milky looking and I read the word probiotics. My mind is playing tricks on me! This wasn't my favorite cleanser as it didn't remove all my makeup and my skin felt fine but nothing amazing after washing it off. It is a very generous size and would make an awesome travel size for any trip where you want a natural facewash option at a very good price!
Body Bliss Chai Spice & Vanilla Virgin Coconut Massage Candle, 4 oz - Retail Value $16.95
Chai is not one of my favorite scents but this candle might be an exception. It is a very mild but complex chai and vanilla scent that I don't mind at all. This candle also has beeswax in it which adds to its scent profile in the best way. The cool thing about this candle is that you can use the melted coconut was as a massage oil which feels really luxurious! I love using coconut oil on my dry winter skin and this warm version is even better!
Cowgirl Extreme Antioxidant Serum- 1 oz (?) - Estimated Value $18.00 (Buy Full Size 2 oz here for $39)
This serum is basically a vitamin bomb for your skin. You will find vitamins A, D, and E along with some essential oils and potent botanical extracts in this formula. A little goes a long, long way with this super slick aloe based serum, and it would be a great one to mix with your favorite moisturizer both day and night. The scent is mainly citrus and lavender and it absorbed quickly into my skin.
Derma E Therapeutic Moisture Shea Hand Cream, 2 0z - FULL SIZE! Retail Value $7.95
I really find unscented products a little bland, but I understand those of us with sensitive skin or noses might really enjoy them. There are just so many awesome scents in the world! This cream has none, which my husband is thrilled about because he works hard and his hands and skin are dry and angry. He liked that this formula absorbed quickly and gave his chapped skin immediate relief. This is likely because this product has a large amount of vitamin E and healthy oils. He gives it two thumbs up.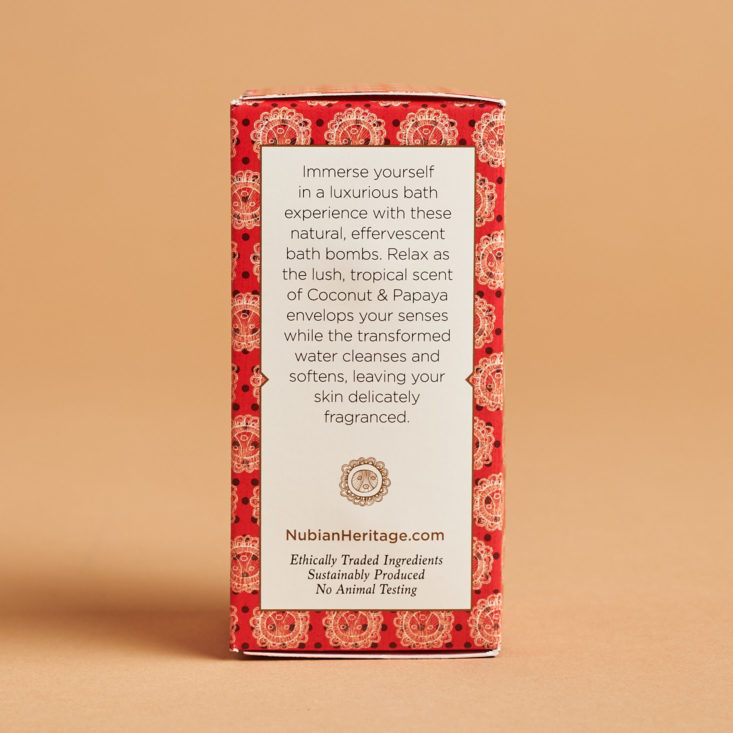 Nubian Heritage Coconut and Papaya Bath Bombs - Estimated Value $7.50 (Buy 4 here for $14.99)
These mini bath bombs are so cute! I, of course, used both because I am a hedonist with very little self-control, but it is nice that they gave rational people the option of enjoying two beautifully scented baths instead of just one. They very very fruity and moisturizing, and although they didn't change my bathwater to the color of a frozen lake or leave me covered in shimmer,  I can appreciate the foamy texture they gave to the water surface and the hydration from the shea butter. Pro tip: colorless bath bombs are why we invented food coloring.  You are welcome.
The Tea Room Chocolate Company White Chocolate Bar
Put tea in anything and I am happy. This chocolate bar is no exception and the chamomile and honey was a perfect blend with the white chocolate. It was very delicious with my morning tea (yes, I had this for breakfast.)
Verdict: This Yuzen box felt like a real treat! It was full of skin loving products with ingredients that were natural and potent. I especially loved the massage candle and the eye balm. I felt super pampered after using each and every product (well, Will felt pampered with the hand cream) and this box introduced me to 4 new natural brands! The cherry on top was that this box was an excuse for breakfast chocolate, which makes me very pleased indeed. For a $35 box, it has an estimated value of at least $80.36 minus the cost of the chocolate which I could not find online with a price. That is over twice the cost of the box and an absolute value in my book.
To Wrap Up:
Can you still get this box if you sign up today? Yes! The winter box is still available!
Value Breakdown: This box costs $35 and each of the 7 items has an average cost of $5.00
Check out the Eco-friendly Subscription Box Directory for similar boxes!
Did you like the Winter Yuzen box as much as I did?