Cloth & Paper Stationery Subscription Review + Coupon – November 2018
Cloth & Paper is a monthly stationery subscription box from lifestyle and stationery shop, Cloth & Paper.
In addition to the Stationery Subscription Box, Cloth & Paper offers a pens-and-pencils-focused subscription called "Penspiration," a stationery box focused on stationery items and a box combining the two. With the Penspritation and Stationery Box subscription (which I'm reviewing today), you can expect 5-8 stationery items plus 4-6 pens!
This review is of the Cloth & Paper Penspiration and Stationery, $48 a month, box. 
My Subscription Addiction paid for this box. (Check out the review process post to learn more about how we review boxes).
About Cloth & Paper
The Subscription Box: Cloth & Paper
The Cost: $48.00 a month with free shipping to the US.
New Deal: Use code TRYCLOTHANDPAPER to save 10% off your first box!
The Products: 5-8 stationery (and sometimes lifestyle) from notable brands or from Cloth & Paper's lux collection plus a variety of 4-6 pens or pencils.
Ships to: Worldwide
Our November 2018 Review
This means I just love it!
Each box comes with a card from Cloth & Paper. Sometimes we get inspirational messages like we did this month: I Am Enough. I love receiving these.
Holiday Checklists
These could not have come at a more perfect time! We received 3 holiday (or birthday, even) checklists: Gift Shopping Tracker, Thank You Card and a Gift Planner.
Each set comes with 15 individual pages that are copied front and back.
Gift Planner Checklist
The first one we got, the Gift Planner Checklist, is simple: it has a spot for Name, Gift, Price and a spot to check once you've completed the shopping for that person.
Thank You Card Checklist
Where was this after my baby shower?! It is simple and yet so helpful for those minds that stay on holiday even after it is over. There is a spot for the Name, Address and spot to check once sent. I love the idea of this checklist.
Gift Shopping Tracker
This checklist is great for those who do a lot of online orders. There is a spot for Date (of order), the item, store, when it is expected and when it is received. Seriously wish this was in my hands before Black Friday or Cyber Monday. But we received so many sheets that these will last for a few seasons.
Striped Sticky Pad x2
Scooore! I love sticky pads in all shapes, sizes, and colors. I especially loved when they are lined. These remind me of a piece of notebook paper. We got two of these this month – Cloth & Paper, you get me.
We received 2 pads (measures 3 inches by 4 inches) that each have 25 pages.
Mini Folders
The next item we received was this set of folders! We got a white one, a clear one and a black one.
Each one is pretty thin and doesn't expand, so they are perfect for receipts, pictures or postcards (note cards). I stuck the J'adore card we received inside for reference. Each folder is 9 inches long by 6.5 inches high.
Triangle Paper Clips
I love, loved these! They are the size of a standard paper clip, but black and shaped like a triangle. So much better than a boring, oval paper clip. Paper is my main office supply and I use paper clips A LOT so these excited me.
Message/Call Back Pad with Gold Foil
Awwwesome! We got this in black back in August and I just loved them! I love them even more in gold foil! It is a perfect square and is printed on a really thick cardstock. The only bummer was this pad had 14 pages while my black one had 16.
Rose Gold Retractable Pen
This pen is gorgeous. I have been obsessed with rose gold lately so I was pretty psyched to see this pen, but I did not favor the way it wrote. It was a pretty weak pen.
The next part of the review is of the Penspiration subscription. Cloth & Paper allows you to subscribe to this on its own or paired with the stationery box. With every Pensipiration subscription, you get this way cool see-through pen/pencil pouch to hold all your fantastic new writing tools!
Each Penspiration sub sends out 5 new utensils, mostly pens but lately, we have received some mechanical pencils too. This month I received 2 pens and 3 mechanical pencils.
The first pen we got in this month's Penspiration is this 0.05 mm black ink pen in a gold barrel. It has a clear clip which makes it easy to put in a checkbook or journal.
My favorite part about this pen was the way it wrote. It wrote so smoothly and the ink is jet black. This pen is instantly a favorite.
Mechanical Pencil
This pencil really resembles a pen and that is what I like about it. It has an all-black barrel and even has a grip.
I don't really find mechanical pencils that write differently but this one wrote a lot more comfortable than a lot of mechanical pencils.
Red Ink Gold Pen
Can a pen be described as sexy because I definitely would describe this pen as sexy.
This pen features a beautiful golden, textured barrel on top and a clear grip exposing the red ink. I love the way the gold looks and how the red is exposed. On initial review and thought, I thought this pen would write in a deep red.
But when I tested it, it was a bright red-inked pen and I loved it more! Instant favorite pen ever.
Metal Mechanical Pencil
This was a different pencil than ones I have previously received. It is also pretty heavy since it is all metal.
As mentioned before, this pencil doesn't write any less smoothly than previous mechanical pencils but I did find its metal barrel to be a bit uncomfortable.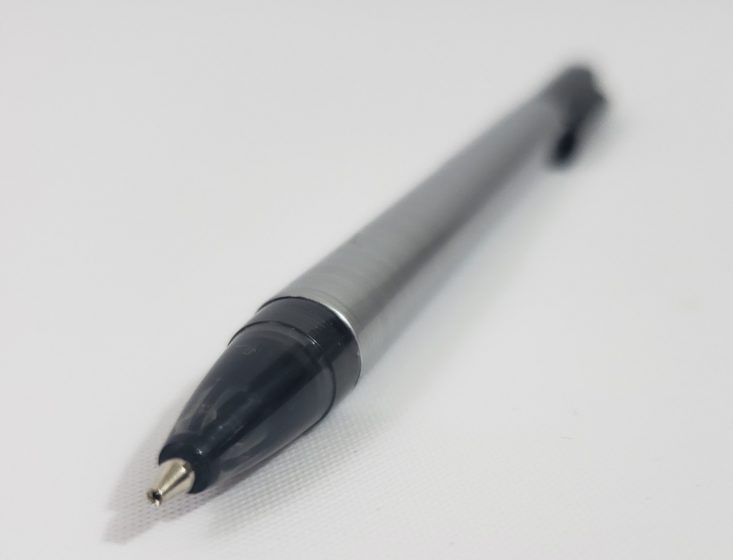 Alright, I am not going to lie. As soon as I discovered this was another mechanical pencil, I was disappointed. This pencil comes in a silver barrel and has a retractable clip for easy storing.
It writes just a like a mechanical pencil.
Verdict: This month's Cloth & Paper box was a win for me especially at this time of year, but the Penspiration was a bit of a fail for me. I literally have no use for so many mechanical pencils other than handing them to my son for math homework or my husband for surveying. And I still haven't gotten a blue inked pen! I hope to see more of those in the future.

To Wrap Up:
Can you still get this box if you sign up today? No, but it looks like you have until the 16th to subscribe and receive the November box.

Coupon – Use code TRYCLOTHANDPAPER to save 10% off your first box!
Value Breakdown: This box cost $48.00; I received 11 items, 13 if you count the pencil pouch and lead refills. Not counting the pencil pouch and refills, each item has an average cost of $4.36.

Check out all of our Cloth & Paper reviews and the Artisan Subscription Box Directory!
Keep Track of Your Subscriptions: Add this box to your subscription list or wishlist!
What do you think of this month's Cloth & Paper Penspiration and Stationery Box?
Cloth & Paper
How do subscribers rate Cloth & Paper?
---
Want more Cloth & Paper? See our:
Never miss a post: get email alerts about Cloth & Paper!
Enable notifications (

) to get the latest Cloth & Paper spoilers, reviews, deals, and news delivered to your inbox.