TokiBox
0 Ratings | 0 Reviews
TokiBox is a monthly subscription box that supports a vegan wellness lifestyle.
Each box has one superfood of the month, plus vegan & cruelty-free skincare, vegan snacks, and vegan lifestyle item such as eco-friendly bags, vegan guides, wellness guides, and tips.
This box was sent to us at no cost for review purposes. (Check out the review process post to learn more about how we review boxes).
About TokiBox
The Subscription Box: TokiBox
The Cost: $34.95 a month + free US shipping. Save with 3 and 6-month subscriptions.
ACTIVE DEAL: Save 20% off your first box!
CODE: MOMSDAY
The Products: a minimum of 6 full-size and travel-size items. All vegan, cruelty-free, eco-friendly and non-toxic. The products are curated from small local businesses and other small businesses across the US.
Ships to: US (free shipping) and Worldwide (flat-rate shipping)
TokiBox October 2018 "Happy Vegan Halloween" Review

TokiBox includes a card describing the monthly theme. On the reverse is a list of what's included with the retail values. This month's theme is Happy Vegan Halloween. These treats are definitely an upgrade from the candy corn of my youth!
WildFoods Cacao Nibs — Listed Value $2.50 (Buy an 8oz bag for $9.95)
Packed full of fiber, iron, and magnesium, cacao nibs are said to be one of the top super-foods out there. I think I was expecting a flavor closer to dark chocolate, so the actual flavor of the nibs--separated bits of the cocoa bean--was a bit jarring. Perhaps it's an acquired taste, but I don't think I can eat enough to find out. Cacao nibs are not for me.
MylkLabs Cinnamon & Toasted Coconut Oatmeal, 1.88 oz. — Listed Value $4.10 (Buy 6 for $3.99)
There is something so wonderful about oatmeal on a cold morning, and this one delivers all of the comfort and goodness you could hope for! Slightly sweetened with unrefined, organic coconut sugar this gluten-free, non-GMO, vegan oatmeal may just become my favorite part of my morning routine.
Nature's Bandits Organic Fruit Stix, 2 packs — Listed Value $6.00 (Buy a 16-pack for $19.99)
My sweet tooth is usually my downfall when it comes to any diet plan. I've been paying a lot more attention to refined sugars lately, so these treats give me that dose of sweet without all the added junk. Both the Mango and Mixed Berry flavors are delicious. Plus, could the packaging get any cuter?
Raw Rev Glo Protein Bar - Peanut Butter, Dark Chocolate, & Sea Salt, 1.6 oz. — Listed Value $2.49 (buy a 12-pack for $26.99)
I went vegan in July 2016 and recently decided to minimize glutens as well. For any of you in this same camp, you know that it can be hard to find foods that are convenient and delicious. These bars check all the boxes! There's no icky artificial taste, and the chocolate is just as ooey-gooey as you could ever hope. I'm a HUGE fan.
MacroLife Naturals Macro Greens, 3 single serving packets — Buy a 12-pack for $24.95
The package card lists Miracle Reds, but inside were the greens. For me, this is probably better - I eat plenty of fruits, but always feel like I'm falling short on the vegs. This supplement boasts 18 billion probiotics, 5 servings of fruits and vegetables, plus 38 nutrient-rich superfoods. What's not to feel good about?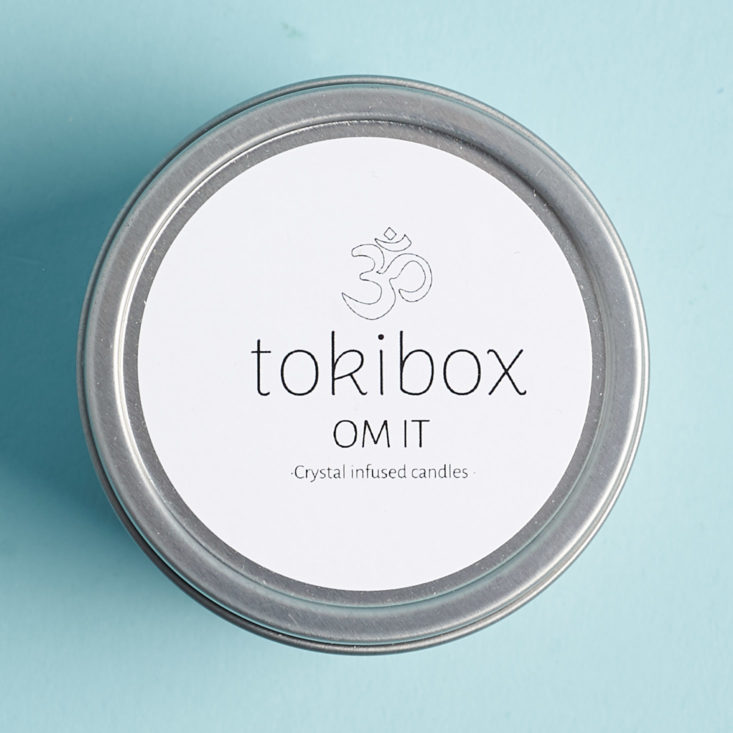 TokiBox x Omit Crystal Infused Candle — Listed Value $12.99
This pretty candle was custom made for this month's TokiBox by the fine folks at Omit. The scent is subdued and lovely, and it would be oh-so-pretty to burn while you're snuggling up by a fire or casting spells!
J'aime Crystal Infused Perfume Roll-on — Retail Value $24
I love a good roll-on perfume for its convenience. This one has the added bonus of smelling wonderful and being beautifully packaged. The crystals floating inside are said to offer protection, grounding, love, balance, adventure, and prosperity - all things I need more of in my life! I'll probably pop this into my purse and maybe hold it in my palm for a few minutes after rolling the lovely-smelling oils on my wrists and temples.
The Verdict: I really liked all the snacks in the Tokibox this month. I liked the protein bar so much I ordered a whole box! Using a combo of retail values and list prices where retail values weren't available, the contents of this box add up to an estimated total of $52.08. I think this month's box is a decent value for $34.95, including free shipping.
To Wrap Up:
Can you still get this box if you sign up today? No, you will receive the October box. Order by the 11th of the month to receive that month's box.
ACTIVE DEAL: Save 20% off your first box!
CODE: MOMSDAY
Value Breakdown: This box costs $34.95 USD, which means that each of the 6 items in the box has an average cost of $5.83.
Check out all of our Tokibox reviews and similar boxes in the Women's Subscription Box Directory!
Keep Track of Your Subscriptions: Add this box to your subscription list or wishlist!