BeadCrate Subscription Box Review – November 2018
---
This post may contain referral/affiliate links. If you buy something, MSA may earn a commission. Read the full
disclosure
.
BeadCrate is a monthly subscription box for beading enthusiasts. Choose from "The Enthusiast" for $18.99 a month or "The Collector" for $35 a month. Save with longer subscriptions. You can also buy a single box to see if this subscription is for you.
This review is of The Enthusiast, $18.99 a month, box.
My Subscription Addiction pays for this subscription. (Check out the review process post to learn more about how we review boxes.)
About BeadCrate
The Subscription Box: BeadCrate
The Cost: $18.99 a month + $5 shipping. Save with longer subscriptions.
The Products: A selection of beads curated around a monthly theme (or beads that are just cool and random).
Ships to: US (free for "The Collector," $5 for "The Enthusiast")
BeadCrate November 2018 "Corny" Review
BeadCrate is great for stash-building if you are into seed beads and Czech glass, and you'll also usually get some useful supplies:
This letter/information sheet accompanied the shipment. The theme this month was inspired by the colors of decorative ears of fall corn. But with a theme like "Corny," I see it as a missed opportunity to include Nib-Bits.
A note on prices: Items like this can come from a variety of different suppliers at many price points depending on how many you buy, etc. I couldn't find a lot of these exact beads from common sources (e.g., Fire Mountain Gems) and it's of questionable value to pick something similar because a slight difference in grading or size or material and you are looking at half or double the price (or an even greater difference). Even different colors of the same size and shape of glass beads are priced differently due to materials needed to make the colors!
6mm Firepolished Rounds in Jet (Czech glass, 25)
Black fire-polished beads are always handy. 6mm is a bit large to use in most patterns (it appears in some) but these are good for stringing, as spacers, etc., and there is something about black glass that I just think looks classy.
9 x 10mm Quartz Travertine Briolettes (Czech glass, 4)
These are uniformly shaped drops. I have to admit, I like the color quite a bit, but I've been buying a ton of travertine/Picasso finish beads lately. If you like these, Artbeads has a good selection of them in a variety of colors.
2mm Tanzanite Rounds (Czech glass, 100)
These are super small. I had an idea to use graduated sizes of beads in a project and these were a nice step up between seed beads and some larger fire-polished rounds (see below).
11/0 Toho Transparent Frosted Rainbow Seed Beads in Medium Amethyst (Japanese glass, 8g)
There were two colors of seed beads this month. As it happens, these worked a little better in my design so you will see a few of them below. But I still have plenty left for other projects.
6 x 6 mm Olivine Bicones (Czech glass, 50)
These were the largest beads I used in my project this month. I really liked the fall color palette this month and I thought these looked great with some purples and orange.
11/0 Toho Luster Crystal/Opaque Yellow Lined Japanese Glass (15g)
Here are the other seed beads for the month. There were a few more of these than of the others. I haven't used them yet, but I am very interested in color-lined beads lately and am currently expanding my collection. These will fit in nicely.
4mm Fire-polished Rounds in Crystal Orange Rainbow (Czech glass, 40)
I also used these in my necklace this month. The rainbow coating adds a little sparkle and shine and just a little bit of extra interest when placed alongside some standard transparent and matte beads.
7 x 6 mm Rosaline Sparkling Diamonds (Czech glass, 25)
In addition to seed beads and firepolished beads, you'll often get some other Czech glass shapes that are useful as accent beads. In my mind, these are more of a spring color, although they are pale enough that I can see them working in a winter design, as well.
3mm Fire-polished Rounds in Medium Amethyst (Czech glass, 50)
These provided a nice transition between the 2mm rounds and the 4mm fire-polished beads in my necklace this month; you can see how I used them below (I still have a few left over).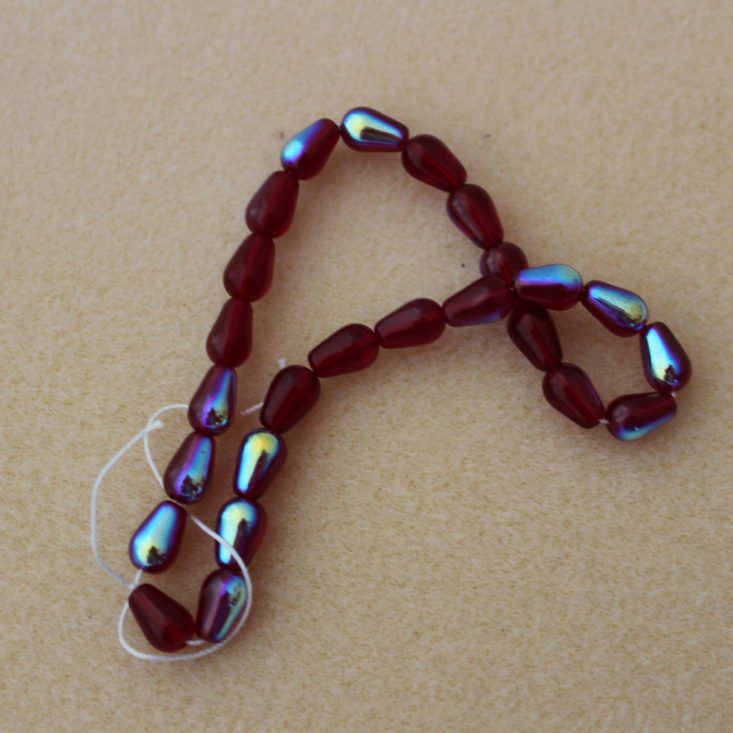 9 x 6 mm Garnet AB Vertical Hole Tear Drops (Czech glass, 25)
I think these are really pretty, but then, I have always had a thing for garnet-colored glass. (Red is one of my favorite colors.) I am thinking of making a netted necklace and using these as drops on the bottom row.
2 x 4 mm Sapphire Teacups (Czech glass, 30)
Teacup beads! These are pretty new, I just got my first order of them from Bello Modo a few weeks ago. Teacup beads are quite tiny and can be used like bead caps on small beads or in beadweaving designs. It's still rather early for there to be many patterns for these, but I am sure they will start showing up soon.
10mm Red Tiger Eye (2)
Sometimes you'll get a few semi-precious stones in BeadCrate. They're not usually the focus, but they're enough for a pair of earrings or as two accents on the sides of a pendant. This color is just wonderful for fall.
3.25" Aluminum Sort Tray (2)
There are actually two of these here, I didn't realize it when I was taking photos (the label kept them stuck together). I like to keep a lot of little trays like this on hand for separating beads when I am working on a project. And the corners mean the beads are easy to pour back into a container when you are finished. (You'll often get a tool or supply-type item in BeadCrate, in addition to beads.)
I decided I wanted to try cubic right-angle weave with graduated bead sizes. Mind you, I've never done cubic right-angle weave, but I picked it up quickly thanks to this tutorial. You will probably see a lot of cubic right-angle weave in future bead box reviews.
Verdict: I did not calculate a value for Bead Crate, as explained above in my note about prices. If you divide the cost of the box plus shipping by the number of items (I counted 13), you get about $1.85 per item. I loved all the fall colors this month an felt particularly inspired by the slightly different sizes of rounds, fire-polished beads, and bicones.
Please note that no directions are given and you have to supply your own needles, stringing materials, tools, and findings.
To Wrap Up:
Can you still get this box if you sign up today? No, your subscription would start with the December box. Destash items and excess inventory (and sometimes whole boxes) may occasionally be available in the BeadCrate Etsy shop.
Value Breakdown: at $23.99 for this subscription (counting shipping), you are paying about $1.85 per item.
Check out my past Bead Crate reviews and visit the Craft Subscription Box Directory for more great beading, craft supply, and DIY project boxes.
What did you think of the November 2018 Bead Crate? Do you subscribe to any beading or craft boxes?