Succulent Studio Plant Subscription Box Review + Coupon – October 2018
Succulent Studio is a plant subscription box that ships you two Southern California-grown succulent plants each month.
My Subscription Addiction paid for this box. (Check out the review process post to learn more about how we review boxes).
About Succulent Studio Plant Subscription
The Subscription Box: Succulent Studio
The Cost: $10.00 per month + $6.50 shipping
Deal: Use code MSA5 to save $5 off your first box!
The Products: Two succulent plants grown in Southern California using organic media and fertilizers.
Ships to: US
Succulent Studio October 2018 Box Review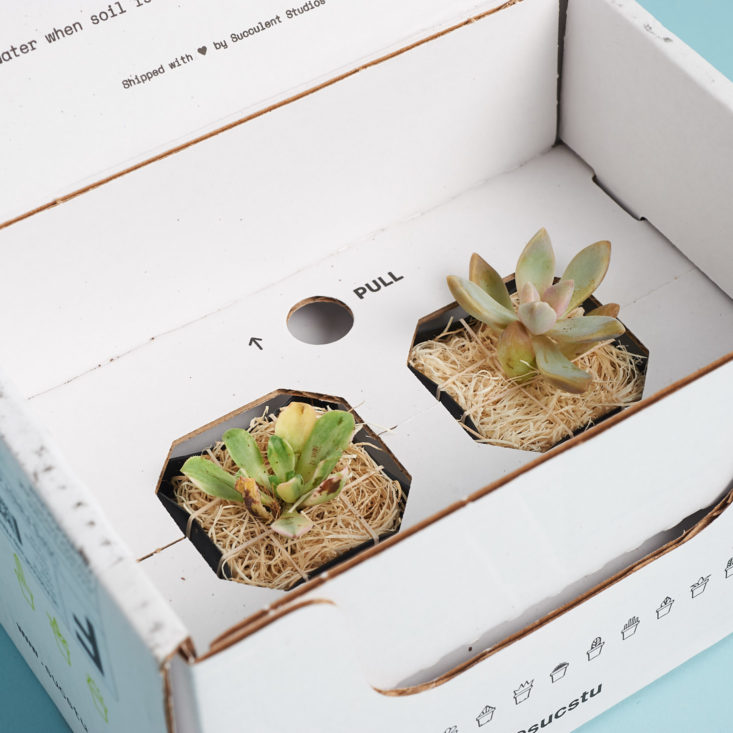 The plants ship inside a cleverly designed cardboard box, which is intended to hold them safely in place during their journey. What plants you get differ month to month, based on what's ready to go!
Each individual plant is packaged in a little puff of hay, which is secured with several rubber bands to hold them in place.
Aeonium Suncup 
I was worried that this plant was looking kind of unhealthy when I unpacked it, but I think that's just the nature of the thin, yellowy leaves. I love that this plant does best in shadier, cooler conditions. It might be happy living on one of the shadier windowsills in my home. Yay for low-maintenance house plants!
Ghost Plant
OoooOOOOooo! This is the perfect pick for Halloween season! This green plant has stiffer, smooth leaves with moments of pretty purplish-pink. I don't know that I have any really well-draining soil for this plant, so I'll have to pick some up. It doesn't have any mention of what kind of light the plant likes, but I'll want to be careful that I'm giving it as much water as it needs to stay perky!
The Verdict: As usual, these plants were super cute (neither one was more than 2 inches tall), but I do worry that I'm spending more than I have to, given I have a lot of affordable garden centers near me. I could probably find slightly bigger plants for less than these two wind up being, but I do appreciate how they're grown and the fun and surprise of getting this box in the mail! I say this a lot, but I think it'd make a fun gift for someone moving into a new home, a newlywed, or a college student looking to dress up their dorm room.
To Wrap Up:
Can you still get this box if you sign up today? Yes. According to their site, "Every month, [Succulent Studios picks] 2 plants to send to our subscribers. If you subscribe any time in that month, you will receive that month's plants."
Coupon -Use code MSA5 to save $5 off your first box!
Value Breakdown: After shipping, this box cost $16.50, meaning each plant costs $8.25.
Check out all of our Succulent Studio reviews and more eco-friendly subscription boxes!
Keep Track of Your Subscriptions: Add this box to your subscription list or wishlist!
What do you think about Succulent Studio?
Succulent Studios
How do subscribers rate Succulent Studios?
---
Want more Succulent Studios? See our:
Never miss a post: get email alerts about Succulent Studios!
Enable notifications (

) to get the latest Succulent Studios spoilers, reviews, deals, and news delivered to your inbox.