Try The World
57 Ratings | 65 Reviews
Try The World is a monthly food subscription box that sends you chef-selected local and authentic gourmet foods from different countries. Try The World offers a smaller Snack Box and a Countries Box that features a variety of countries each month.
My Subscription Addiction paid for this box. Check out the review process post to learn more about how we review boxes.
This review is of the Try The World Countries, $39 a month, box. 
About Try The World
The Subscription Box: Try The World
The Cost: $39/box + free shipping. Save with longer prepaid subscriptions.
LIMITED TIME DEAL: While supplies last, use this link when you sign up for a new subscription and your first shipment will include one free box!
The Products: Each monthly box includes 7-8 authentic, chef-curated gourmet delicacies
Ships to: US
Try The World Countries August 2018 Review
This month, I received a coupon code for nakedwines.com! 
HIC Aegean Olives, 8.5 oz. - Retail Value $8
This jar of olives was a wonderful surprise since we tend to go through olives pretty quickly in my house! These olives are 100% natural, free of preservatives, and additives. Each olive still has the pit so be careful while enjoying. Every bite was fresh and delicious with that rich salty and olive flavor that I love!  
Cafe Don Pablo Coffee Roasting Company, Naturally Decaffeinated - Buy a 2 lb bag for $17.99
This little bag of coffee comes already ground and ready to go! You could probably make a few pots of coffee given the size as well. Unfortunately, I don't drink decaf, even though I probably should, so this isn't something that I would get a ton of use out of. Luckily though my Dad has recently switched to decaf so I decided to pass this along to him. He said that he loved the bold roast and overall freshness that made him feel like he was drinking the real deal. I will note that I was pretty bummed to see that this brand is sold at various grocery stores in my area which does make the curation feel a little less special.
Waterfall Tea Company in Coconut Chai, 3 bags - Buy a 4 oz. box for $7
I love that this tea came in bags as I always seem to misplace my loose leaf holder. The flavor that I received is a coconut chai which contains black tea, coconut, cinnamon, and vanilla. While I absolutely loved the smell that filled my kitchen when I poured this hot cup of tea, I could not get past the bold coconut flavor. If you love coconut then this tea is for you, but I, sadly, still can't get down with coconut. The cinnamon and vanilla provided the tea with a delicious spicy flavor that is perfect for cooler temperatures and the black tea made the overall flavors so rich and bold!
Fourth & Heart Ghee Butter, 0.7 oz. - Buy a 0.8 oz. container for $3.32
The packaging calls this "ghee on the go" spreadable butter. The brand itself is grass fed and lactose-free made and is made with clarified butter (milk). I had never tried ghee before, but I was impressed with the yummy flavors! It was still rich and creamy like the butter that I have come to know and love. I love that this comes in a to-go pouch which makes it great for taking with you on the go or keeping with you at work.  
Passage To India Korma Simmer Sauce, 7 oz. - Retail Value $26.99 (found on sale here for $21.56)
This is a more mild sauce that is flavored with various spices and gets its creamy texture from cashews, almonds, yogurt, and coconut. You can use this sauce over various meats like chicken, shrimp, or beef. You could even use it with lentils and a butternut squash for a vegetarian dish. Pour this yummy sauce mixture over some rice and you have a very rich and hearty meal that is bursting with flavor! I love having packets like this on hand for a quick meal that tastes like I put a lot of work into the sauce.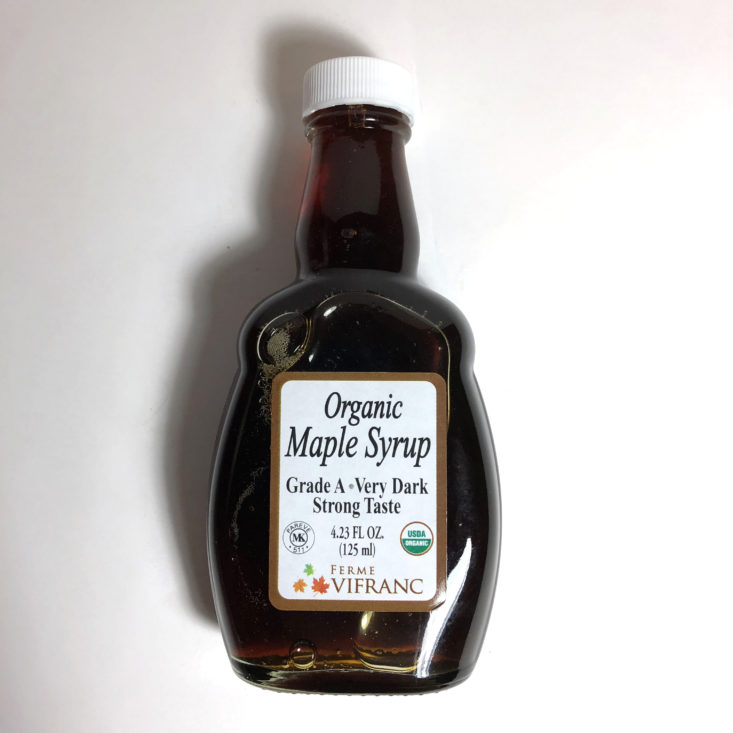 Ferme Vifranc Organic Maple Syrup, 4.23 fl oz. - Retail Value Unavailable
Maple syrup is a staple in my house, mainly for my hungry toddler that loves a weekend waffle. I have received this same brand in a box a while back and was very excited to receive another. The flavors are so rich and deep with an almost coffee-like flavor at times. A little bit goes a long way, but I love using this on pancakes or even in homemade oatmeal. This bottle will not last long!
Rooted Food Co. Popped Lotus Seeds - Retail Value Unavailable
These were very interesting, and while I enjoyed trying them I don't think they are something I will be grabbing for to snack on again. Each bite was light and crunchy, perfect for snacking. The flavors were spicy without being too overwhelming, but what really hit me the most was the overall earthy taste and smell. I can't really put my finger on the smell but it left an odd aftertaste that I didn't love.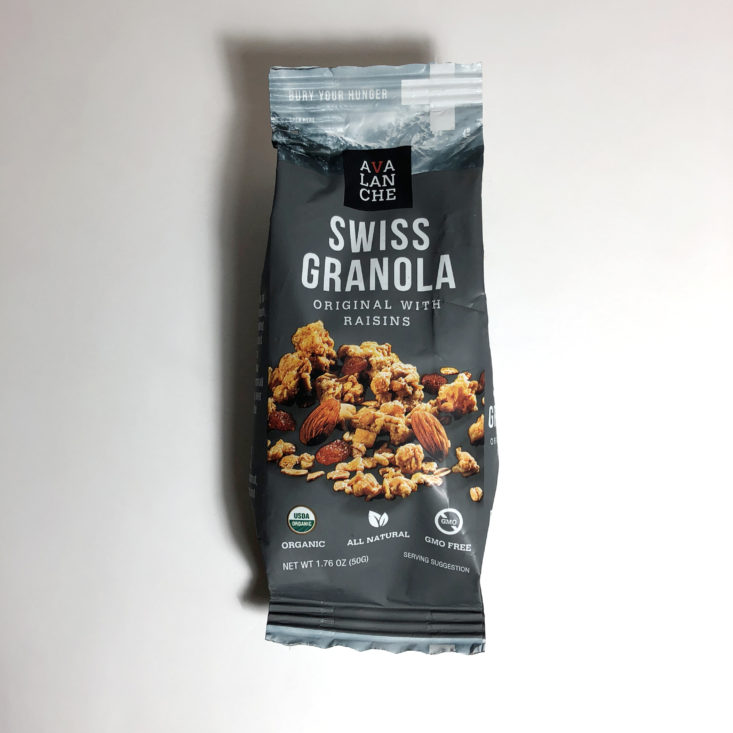 Avalanche Swiss Granola, 1.76 oz. - Buy a pack of 6, 1.76 oz. bags for $11.95
This granola is the original blend with raisins and shaved almonds. Each bite was sweet with a little bit of spice like cinnamon. It was the perfect morning treat, but I do wish the pieces of granola were a bit thicker to make snacking easy. I decided to use this over yogurt instead of eating it straight out of the bag, and it was the perfect addition to my vanilla yogurt bowl.
Verdict: This month's box featured more products than the June box, which brought the overall average cost per item down. However, I wasn't blown away by any of the snacks in particular. With this being the countries box, I would hope for a curated collection of unique snacks that I'm not able to find easily. Many of the snacks that I received this month I was easily able to find online, and I even saw some at my local grocery store for sale. I was excited to receive the maple syrup, olives, and the ghee was a unique item to try. Hopefully next month will bring a unique curation of products that will let me snack from around the world. 
To Wrap Up:
Can I still get this box if I sign up today? All orders are shipped out within 30 days. If you place an order today you will receive the October box.
Coupon - While supplies last, use this link when you sign up for a new subscription and your first shipment will include one free box!
Value Breakdown: The monthly cost of this box is $39, including shipping. I received a total of eight types of products in this month's box which averages out to a value of $4.88 per item.
Check out all of our Try The World reviews and the Food Subscription Box Directory!
Keep Track of Your Subscriptions: Add this box to your subscription list or wishlist!
What did you think of Try The World?