Terra Bella Box
8 Ratings | 1 Reviews
Terra Bella Box is a beauty subscription box that sends you 3-4 small-batch items a month.
This box was sent to us for review purposes. (Check out the review process post to learn more about how we review boxes).
About Terra Bella Natural Beauty Subscription Box
The Subscription Box: Terra Bella Box
The Cost: $32.95
The Products: "In each box you'll receive bath and beauty products such as cleansers, moisturizers, masks, exfoliators, hand and nail products, makeup, hair products and much more. All products are made in small batches by small businesses, from ethically sourced ingredients and never tested on animals."
Ships to: US + Worldwide
Terra Bella August 2018 Review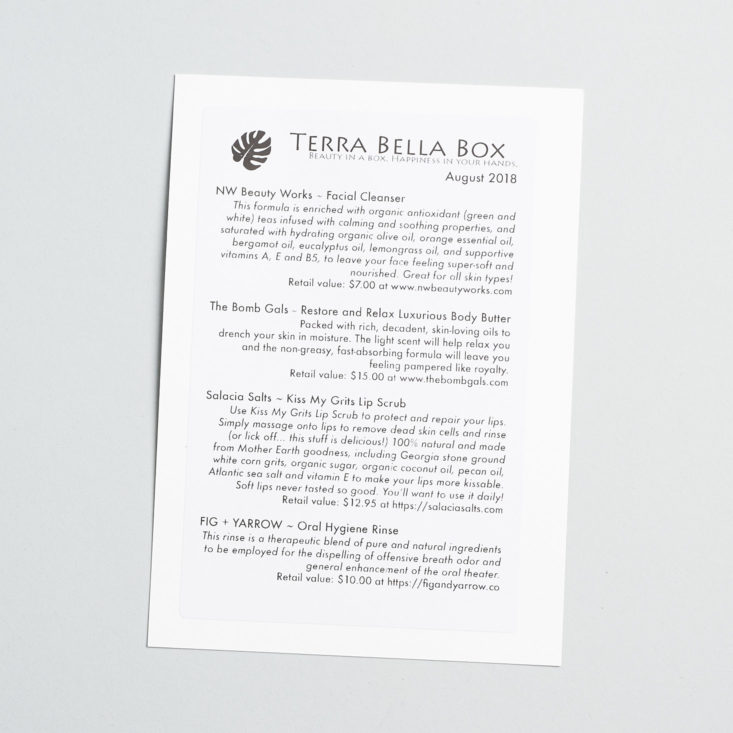 The box includes a card that lists all of the products inside.
NW Beauty Works Facial Cleanser, 4 oz. - Retail Value $8.00, Listed Value $7.00
I love love LOVE the creamy consistency of this lotion-like natural cleanser. It's rich with olive oil, orange essential oil, bergamot oil, eucalyptus oil, and lemongrass oil, which make it smell AMAZING. (The kick of orange, especially, makes it great for gently waking up my senses first thing in the morning.) There's vitamin A, E, and B5 in the mix, too. It left my face feeling clean but not stressed or dried out. I could totally see working this into my regular routine.
The Bomb Gals Restore and Relax Luxurious Body Butter - Listed Value $15.00
There's no mention online or on the package of how much product is in this small tub, but it's about the size and heft of a hockey puck if that's helpful! The formula is amazing! It has a light, whipped cream consistency to it, and it takes a second to fully rub into your skin so that the white cream disappears. But the calm, silky smooth feeling it leaves behind is sooooo lovely. This mix of shea, coconut, cocoa, and avocado butters (plus jojoba oil!) has risen to the top of my hand cream list!
Kiss My Grits Lip Scrub, 1 oz. - Retail Value $12.95
I spent the past week in the California mountains, and wowwww did my lips ever suffer for it! That air is DRY! This scrub was a lovely coming-home treat. The ground grits really do a nice job of sloughing off sad skin, while coconut oil, pecan oil, and vitamin E leave lips feeling plump, calm, and nourished. The only odd thing about this product is the smell—it's sort of corny but not in the sweet pleasing way that cornbread or popcorn smells. Rather, it's sort of a bitter corn smell. Definitely worth putting up with for the sake of the scrub, but just FYI!
Fig + Yarrow Oral Hygiene Rinse, 2 fl. oz. - Retail Value $26.00
This is a super interesting product and one I don't have anything similar to in my current medicine cabinet. The clear liquid includes natural ingredients like aloe and witch hazel, which naturally soothes gums and cleanse your "oral theater", as they call it on the label. It tastes much more subtle and herby than commercial mouthwashes and rinses.
Verdict: This box is fantastic for getting to know new brands, and better yet, the wide, wonderful variety of natural products available. I love my new hand cream, and I can't wait to see how my skin improves after using the cleanser regularly.
To Wrap Up:
Can you still get this box if you sign up today? No. Sign up for the next box now!
Coupon Use coupon code is MSA10 to save 10%!
Value breakdown: This box cost $32.95 + free shipping. I estimate that the retail value of the items inside is $61.95. That means the proportional price paid to get these items via the box is:
Cleanser: $4.26
Body butter: $7.98
Lip scrub: $6.89
Oral rinse: $13.83
Keep Track of Your Subscriptions: Add this box to your subscription list or wishlist!
Check out all of our Terra Bella Box reviews!
What do you think of this month's Terra Bella Box? What was your favorite item?