Quirky Post Subscription Box Review + Coupon – September 2018
Quirky Post is the little sister to Quirky Crate that delivers a small "box of awesome" to your doorstep each month.
Each Quirky Post will include 3 items. You are guaranteed a pair of socks and an enamel pin. The 3rd item is a surprise, and each box is different! They may include past items from Quirky Crate or new items that they know you'll love. But don't worry, they'll make sure you never get the same item twice.
My Subscription Addiction paid for this box. (Check out the review process post to learn more about how we review boxes).
About Quirky Post Cute Accessories Subscription
The Subscription Box: Quirky Post
The Cost: $12.95 per month + $3.65 shipping
The Products: Each box will include a pair of socks, an enamel pin, and a surprise third item!
Ships to: Worldwide (shipping costs vary depending on country)
Quirky Post Enamel Pin, Socks, & Phone Socket September Review
Rhino Parade "Keep It Cute" Enamel Pin – Retail Value $9.00
This little 1″ pin is, as you might expect, super cute! The scalloped edges and round shape make it look a bit like an old school badge. I'll be keeping this cute little motivator on my lapel all fall!
Quirky Pixelated Heart Socks
I love the heart pattern on these socks! It reminds me of the kinds of shapes and 3D designs I'd see on early computer games and screensavers. They're comfy socks, if slightly thin. Definitely more fashion than function. But I'll totally wear them as a little accent along with some peep-toe flats. (Fun socks with fancy shoes has been my night-out move lately!)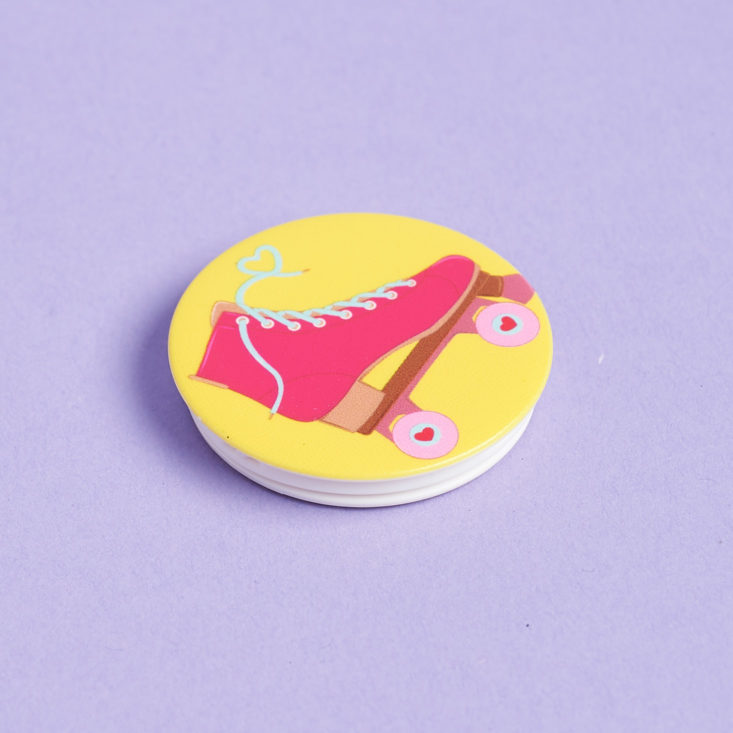 Quirky Girl Roller Skate Mobile Phone Stand
Have you tried one of these socket-style phone accessories before? They're seriously life-changing! It's so much easier to hold your phone for a selfie when it has one of these little handles on the back. This socket comes with an adhesive backing that helps it stick securely to your phone. The circular bit with the roller skate on it pulls up and away from your phone so that you can use the socket as a holder or as a stand to prop your phone up on a table.
Verdict: I love love LOVE this month's Quirky Post box! Everything was as cute as can be with plenty of unique colors and patterns running through it. Every time I get another one of these boxes, I think about how great it'd be as a gift for a friend. It's not terribly expensive, and the pure joy I feel opening it up each month is something worth sharing!
To Wrap Up:
Can you still get this box if you sign up today? No, but order today to get next month's box that ships October 15th!
Coupon – Use code UNICORN10 to save 10% off!
Value Breakdown: This box cost $12.95 + $3.65 shipping and contained 3 items. That means that the average value of each item is $5.53.
Check out our Quirky Post reviews and more unique boxes in the Women's Subscription Box Directory!
Keep Track of Your Subscriptions: Add this box's older sister, Quirky Crate, to your subscription list or wishlist!
Tell me about what you got in Quirky Post this month!