Uncorked Box
3 Ratings | 1 Reviews
Uncorked Box's founder Amanda, took her love of subscription boxes and wine-related items and formed a monthly box where she shares her fun and unique wine finds with her subscribers.
My Subscription Addiction paid for this box. (Check out the review process post to learn more about how we review boxes.)
About Uncorked Box
The Subscription Box: Uncorked Box
The Cost: $30.00 a month, save with 3, 6 or 12-month subscriptions. Free shipping.
COUPON: Use code FREEADDICTION to receive a free gift with your first box! (Gifts value vary between $4-$8)
The Products: A monthly delivery of 4 to 7 wine-related items and some products to pair with wine.
Ship to: United States
Uncorked Box August 2018 Review
Each month there is an info card with box contents on the back and on the front, the box theme. This month's theme is "Sun and Sand and Wine in my Hand," which is a message I think we can all get behind.  A coupon for Bright Cellars was also included, too! (Check out our Bright Cellars reviews and save 50% off your first box!)
Sun and Sand Sign
This is a cute easel featuring the phrase "the sun, the sand, & a drink in my hand." I don't exactly have a beach themed room in my apartment so I am at a loss as to what to do with this, but I do think it is cute!
Winged Corkscrew, Estimated Value $10 (based on corkscrews found here)
I currently have exactly one wine opener, and it is small and can be hard to use. While most wine lovers probably already have a corkscrew or two, I find this to be incredibly useful. The wings itself are very sturdy, which I appreciate because I hate opening a bottle of wine with a shaky corkscrew.
Aquaholic Dish Towel by Primitives by Kathy - Retail Value $12.50
This 100% cotton dish towel feature blue and gold printing that depicts a mermaid holding a wine glass and the word "Aquaholic" front and center. I don't think this dish towel will be everyone's cup of tea, but I think it is quirky and fun and I really need more dish towels (I currently have exactly one, and it is also from Primitives by Kathy from the Smartass and Sass cat box). Even though this doesn't match my décor I will be putting it to work and smiling every time I see the phrase.
Blush Heart Wine & Whiskey Stones, set of 2 – Retail Value $17.99
These heart-shaped stones are designed to be stored in the freezer so that when you need an extra-cool drink, you can slip these in to do the job without watering your beverage down. These are hand wash only and I appreciate they came with a small bag to store them.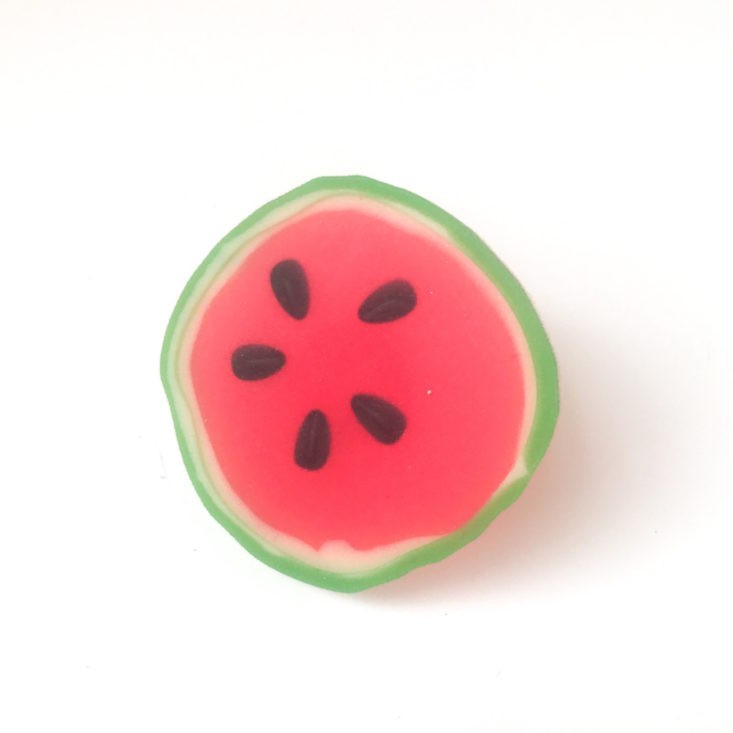 Charles Viancin Watermelon Bottle Stopper, Retail Value $3.41 (€3.00)
This matches the glass covers we received last month and I am stoked about it. I love watermelons and I need more wine stoppers, and I especially like that this one doesn't stick out because it makes it easier to store my wine on the bottom shelf of my fridge.
Verdict: This was my second-month trying Uncorked Box and I continue to enjoy it! The box is a fun mix of practical and cute items, and I think the overall curation makes this box a hit for any wine lover. This box costs $30 and I received 5 items, which means you are paying about $6 per item. I couldn't find a value for everything in the box, but I estimated a value of $43.90 for the items I did find which I think is pretty good for a small box brand that makes no value promises.
To Wrap Up:
Can you still get this box if you sign up today? No, you will receive the September box.
Coupon – Use code FREEADDICTION to receive a free gift with your first box! (Gifts value vary between $4-$8)
Value Breakdown: This box costs $30.00 + free shipping, which means that each of the 5 items in the box has an average cost of $6.00.
Check out all of our Uncorked Box reviews and the Women's Lifestyle Box Directory!
Keep Track of Your Subscriptions: Add this box to your subscription list or wish list!
What do you think of the August Uncorked Box?