Joyful Noise Recording
0 Ratings | 0 Reviews
Joyful Noise Recordings is a small label out of Indianapolis, IN who put out super creative limited edition releases (like a DVD you can play on your turntable, or a 12-sided record) by some of the most talented and unique artists around.
Every month you'll receive a limited edition, uniquely screen-printed or color vinyl 7" record. Each record will come from one of their three distinct Record Series: Mystery Singles, Almost Live from Joyful Noise, or Cause & Effect.
My Subscription Addiction pays for this subscription. (Check out the review process post to learn more about how we review boxes).
About Joyful Noise Recordings VIP 7" Series
The Subscription Box: Joyful Noise Recordings VIP 7" Series
The Cost: $15.00/month + $3.00 shipping
The Products: Every month you'll receive a limited edition, uniquely screen-printed 7" record, plus all of the VIP perks.
Ships to: US
Joyful Noise Recordings VIP 7" Series June 2018 Review
Joyful Noise is known for putting out highly collectible and unique releases by artists who are prolific and/or push the boundaries of music. When subscribing to the 7" series, you'll receive a record from one of their three series.
I have no idea why (since they don't have info cards) but this month I received TWO 7"s PLUS a bonus Summer Sampler Cassette! Score!
Almost Live Chad VanGaalen - Mutant Mussel  7" - Retail Value $10.00
The 7"s come in a really cool matchbook-style cover that is always the same.
The back has a cutout that shows the artist and song title.
Open the cover to reveal the 7" plus an insert.
This side of the insert has the basic gist of the "Almost Live" series that explains that these are recorded at their HQ when the band or artist rolls through.
The other side has the details of the artist and a story of the day of the recording by Label Director, Jessica Clark.
The 7" is always one-sided and the track called "Mutant Mussel". Lucky you, you can see a video of the session here! A variety of effects pedals and percussion instruments are used to get the ominous yet warped jazzy sounds that create the sounds of this track. There aren't any vocals or hooks, so this song is great to sort of zone out to. I like it!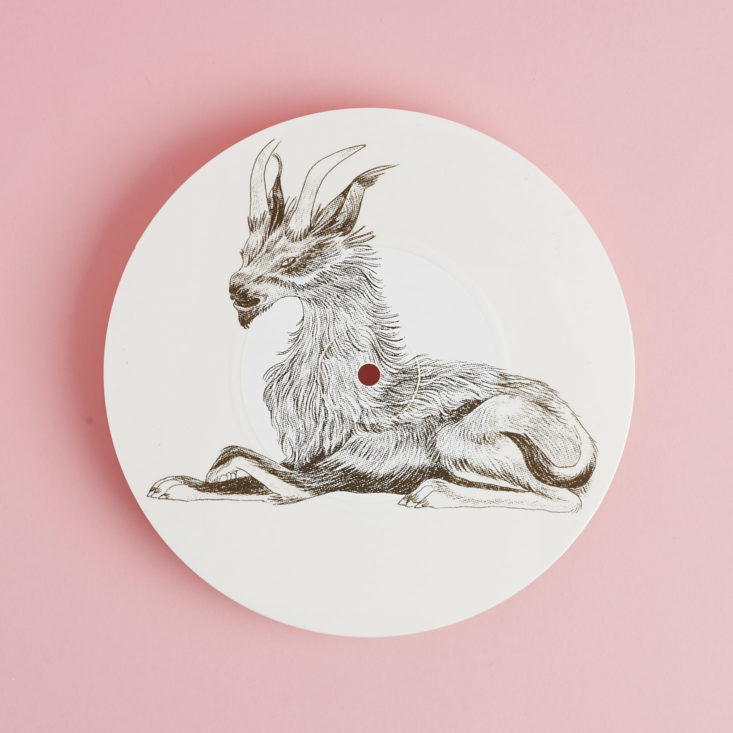 The other side of the record isn't playable due to the smooth surface that has been screened on with this illustrated creature. It definitely matches the music in my opinion.
Mystery Single 7" Ohmme - Peach, Water (A Capella) - Estimated Retail Value $10.00
As with the other series, this 7" comes in a matchbook cover with the generic "Mystery Single" design. They never really tell you what the single is, but it's always from a forthcoming record.
The other side has the same die-cut window as the Almost Live cover, but the label on the record doesn't reveal the artist or title.
Flip it open to pull out the 7"! No liner notes here though, just mystery.
Inside the matchbook flap, you'll find a description of the series as well as a place to write in the artist and title once you figure it out.
This would have remained a mystery to me if it wasn't for the music database Discogs. I had been seeing the band Ohmme's upcoming album, Parts, be advertised for pre-order but didn't know what they sounded like. This side features two tracks, "Peach" and "Water", both from the album, though "Water" is a special A Capella version. Duo of Sima Cunningham and Macie Stewart are "multi-instrumentalist, singer-songwriters with a special penchant for two instruments in particular" (seemingly vocals and guitars, though they are both trained pianists as well). Though I wouldn't normally go for a band like this, their harmonious voices are hard not to enjoy along with catchy and sometimes fuzzy guitars.
The other side is not playable but contains a screened image of the backs of the two women, with their hands held together delicately.
Joyful Noise Summer Sampler Cassette
Yet another surprise this month (besides getting TWO 7"s) is this cassette! I am a child of the 80s and was an angsty emo teenager in the 90s so getting a mixtape is both thrilling and nostalgic. So much of my musical tastes came from mixtapes friends and boyfriends made me back then and even though they've turned into mix CDs and Spotify playlists these days, the "mix" remains my preferred way to hear new music. I was immediately excited to see two familiar tracks on side A from Optiganally Yours and Joan Of Arc, peppered into other not-so-familiar bands from the Joyful Noise family. Even though I no longer have a tape player in my car, I still have a tape deck on my home stereo, so this has already gotten some plays!
Bonus WHY? Sticker
I had no idea what this sticker meant until a quick Google search lead me to the band "WHY?" which happens to be on Joyful Noise. It's a play on a lyric from the end of their song "By Torpedo or Crohn's" that says "By Torpedo or Crohn's/Only those evil live to see/Their own likeness in stone/My brother said that". Joyful Noise is reissuing the album "Alopecia" which this track is off of for its 10th anniversary, so the sticker makes more sense knowing that.
PLUS! Joyful Noise VIP Membership - Retail Value $5.00
In addition to the 7", subscribing to this series gives you VIP access to Joyful Noise releases so you can get first dibs on preorders, 10% off in their store at all times, free downloads, cheap shipping, and sometimes even free tickets to shows in your area.
Verdict: The Joyful Noise VIP 7" Series was really packed this month! I only expect one 7" to arrive but this time received two 7"s, a cassette, and a sticker. Absolutely worth the $18.00 in my opinion, especially since the 7"s alone are each worth about $10.00. It's always fun to be exposed to new music and I heard a lot of new stuff through this one package. I also have a lot of fun trying to decode all of the meaning behind what's included.
To Wrap Up:
Can you still get this box if you sign up today? This one is all gone but you have until the end of July to subscribe and get the newest one!
Value Breakdown: For $18.00 ($15.00 + $3.00 shipping), I got a two limited edition 7"s plus a cassette, a sticker, and a month of VIP access to Joyful Noise Recordings. Since each 7" has a retail value of $10.00, and the VIP membership is $5.00, the cost more than pays for it.
Read all of our Joyful Noise Recordings reviews or find more vinyl subscription boxes in our directory!
Rate, review, and follow this subscription on the Joyful Noise Recordings VIP 7" Series profile page.
What do you think of this installment of the Joyful Noise Recordings VIP 7" Series?