My Japan Box Hello Kitty Box
0 Ratings | 0 Reviews
My Japan Box Hello Kitty is a monthly subscription that offers an array of Hello Kitty products selected by My Japan Box's Japanese staff. You can expect figurines, clothes, accessories, stationery, posters, games, movies and more!
My Subscription Addiction paid for this box. (Check out the review process post to learn more about how we review boxes.)
This is a review for the $49.00, monthly Hello Kitty subscription.
About My Japan Box Hello Kitty
The Subscription Box: My Japan Box Hello Kitty
The Cost: $49.00 per month w/ free shipping
The Products: A box full of Hello Kitty products selected by My Japan Box's staff living in Japan. Figurines, clothes, accessories, stationery, posters, games, movies and many more!
Ships to: Worldwide
My Japan Box Hello Kitty May 2018 Review
Hello Kitty Plush
This 7-inch tall Hello Kitty Plush is less of a cuddle pal and more of a soft figure to display on a shelf. It has our favorite girl all dressed in a pink kimono covered in Sakura (or cherry blossoms) while kneeling on a satin-like pink pillow with tassels. It is really nice but I can't help but think it's very similar to one I received back in January. With all of the Hello Kitty plushes available in Japan, I'd expect to see more of a variety within 4 months.
Hello Kitty Pump Bottle (300 ml)
What...c'mon! Speaking of January, this is the exact same soap pump I got in that box as well. It is the perfect size for a bathroom or kitchen but I'll probably be passing this on to another Hello Kitty lover since I don't feel the need to have all the soap pumps in my house match. It could be used for lotion or shampoo as well I guess.
Hello Kitty Mini Notepad
Ok, now this is just adorable. I love the motif of this mini notepad with the sneakers, pizza, and camera. This seems like a cute little trend-based one with more illustrations depicting heart-shaped sunnies, letters, hands making a heart, and nail polish. Very hip, HK! There are 2 different page designs and one is horizontal while the other is vertical.
Hello Kitty Shaped Candy?
My Japan Box doesn't include an info card and all the text on these is in Japanese, so I'm not exactly sure what they are. I mean, they look like some sort of candy but for all I know they could be little bath bombs? Open opening, it is evident that they're candy since they have a sweet chocolatey scent. Yep- chocolate. It kind of reminds me of the English candy bar, Aero due to its light airy texture.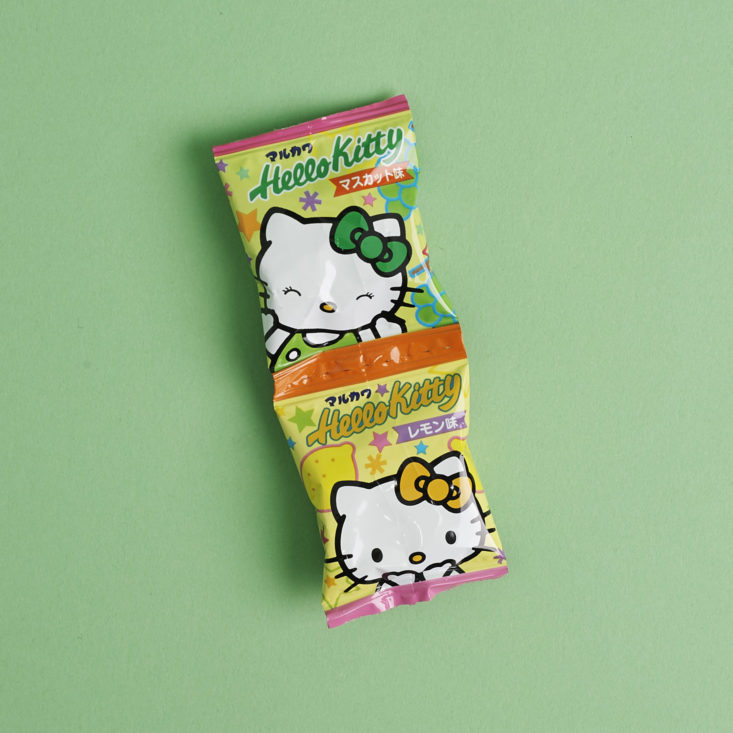 Hello Kitty Fruit Gum
More candy comes to us in the form of fruity gum in two little packs. One is grape and the other is lemon, based on the packaging. I popped the green grape gum into my mouth and was met with a really sweet flavor but one that will likely fade quickly.
Hello Kitty Neoprene Coin Purse
I received a neoprene coin purse similar to this one back in February's box but in a completely different print. I love this material, it reminds me of a wetsuit and it kinda stretchy and soft. This one isn't quite as big as the other one I got and measures almost 3.5 inches wide so you can stuff quite a bit of change in here. The front and back are different but both feature HK with her teddy bear friend, Tiny Chum. On one side they are reading a book while on the other, giving each other a hug. How sweet!
Hello Kitty Stickers
Nothing too fancy here, just some basic glossy paper stickers with Hello Kitty wearing different colored overalls from big to small sizes and mostly looking straight ahead. The background these are on looks like a height chart and it makes me giggle a little thinking that she's in a lineup for doing something bad. HK! What have you gotten in to? Just kidding, she would never!
Meito Fish-shaped Wafer Cookie in Chocolate - Retail Price $1.20
I'm familiar with this fish wafer cookie since I've gotten it in other Japanese boxes. It's actually really tasty but part of me thinks 1. this has nothing to do with Hello Kitty and 2. another snack??
Hello Kitty Tissue Pack
This tiny pack of tissues has Hello Kitty with a couple of friends on the cover all wearing flower crowns as if they're at Coachella or something. The same design is printed on each tissue and although I appreciate a useful item to toss in my bag, these types of tissues aren't super soft. Cute though!
Hello Kitty Bandana
This is a pretty good size bandana and can be folded and worn a myriad of different ways. A lot of my cute friends started wearing kerchiefs around their necks and knotted a couple summers ago and this would make a cute one of those. You could also use it to shield your neck and chest on a hike or in your hair as a classic bandana. Telephones, perfume bottles, polka dotted lamps, and hand mirrors make up this design were you can find HK and Tiny Chum napping among the items.
Bonus: Single Japanese KitKat
A single KitKat. Ok! The same thing happened with my KitKat box, so it must be a thing they're doing this month. Judging by the wrapper, this is just the regular flavor, but from Japan. It is also melted. Ah well!
Verdict: I probably sound like such a hater this month but My Japan Box Hello Kitty is a pretty darn expensive box and even though the items are cute, they aren't really the quality I'd expect from such a high monthly price tag. I'm also super confused as to why I've received so many duplicate or similar items in only 5 months of boxes. It's like someone randomly throws in items from a warehouse, completely unaware of what you've already received. It's been common to receive duplicate flavors in my KitKat box (also from My Japan box) so I think it's just how they roll. There are 9 items (or groups of similar ones like the candy) in this box, but only the plush really seems like a higher ticket item and even the pump, coin purse, and bandana are just kind of a mid-range price wise. It just doesn't seem to equal $49.00 for me. 
To Wrap Up: