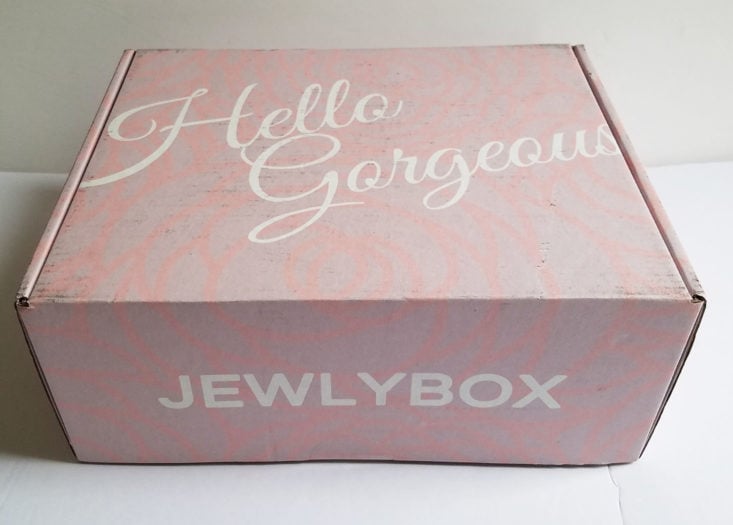 Jewlybox
5 Ratings | 0 Reviews
Jewlybox is a monthly jewelry subscription three quality pieces of fashion jewelry to you monthly. They have two options: Jewlybox for $29 a month and Jewlybox Premium for $39 a month. Each of these plans offers prepaid options that save you more money.
I was impressed immediately by the lux packaging. It is so precious! I love the personalized card as well! Such fancy touches.
This is a review of the $29 a month Jewlybox that has an average retail of $110!
This box was sent to us at no cost for review. (Check out the review process post to learn more about how we review boxes).
About Jewlybox
The Subscription Box: Jewlybox
The Cost: $29 a month + $2.99 shipping
COUPON: Use code MSA15 to get $15 off your first box!
The Products: Three fashion jewelry pieces (dependent on styles selected in Style Quiz) ranging from Statement to Simple to Bohemian to Preppy. Options come in gold and silver and the quiz does ask for ring size as well. (The selections are personalized to me, so you may not get the same items as I did.)
Ships to: the US on the 4th of each month
Good to Know: Jewlybox is now giving 5% of all proceeds to Dress for Success!
Jewlybox May 2018 Review
Look at this fancy packaging!
Make sure to post a selfie of yourself in your Jewlybox goodies with the hashtag #jewlybox to win a free month! How cool!
Jewlybox also included a form about their philanthropic purpose to have a service that empowers women through fashion! Jewlybox donates 5% of all proceeds towards Dress for Success! I am all for women and raising up other women, so I love this!
Hello to you too!
Here is a note from my stylist, Ashley! Included is also is a bar code to scan for extra Jewlybox features. Wild!
This May box has a mix of gold and silver pieces, so I am pretty excited!
Abstract Gold, Silver, & Faux Turquoise Necklace — Retail Value Unavailable
I love both gold and silver, so having a necklace that combines the two so effortlessly is fantastic! This piece consists of a single chain with dangling abstract shaped charms in gold, silver, and the faux Turquoise. The necklace is lightweight and adjustable at the clasp. I loved layering this with my favorite go-to Shake Appeal necklace from Holy Mountain/Souvenir jewelry. This piece can be worn alone, but I love layering it and creating a bolder statement piece.
Pale Pink Quartz Bracelet — Retail Value Unavailable
This gold and pale peach/pink quartz stone bracelet is a delicate, yet gorgeous piece. It adjusts by tugging on the gold chain portion. This is not generally an item I would select for myself, but I actually like this bracelet. It would look fantastic worn alone or with multiple bracelets.
Diamond Dust Clover Earrings — Retail Value Unavailable
This may be my favorite item that my stylist, Ashley, selected for me next to the necklace. The textures on this piece make it really shine in the sunlight. The clover-like design looks like it has crushed diamonds on it. These earrings are lightweight and did not leave my easily irritated ears itchy. You could wear them with the pieces included in this box, or with all silver items, or alone. I will wear them period because they are GORGEOUS!
Verdict: This month's Jewlybox was AMAZING and feels far more personalized to me! I loved that I got silver and gold pieces this month as well. These pieces look like a motley crew; not to be mistaken with Mötley Crüe even though this box KICKSTARTED MY HEART! I digress! Even though these selections seem mismatched, they truly create this stunning accessory trio. They enhance each other rather well! Aside from the actual jewelry in this box, I also love that Jewlybox has such a woman-positive mission statement! I feel happy knowing that a portion of Jewlybox's proceeds goes to a group like Dress for Success. We, women, are in this together and should always raise each other up, so bravo, Jewlybox!
To Wrap Up:
Can you still get this box if you sign up today? Every box is different and packed based on your style profile!
Coupon – Use code MSA15 to get $15 off your first box!
Value Breakdown: This box cost me $31.99 ($29 a month + $2.99 shipping), which means that each of the 3 items in the box has an average cost of $10.66.
Check out all of our Jewlybox reviews and more jewelry subscription reviews in the Women's Subscription Box List!
Keep Track of Your Subscriptions: Add this box to your subscription list or wishlist!
What do you think of Jewlybox?