Fruit For Thought Gift Box
11 Ratings | 3 Reviews
Fruit for Thought is a subscription box that sends fruit or vegetable themed packages each month. There is a $41.99 a month Full-size and $29.99 Mini box option, and they focus on sending artisan-made products.
This review is of the Full-size, $39.99 + $8.00 shipping a month, box. 
This box was sent to us at no cost for review. (Check out the review process post to learn more about how we review boxes.)
About Fruit For Thought
The Subscription Box: Fruit for Thought
The Cost: $41.99 + $8.00 shipping. Save with longer subscription plans.
COUPON: Use code MSA20 to save 20% off your first box!
The Products: Colorful and flavorful items based on a fruit or vegetable theme! The full-size box comes with 5-8 items curated around the theme and the mini box will include 4-5 items with the same theme and presentation.
Ships to: Worldwide
Fruit For Thought "Hawaiian Luau" May 2018 Review
Here is the card that gives you some more information about the items included.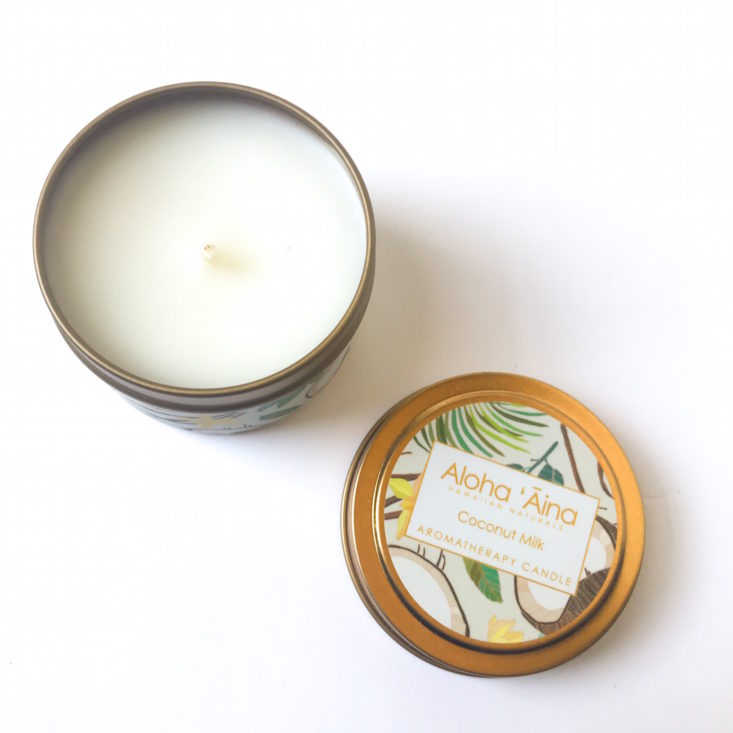 Maui Soap Company Aloha Aina Hawaiian Aromatherapy Candle in Coconut Milk - Retail Value $12.99
I am a sucker for a good candle, and this is a good candle. The coconut milk scent is clean and fresh, and it doesn't smell as sugary as some other coconut scents tend to lean. This is a more natural coconut scent, and I have been burning this candle every chance I get. I am not too sure of the size, but while this isn't the biggest candle I've ever received (hello, 5th Avenue Style), this should still have a long burn time based on my experience with it so far. I may need to hide my wallet because I am having a hard time resisting buying this candle in every scent they offer.
Maui Soap Company Aloha Aina Hawaiian Aromatherapy Pure Soap in Plumeria Nectar, 5 oz - Retail Value $9.99
Oh man. I am not a bar soap person, but this is the exception. This smells AMAZING. It smells heavenly just on its own without any hot water touching it, and it made my entire bathroom smell heavenly when I took it out of the box. I may need to get one (or five) of the Maui Soap Company candles in this scent because it is the perfect combination of tropical lushness that I would be happy to smell every day. If I close my eyes when I have this soap in my hands and my candle burning, I can easily imagine I am back in Maui.
The Preserve Company Salted Mango Scrub Bar - Estimated Value $5 (linked to similar item from brand)
I couldn't find any scrub bars available for purchase from The Preserve Company, but a 4 oz version of the loose scrub is $20, and I would estimate that my scrub bar is one ounce (no sizing details were given). I love mangos any way I can get them, so this scrub didn't have as strong as a scent as I would have preferred, but the light fruit scent mixed with the salt is still lovely. This provided a strong exfoliation, so I've been using it on thicker skin like my elbows.
Sarah's Sweet Scrubs Lilikoi Essential Oil, 2 ml - Retail Value $10 
USB Diffuser - Retail Value $5
I really enjoyed this unique set! Lilikoi is Hawaiian for passion fruit, which is a delicious and underrated tropical fruit. The essential oil is organic and Hawaiian grown, and this small 2 ml vial is mixed with organic fractionated coconut oil as a carrier, and together the scent is a tropical oasis for my nose. It works perfectly with the included USB diffuser! A drop on the diffuser was all it took, and when I plugged the diffuser into my laptop I was in for a real treat. The only drawback about the diffuser is you cannot interchange the pads that you put the oil on, so this diffuser is really only going to work well with one scent. That doesn't really bother me, as I am loving the lilikoi!
Designs by Katie Leigh Sterling Silver Pineapple Necklace - Retail Value $15
This sterling silver pineapple necklace is the perfect finishing touch to the curation of this box! I love how this is delicate but whimsy, and this would be perfect to rock on the beach or in the pool with a tropical drink in hand. The chain is 17 inches long, and the pineapple measures in at three-quarters of an inch.
Bonus! Plumeria Flower Hair Clip
This clip is perfect for pinning into my hair when it is in a bun or pulling my bangs to the side, but it can also be clipped to a dress. This may be a bit touristy, but anytime I have been to Hawaii it has been as a tourist, so I embrace it. I am hoping one of my friends will have a luau themed barbecue this summer so I can rock this with ease.
The Verdict: Fruit for Thought is like a box of happiness for my soul and my nose. I loved all of the tropical Hawaiian scents, and everything included reminded me of my trip to Hawaii I took last year. To me, that is hitting the Island Luau theme right on the head. I calculated a value of $57.98, which I think is fair for a box that includes artisan-made high-quality goods. The total box cost is $49.99 ($41.99 a month + $8.00 shipping), so you're not getting a major deal, but you are getting thoughtfully curated unique items that are of a high quality.
To Wrap Up:
Can you still get this box if you sign up today? No, your first box will be the June box (which is Orange Sherbet themed!).
Coupon - Use code MSA20 to save 20% off your first box!
Value Breakdown: At $49.99 for this box, here's what you are paying approximately per item:
Aromatherapy Candle -

 $11.20

Aromatherapy Pure Soap

 - $8.61

Salted Mango Scrub Bar -

 $4.31

Lilikoi Essential Oil

 - $8.62

USB Diffuser

 - $4.31

Pineapple Necklace -

 $12.93
Check out all of our Fruit for Thought reviews and the Women's Subscription Box Directory!
Keep Track of Your Subscriptions: Add this box to your subscription list or wishlist!
What do you think of Fruit for Thought?