Terra's Kitchen
3 Ratings | 1 Reviews
Terra's Kitchen is a meal kit delivery subscription service with recipes created around the Mediterranean diet and lifestyle. According to Terra's Kitchen, the heart-healthy, inflammation-reducing Mediterranean diet includes "colorful fruits and vegetables, nuts, heart-healthy fats (like olive oil and avocados) and minimizes red meat, sugar, and saturated fat."
Unlike other meal kits, which offer smaller weekly menus, Terra's Kitchen offers a menu of 50+ dishes (that changes a little less frequently) with choices for vegetarian, paleo, gluten-free, and even low-calorie diets (they even have an entire nutritionist-directed "Real Diet" program for those of you looking for healthy weight loss guidance). Set your preferences, and Terra's Kitchen will match you with weekly meals to fit. Or, you can dive into the menu and pick what recipes work for you making the experience totally customizable! You may also add à la carte items like smoothies, salads, and fruit.
When you sign up, you'll also choose how many meals you'd like to receive per week. Options are:
3 Dinners for 2 People (Meals start at $9.99 per serving with a minimum weekly order of $72.00)
4 Dinners for 2 People (Meals start at $9.99 per serving with a minimum weekly order of $72.00)
2 Dinners for 4 People (Meals start at $9.99 per serving with a minimum weekly order of $72.00)
This is a review of the 3 Dinners for 2 People vegetarian option (each meal was manually selected for a total of $79.94).
My Subscription Addiction paid for this box. (Check out the review process post to learn more about how we review boxes.)
One big difference between Terra's Kitchen and other meal kit delivery subscriptions is that it ships your ingredients in a heavy-duty, reusable package.
Swing open the doors of the cooler, and you'll find all of your pre-portioned ingredients neatly packaged and arranged on its teal shelves. Ingredients are antibiotic and hormone-free and mostly GMO-free and organic.
Once you've transferred all of the chilled, fresh ingredients to your fridge, you'll follow the instructions on the box and leave it out front of your house to be picked up (and used again)! It's definitely an out-of-the-ordinary approach, but I have to say, I love it! Recycling meal subscription box after box (and its insulation, and ice packs, and other materials) still feels like I'm creating a lot of waste, so I love knowing that this one cooler will be able to be used over and over again.
The ingredients for your recipes are packaged in small, super-light plastic containers—I took the containers out of my vessel and managed to fit all of them in the crisper drawer of my fridge. Terra's Kitchen does most of the chopping, slicing, and dicing for you, which not only helps the recipes go faster but makes for smaller packages of ingredients that are easier to store.
About Terra's Kitchen
The Subscription Box: Terra's Kitchen
The Cost: $9.99+ per serving, plus free shipping. Minimum purchase order amount is $72.00.
The Products: Quality, pre-portioned (and often, pre-chopped!) ingredients plus easy-to-follow recipes for health-conscious, Mediterranean-diet-inspired dishes.
Ships to: Ships to most of the U.S.
Terra's Kitchen March 2018 Review
Sheet Pan Fish and Chips
Price per Serving: $14.99
Calories per Serving: 651
Time to Table, According to Terra's Kitchen: 30 Minutes
Actual Time to Table: 30 Minutes
I don't normally go for fish dishes in my shipments (my husband is a vegetarian while I follow a pescatarian diet), but I was looking to try something new! And honestly, Terra's Kitchen doesn't update its vegetarian meal selection very frequently. This makes it difficult to enjoy new dishes on a monthly basis.
As usual, all ingredients arrived prepped and ready to go. I always love seeing pre-shredded veggies and more difficult cuts, like these sweet potato spears, already executed. It's pretty satisfying to know that I won't have to take an extra 20 minutes to prepare everything (not to mention having all the extra dishes to wash). Let's get started with recipe #1!
After preheating my oven, I laid the sweet potato spears on a lined baking sheet. I tossed them in olive oil, salt, and pepper, and into the oven they went for 15 minutes at 450 degrees.
As the potato fries roasted, I started on the coleslaw side. Mayo, sour cream, honey, and vinegar are combined to create the dressing. It's important to only use the amounts listed in the recipe - you'll use the remaining mayo, sour cream, and vinegar for the caper sauce. I folded in the shredded purple cabbage and carrot until fully coated.
Next up, the fish. I melted a bit of butter on a plate and then spread the panko breadcrumbs on another. Each piece of fish was dipped into the butter followed by the panko in order to form a nice, crispy shell. Here's the aftermath! The fish was placed on the other side of the baking sheet with the sweet potatoes, and timing worked out really perfectly here! I removed the sheet at about the 7 minute mark and then kept the whole thing in the oven for a total of 25 minutes. Terra's Kitchen suggests 15 minutes, but I'm paranoid in ensuring that my fish is cooked through properly (probably because I rarely prepare it). I also had an extra item in the oven, and more stuff often affects cooking time, right?
Because my husband doesn't eat fish, we picked up some vegetarian fish fillets so that he could enjoy the fully composed meal alongside me!
With the coleslaw off to the side and everything else in the oven, there was one step left: the creamy caper sauce. I stirred together the rest of the mayo, sour cream, and vinegar, and then added the capers and seasoning.
Like I mentioned above, I was ultra careful about making sure that my fish was baked through. The extra oven time did make the potato fries a little soggier than was desired, but their crispy ends made up for it.
How pretty is this plate? The colorful coleslaw looked so nice with the bright fries and golden-edged fish fillets. This dish was SO simple, but everything paired together beautifully. The tanginess that the vinegar gave the coleslaw paired with the crunchy bite of the cabbage complimented the flaky fish and buttery sweet potato. I was also a huge fan of the creamy, brininess of the caper sauce. This was a definite winner.
Here are both servings so that you can see the substitute on my husband's plate. He loved it too!
Quick Vegetable Lo Mein
Price per Serving: $11.99
Calories per Serving: 725
Time to Table, According to Terra's Kitchen: 20 Minutes
Actual Time to Table: 15 Minutes
A 15-minute recipe! Whoa, okay! At first glance, these steps appeared to be super simple. Like, really really easy!
Now, here is where I messed up, and (warning!), this is kind of gross. Normally, when I receive this box, I immediately put all items that require being stored in a cool place in the fridge. Pantry items like quinoa, dried pasta, and breadcrumbs I leave out in order to save precious room in my refrigerator. Well, I foolishly assumed that the ramen noodles included were dried. After all, that's what I'm familiar with. Don't make my mistake! They're fresh! And they unfortunately molded in just a few days when left out in my sunny kitchen! I'm super sad to have not been able to use them, but I included them in the ingredients photo (mold and all), for reference. This served as a pretty necessary reminder to not rush through putting away my ingredients. Needless to say, this recipe is going to be a bit different. I needed to make the dish before the rest of the ingredients expired, so I did not take the time to reach out to Terra's Kitchen in an attempt to receive a replacement. Instead, I figured that swapping in a different pasta that I had on hand would do the trick.
I whisked together soy sauce, brown sugar, cold water, and vinegar to create the sauce while my pasta cooked. I swapped in gluten-free rotini for the ramen.
To thicken it a bit, a tablespoon or so of flour was added.
As my regular ol' dried rotini noodles boiled away. I got my pan hot for the veggies. There are lots of them in this dish!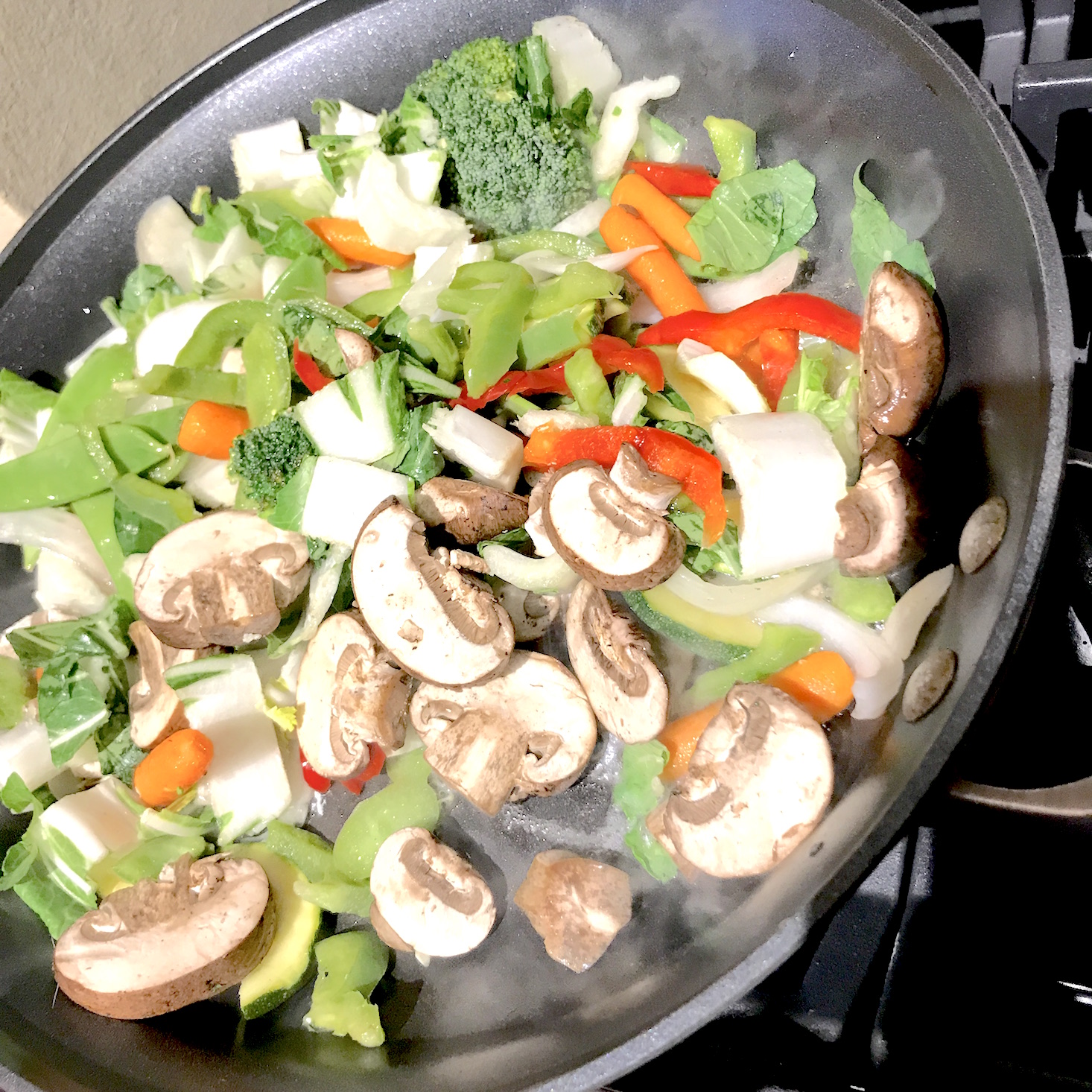 A mixture of sesame oil and vegetable was heated in the large pan, and I added the stir-fry mixture, mushrooms, and bok choy.
I cooked everything for 5 minutes covered at first and then uncovered for an additional few minutes.
Finally, the pasta was added and sauce incorporated. I allowed it to cook down enough to thicken and fully coat the stir-fry mixture.
The result was just okay. I really wish I didn't mess up the fresh noodles! However, this dish was super simple in nature, and not really my style, so I'm not sure different noodles would have made much difference. I prefer more robust flavors and lots of seasoning. This ended up being a really run-of-the-mill stir-fry, though I did fully appreciate that all of the veggies came chopped. That perk of Terra's Kitchen is huge for a veggie-heavy dish like this one.
Brussels Sprouts Pasta
Price per Serving: $12.99
Calories per Serving: 777
Time to Table, According to Terra's Kitchen: 30 Minutes
Actual Time to Table: 30 Minutes
At a glance, this recipe appeared to be another fairly easy one. You're required to chop the Brussels sprouts and walnuts, but it's otherwise super straightforward.
As a big fan of Brussels sprouts, cheese, and citrus-y flavors, this one looked right up my alley!
I began by chopping the sprouts, zesting the lemon and cutting it in half, and roughly chopping the walnuts.
I then boiled the penne in lightly salted water. Once al dente, I drained it and reserved a bit of the pasta cooking water.
I sautéed the sprouts in a pan with olive oil, garlic, and crushed red pepper. The cooking really brought out the beautiful green hue of the Brussels sprouts!
In order to form the sauce, I added the reserved pasta water, juice from the lemon, and I broke the goat cheese up into pieces that could easily melt down.
I stirred in the walnuts, parmesan, salt and pepper, and lemon zest to finish this decadent pot of carb-y goodness. The remaining parmesan and lemon zest was used for garnish.
Just looking at this photo brings me back to the wonderful scent of the lemon zest! It really added some brightness to an otherwise heavy dish. And the Brussels sprouts gave this dish an overall earthy, fresh feel.
So good! This was right behind the fish and chips for me as far as favorites go.
Verdict: Terra's Kitchen is a nice meal subscription box option for those of us that want easy-to-prepare dishes delivered to our doorstep. The recipes are simple as can be. Being new a parent with a schedule that's completely unpredictable and exhausting, I appreciate this + the pre-chopped ingredients. My issues with the service center around cost and variety, though. There's not much to choose from with new recipes each month, especially as a vegetarian, in my experience. I also feel like Terra's Kitchen tends to be much pricier than other, very similar, meal subscription services. I'm still having an issue with cost. I suppose you really do pay for the convenience of having your veggies sliced and diced. Of course, this is a perk that I do appreciate... but does it justify the cost?
As far as value goes, I've found that other meal subscription boxes tend to have a set per shipment cost. It's so great that Terra's Kitchen allows you to fully customize your order, but the $72.00/box is a minimum (it was recently raised from $62.99). With this 3 meal all-veggie plan, this box cost came to $79.94.  They also offer other options like a lunch-portioned salad, smoothies, fruit, etc. You do definitely end up paying for the convenience of pre-prepped fresh ingredients. And, a lot of the time, just the meals themselves won't add up to the minimum price, so you must add more items. It sort of feels like upselling, in a way. Just know that this one is pricier than meal subscription services like Hello Fresh, Plated, or Home Chef (that offer a set price).
To Wrap Up:
Can you still get this box if you sign up today? Since  Terra's Kitchen is fully customizable, your choices may look completely different!
Coupon – Use code TKNOW35 to save $35 off your first order!
Value Breakdown: At $79.94 for this box, you're paying an average of $13.32 per serving for 3 meals.
Check out all of our Terra's Kitchen reviews and the Meal Delivery Subscription Box Directory for more food and meal kits!
Keep Track of Your Subscriptions: Add this box to your subscription list or wishlist!
What do you think of Terra's Kitchen?