Monthly Mystery Box of Awesome Review – February 2018
---
This post may contain referral/affiliate links. If you buy something, MSA may earn a commission. Read the full
disclosure
.
The Monthly Mystery Box of Awesome is a subscription offered by thatdailydeal.com. They send a variety of random items that should exceed the cost of the subscription and every month one subscriber wins a SUPER box with a really expensive item in it. What will you receive in your mystery box? It's a complete surprise!
My Subscription Addiction paid for this box. (Check out our review process post to learn more about how we review boxes.)
This is a review of the Standard box, which is $24.99 a month.
About Monthly Mystery Box of Awesome
The Subscription Box: Monthly Mystery Box of Awesome
The Cost: $24.99 per month for the standard box or $34.98 per month for the deluxe box + free shipping
The Products: The products you receive are a complete mystery! There's no theme and items are pretty much gender neutral.
Ships to: the US
Monthly Mystery Box of Awesome February 2018 Box Review
Each month, there's a chance to win a BIG prize. This month's prize was a spa. Next month, there's a chance to win a Roomba!
Nature Valley Sweet and Salty Nut Toasted Coconut Granola Bars, Box of 6 – Buy a 12 pack of 6-count boxes for $46.02 here
These bars are so yummy! There's just enough coconutty flavor without it being overwhelming. The bars also contain peanuts and almond butter, which give the bar a nice heartiness. There's a bit of vanilla-ish icing aonthe bottom of each bar, too. They're very sweet, but there's only 8 grams of sugar in each bar!
Portable Color Me Happy Book – Listed Value $9.99
I like coloring as a peaceful, meditative activity after a long day. This book organizes its designs into categories including nature, music, art, and more. The images are intricate and playful, so they're fun to color. I did notice that online, this book comes with a set of colored pencils, where the one I got was just the book. I listed the price that's noted on the tag of the book (there's also a sale price, which is $7.99). I guess they got these at a discount? It's still fun—I just had to provide the coloring utensils.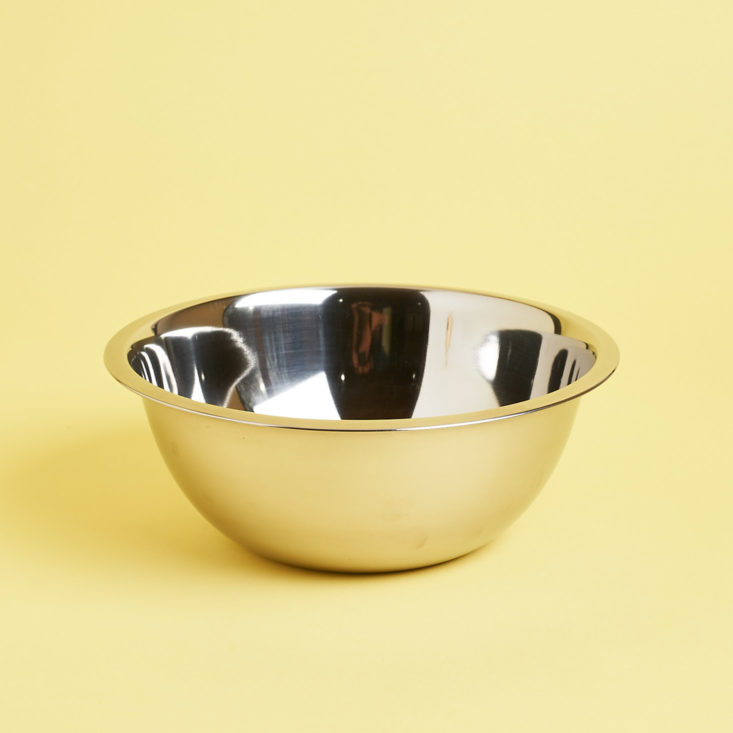 3qt Stainless Steel Mixing Bowl
I'm growing my kitchen cooking supplies right now, so I'm excited to have this bowl to add to my collection. It's pretty straightforward and simple—just a nice bowl with a bit of a flat lip around the edge. Thus far, I'm most excited about using it to eat big salads and heaps of roasted veggies out of, hehe! Do any of the foodies out there know what recipes stainless steel bowls are intended/best for? Let me know in the comments!
Calvin Klein Fuzzy Pink Beret – Estimated Value $40.00
I couldn't find this pink hat online, but a really similar ivory version goes for $40.00! I can believe it—it's a name-brand hat and it feels really luxurious. The knit fabric is lightweight but wonderfully fuzzy. I feel really posh and a bit retro wearing it around with my pea coat. It's not the warmest, but it's comfy. I hear berets are making a comeback, so I feel very on trend with this fun accessory in my stash!
Lord of the Rings Gandalf Night Light – Retail Value $11.64
I'm a huge LOTR fan! I don't know that I've had a night light for ten or more years now, but I like the design of this Gandalf light so much that I'm either going to keep it as a little treat for myself or give it as a gift to a younger fan. The glow is appropriately ethereal, isn't it?
Solar Powered Decorative Laser Light
Hmm. I wasn't sure what I'd do with a night light, but I'm reaaaally not sure what I'll do with this laser light! It's solar powered, which is nice, but it has a holiday vibe that might not come in handy until next year. It comes with a stake that you can pop into the ground. Just point it at a wall and let the light show begin!
The Verdict: As usual, this subscription box was a mix of practical goodies and odd little items. I love my hat, and I'm excited to put my steel bowl to use (in a more culinary way than just eating big salads out of it…). The coloring book is fun. The granola bars are tasty. The other items? Eh, a little more of a miss. That's sort of the wonder of this subscription—it's rarely a home run from start to finish, but half the fun is unboxing it and seeing just what unexpected items you got.
To Wrap Up:
Can you still get this box if you sign up today? There's no telling which random items you'll get inside this box, even if you sign up today. Subscribe now to get your own box of surprises!
Value Breakdown: This box cost me $24.99 (with free shipping). There were a few items that I couldn't find prices for, but consider that the items I could estimate retail values for were worth over $60.00. Not bad!
Check out all our Monthly Mystery Box of Awesome reviews and the Subscription Box Directory!
Keep Track of Your Subscriptions: Add this box to your subscription list or wishlist!
What do you think of the Monthly Mystery Box of Awesome?
All views in this review are the opinion of the author. My Subscription Addiction will never accept payment in exchange for a review, but will accept a box at no cost to provide honest opinions on the box. This post may contain affiliate/referral links. If you buy something, MSA may earn an affiliate commission. Read the complete My Subscription Addiction
disclosure
.