Goddess Provisions "Look for Faeries" Review – February 2018
---
This post may contain referral/affiliate links. If you buy something, MSA may earn a commission. Read the full
disclosure
.
Goddess Provisions is a monthly subscription box filled with "high vibe lifestyle goods." This subscription is focused on tools to aid in new age spirituality practices such as meditation.
This box was sent to us for review purposes. (Check out our review process post to learn more about how we review boxes.)
About Goddess Provisions
The Subscription Box: Goddess Provisions
The Cost: $33 per month with discounts for longer commitments
The Products: A mix of 4-6 full-size products such as crystals, apothecary beauty, superfood snacks, aromatherapy, tools for spiritual growth, and tea
Ships to: U.S. for free, $15 to Canada and $25 everywhere else
Goddess Provisions Solstice "Look for Faeries" Review February 2018
Here's the info card for this month's "Look for Faeries" box. I like that they include both visual and written-out product lists that talk about what makes each item special.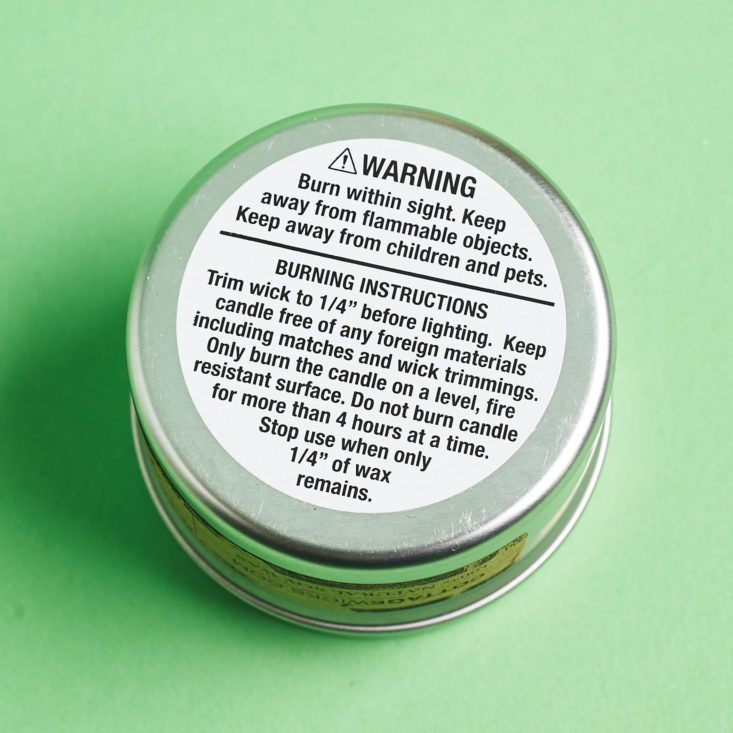 Cottagewicks Faerie Magick Candle, 4 oz. – Retail Value $20.00
I love how this candle is speckled with tiny petals, glitter, and a bit of turquonite (the "calming stone" according to the Cottagewicks site) and strawberry quartz (which represents universal love). The scent isn't my favorite—something about the mix of rose, lavender, and chamomile is coming across a little too soapy to me. It's heavy on the chamomile, so it's very tea-ish. If that's your style, though, this candle might be right up your alley. The presentation is super cute!
Pacifica Rainbow Crystals Liquid Highlighter, 0.14 oz. – Retail Value $13.00
I love highlighter. It's so much fun to play with, especially if you're heading out for a fun night on the town. This frosty-white highlighter added a super shimmery moonlight glow to my cheekbones. It's definitely faerie-worthy. This highlighter seems to have pretty good staying power, too—once it's on, it doesn't rub or sweat off too easily. Plus, I love that it's 100% vegan and not tested on animals!
Element Botanicals Faerie Garden Mineral Bath, 2 oz. – Listed Value $7.00
This little bottle contains a fragrant blend of mineral salts, sea salts, essential oils, and mica. The fragrance is a mix of rosewood and lavender, which exude a peaceful, herbaceous aroma. Salt baths are such a relaxing self-care ritual, especially when they have such a pretty fragrance. I couldn't find this specific product on the Element Botanicals site, so I noted the listed value that's on the info card.
Biolumenessence Flower Essence in Forest Faerie Synergy, 0.57 fl. oz. – Retail Value $20.00, Listed Value $15.00
I've been seeing more ingestible oil blends like this one popping up in subscription boxes lately. This blend is meant to help you connect with nature. According to the site, this potion includes purple crown vetch, St. John's wort, Deptford pinks, trefoil, hop flower, winter vetch, red clover, blue-eyed grass, fleabane, and daisy. Reading about the product, it sounds a lot like an edible crystal of sorts—mindfully intaking these plant-based ingredients might help you connect with yourself or the world around you.
Lisa Junius Enamel Faerie Pin – Listed Value $12.00
I couldn't find this specific design on Lisa's (adorable) Etsy site, but her other pins usually fall around $16.00. I noted the value listed on the info card above. This 1.5″ pin has a sturdy backing and an adorable blue palette (which seems to be Lisa Junius's signature). I love the stars in this little fairy's wings!
Superfeast Mason's Mushrooms, 1.8 oz. – Listed Value $28.00
This travel-sized bag of powdered mushrooms isn't on the Superfeast site, though a similarly sized product in a different container is listed at $36.00. I've been getting really into mushrooms—stirring them into my coffee, mixing them into smoothies, etc. This mushroom blend includes chaga, reishi, cordyceps, maitake, shiitake, lion's mane, agaricus blazei, and poria. These medicinal mushrooms work with your body to strengthen immunity, help your focus, and much more. The taste is, well, earthy. It's like, very, very umami-ish. But I did notice a bit of a mood boost and that my brain seemed to exhale and gain focus. That could 100% be a placebo effect, but I'm looking forward to peppering these into my diet.
Rose Quartz – Listed Value $2.00
Rose quartz is a favorite crystal of mine. 1.) It's really pretty. 2.) It's meant to inspire love, healing, and joy. What more could you want? This rounded crystal is just under an inch long. It could fit in a small pocket or rest comfortably in my palm. Depending on the light it's in, the stone looks blush pink, pale petal pink, or even mildly lilac.
The Verdict: I'm not the biggest fairy fan, but I did like the unique assortment of items they came up with to fit the theme. The pin is adorable, the mushrooms are a super trendy wellness treat, and the highlighter is really fun. (I can't wait to try it on a night out!!!) I'm also eager to learn more about the edible flower essences and try to tap into what impact they have on my mood, if any. I wish the candle was a little more my speed, fragrance-wise, but overall, I'm really happy with what I got. This box had things to eat, smell, admire, feel… It felt very holistically curated. And being that the mushrooms alone were priced around the cost of the box, I feel like I'm getting my money's worth.
To Wrap Up:
Can you still get this box if you sign up today? No. Go here to sign up for the upcoming box!
Value Breakdown: The box cost $33.00 with free US shipping, but I estimate that I received at least $102.00 in value. Some of those values are estimated or based on what's listed on the info card because the item was hard to find online. Also, some items I could find online seemed more expensive than the card listed. But the average price of each item based on the total cost of the box is $4.71.
Check out all of our Goddess Provisions reviews and the Women's Subscription Box Directory!
Keep Track of Your Subscriptions: Add this box to your subscription list or wishlist!
What do you think of this month's Goddess Provisions box?