RescueBox Dog Review + 50% Off Coupon – November 2017
RescueBox is a monthly subscription box for dogs or cats. For dogs, choose from small (up to 20 pounds), medium (20-50 pounds), and large (50+ pounds). They are associated with Greater Good (the folks who brought you The Hunger Site, The Animal Rescue Site, and more), and your purchase of a subscription will help provide food and vaccines to shelter pets!
My Subscription Addiction paid for this box. (Check out the review process post to learn more about how we review boxes.)
This review is of the Large Dog, $29.95 a month, box. For reference, my dog Nyx is an 86-pound Rottweiler.
The Subscription Box: RescueBox
The Cost: $29.95 a month + free shipping. Save with 3, 6, and 12-month subscriptions.
LIMITED TIME DEAL: Use coupon code 50OFF1M to save 50% off your first box!
The Products: Toys and treats for your pet and accessories for pet lovers
Ships to: U.S.
Check out all of my Rescue Box reviews and lots of other great boxes for dogs and cats in the Pet Subscription Box Directory!
Keep Track of Your Subscriptions: Add this box to your subscription list or wishlist!
Included was an information card with more information about the items in the box and more information on RescueBox's charity efforts.
Preppy Puppy Football Cookie – Listed Value $6.99
Preppy Puppy is a wholesale-only company so I can't find their prices online (I don't have a wholesale account, obviously). I've used the value from the information card, though, truth be told, it seems a little inflated for a single dog cookie as it is a dollar higher than last month's cookie. At any rate, I'll be passing this on to a neighbor's dog to enjoy because it does contain some ingredients Nyx can't have due to her IBD.
Rescue Box Rolled Oat Biscuits – Listed Value $6.99
These are not yet available in the Rescue Box Store, but maybe in the future if your dog happens to like them. They are free of wheat, which is great, but they do still contain oats (along with some fall flavors like sweet potato and cinnamon). The bag is resealable for freshness, though I'd suggest using within a week or two of opening.
Don't 4Get About Me Peanut Butter and Banana Bone (3 oz) – Listed Value $6.99
From what I can tell, the company that makes this is a very small outfit in Branson, MO, and doesn't have an e-commerce site, so I've taken the value from the information card. This is free of corn and soy, two major dog allergens, and it is made in the USA. It is pretty easy to break apart into smaller bits for calorie reduction purposes and/or for feeding to smaller dogs.
Petsport Flea Flicker Football – Retail Value $12.99
I'm honestly kind of glad this month's theme was football instead of Thanksgiving, because I have received SO MANY turkey toys this month, it is just nice to get something else. Not that Nyx minds, of course, but I can only say so much about turkeys! Anyway, this is stretchy so you could put large treats in here if you are so inclined. Nyx just wanted to chew on it, which is also fine.
Multipet Pig-Skin –  Retail Value $8.99
This is just barely large enough for Nyx to play with; you can see some photos of her with it below. I thought the vulnerable point would be where the legs attached to the body, but she actually opened up the face around the nose (she spent most of her time with this, with the whole head in her mouth). Not the most durable toy, but Nyx had fun while it lasted.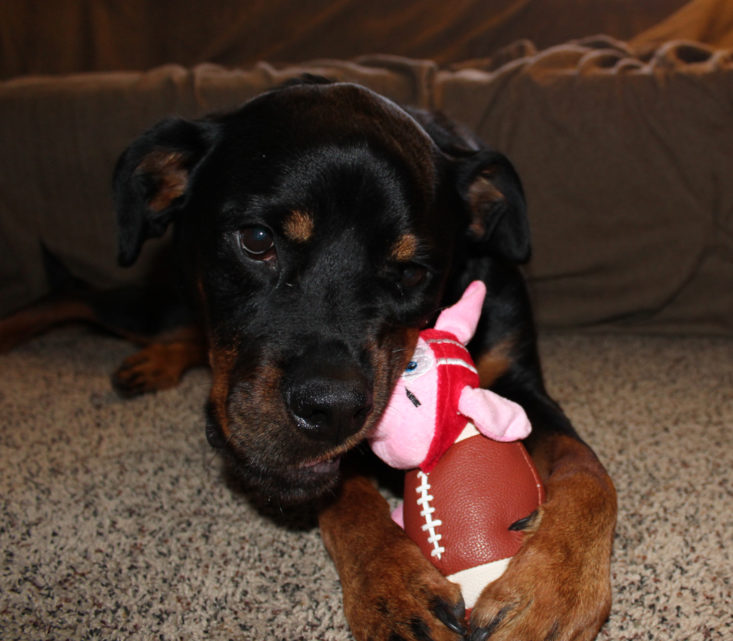 Here are some shots of Nyx with the pig toy.  She did open a hole in its nose after one play session so I would strongly suggest supervising your dog with this (as you should with any
Verdict: I calculated a value of $42.95 for November's RescueBox. That is higher than the cost of the box on a month-to-month basis, even if you consider one or two of the information card prices to be inflated. I was happy to get a non-Thanksgiving dog box, just for a change, as the items here did not overlap with our other dog subscriptions this month. Nyx enjoyed the toys and there was a nice selection of made-in-the-USA treats, too!
What do you think of the November 2017 RescueBox dog subscription box? Do you subscribe to any dog or cat boxes?
RescueBox
How do subscribers rate RescueBox?
---
Want more RescueBox? See our:
Never miss a post: get email alerts about RescueBox!
Enable notifications (

) to get the latest RescueBox spoilers, reviews, deals, and news delivered to your inbox.