21 Bundles Box Review + Coupon – November 2017
---
This post may contain referral/affiliate links. If you buy something, MSA may earn a commission. Read the full
disclosure
.
21 Bundles is a monthly subscription box for moms-to-be and new moms. It focuses on chemical-free goodies to take you from bump to baby for a healthy motherhood. 

My Subscription Addiction paid for this box. (Check out the review process post to learn more about how we review boxes.)
This review is of the monthly $39.99 subscription box. When you sign up, the site will ask you to input your due date so make sure each box is customized to where you stand in your pregnancy. This box is catered towards my due date of 11/11/17.
The Subscription Box: 21 Bundles
The Cost: $39.99 a month + $3 US shipping. International shipping varies by location. Save with 3 and 6 month pre-pay plans. 
The Products: Chemical-free, organic beauty, health, house, and baby items for moms tailored to the specific month of her pregnancy or new baby's life.
Ships to: Worldwide
Check out all of our 21 Bundles reviews and more pregnancy subscription boxes in the Mom's Subscription Box Directory!
Keep Track of Your Subscriptions: Add this box to your subscription list or wishlist!
Previous boxes have come with an information card that offers some advice for the season, but this month is a little different. 21 Bundles will be rebranding as Healthiest Baby, and they've announced their official launch for next month! This brand refresh seems to align with their sister shop, Healthiest, in which you can buy items that you'll find in your monthly boxes. 
Babo Botanicals Soothing Diaper Cream, 3 oz. – Retail Value $11.99 (found here for $9.80)
This natural diaper cream contains oatmilk and calendula to calm and nourish delicate baby skin. As a new mom, I'm super interested in ensuring that any products that I use on my baby use the best ingredients possible. And while we haven't encountered diaper rash just yet, I'm glad to have this on hand. We did test it out, and it has that white, pasty consistency that I expect with diaper creams but is free of synthetic fragrances and colors, nut oils, chemicals, paraben, phthalate, dairy, soy & gluten.
Motherlove Nipple Cream, 1.8 ml (2) – Estimated Value $1.34 (buy a 1 oz. jar for $10.95)
The full size of this nipple cream was included in my last 21 Bundles box, and I've been hooked on it ever since. I actually ordered another full-size jar to keep in my diaper bag. It's nice to have a couple of extra little sample packets for my bedside table or, you know, the coffee table in the living room, the kitchen counter, dining room table… (honestly, I've been hiding jars of nipple cream, burp clothes, and extra baby socks all over the house). This salve is, again, all natural and doesn't actually need to be washed off before breastfeeding. It has a really hydrating quality and feels like it's moisturizing rather than simply sitting on the skin. It's a lifesaver for those first days navigating through breastfeeding.
Aura Cacia Calming Lavender Foam Bath, 2.5 oz. – Retail Value $5.66
The cleansing foam bath contains a blend of 100% pure lavender and citrus essential oils for an aromatherapy bubble bath experience for your little one. The scent is extremely calming — perfect for right before bedtime — and makes for a cozy, chill-out effect for baby (and mom or dad). I used this blend in my 3 week old's second bath ever, and it was gentle enough that I felt totally comfortable with its moisturizing, relaxing quality. It creates the perfect amount of foaminess too! Nothing too crazy (though I could see toddler-aged children wanting something a bit more dramatically bubbly for bath time).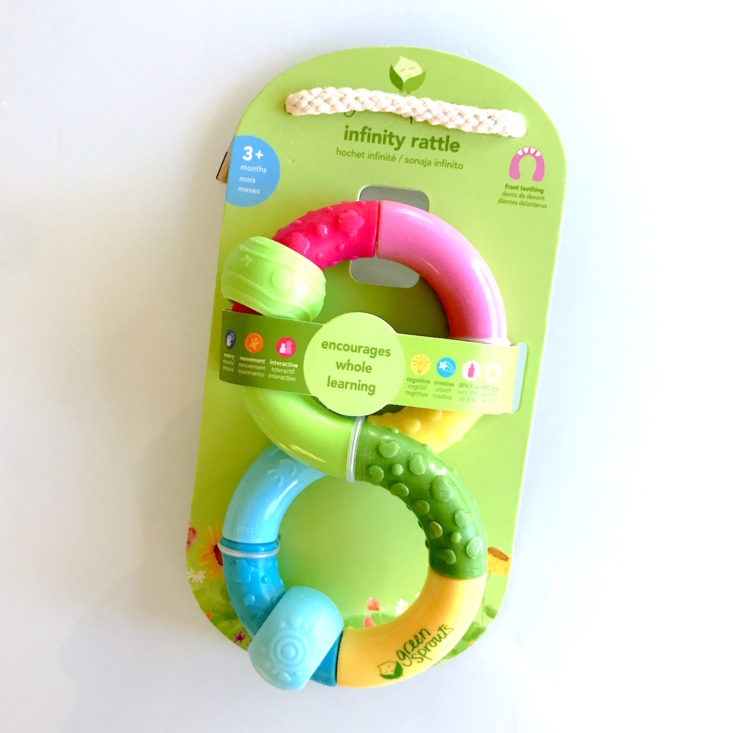 Green Sprouts Infinity Rattle – Retail Value $5.00
This colorful rattle twists and turns every which way in order to help your child develop their coordination skills. It is BPA and PVC free, and the textured portions double as a teething toy. I love that its figure 8 design allows growing babies to easily grasp onto the toy to navigate holding, reaching, twisting, shaking, and chewing. This rattle is still a little bit advanced for my 1-month-old guy, but right now he IS loving the stimulating colors.
Simply Chickie Owl Onesie – Retail Value $29.99
I've always loved the retro style that owls exude, so I super appreciate the sweet graphic and the whole 'night owl' punny reference on this onesie. 'Cause no one's getting any sleep anymore! Funny! But really… cute. This item is definitely the most substantial in this month's box. I always enjoy receiving clothing items, so this gets a thumbs up from me. I just don't know that it's actually worth the listed $29.99 price on the Simply Chickie website, but, hey, if there's one thing I've learned this far into motherhood… baby clothes (and all things baby, let's be real) are expensive.
Mambino Organics Diaper Area Wash, 2 oz. – Estimated Value $5.38 (buy a 5 oz. bottle for $13.47)
This is a really unique product that I didn't quite know what to do with at first. Probably because I've become accustomed to disposable wipes for diaper changes. This spray allows you to skip the waste and clean your baby's bottom with a regular washcloth. I suppose you could use it with disposables as well, though, for an extra fresh cleaning experience! It seemed to work well for me this way. My biggest call-out here is that the smell is quiiiite interesting. It reminded me of tea (the chamomile and lavender really comes through) with a hint of like, grass clippings? It's a pretty strong scent! A good thing to cover up those lingering poo smells!
Pura Infant Bottle – Retail Value $13.99 (found here for $12.59)
I've not yet started pumping, so my son has not yet been introduced to the bottle. I can't really speak to my firsthand experience with this bottle for that reason. However, I will say that I love that this bottle has no plastic components, is crafted from stainless steel, and can easily convert to a sippy cup down the road. I also love that 21 Bundles includes such substantial, quality items like steel bottles in their boxes.
Verdict: This 21 Bundles box, like those previous, was really impressive. I enjoyed the varied assortment of items, and each one will be really helpful to me as I continue to discover the ins and outs of motherhood. I'm really excited to see what their rebranding has to offer next month!
To Wrap Up:
Can you still get this box if you sign up today? No. Sign up for the December box here.
Coupon – Use code MSA20 to save 20% on your first box!
Value Breakdown: This month's box has a value of $73.35. Pretty awesome considering the $39.99 box cost (plus $3.00 US shipping). Here's how everything breaks down:
Diaper cream: $7.03
Nipple cream: $0.79
Foam bath: $3.32
Rattle: $2.93
Onesies: $17.58
Diaper Spray: $3.15
Bottle: $8.20
What do you think about 21 Bundles?