Namaslay Box
0 Ratings | 0 Reviews
Namaslay is a monthly Canadian yoga lifestyle box send clean products to your doorstep to support a yogi's lifestyle. Products include "aromatherapy products, natural skincare, healthy snacks, organic tea, home items, etc."
This box was sent to us at no cost for review. (Check out the review process post to learn more about how we review boxes.)
The Subscription Box: Namaslay
The Cost: $44.95 USD a month + free US and Canadian shipping
ACTIVE DEAL: Save 20% off your first box!
CODE: MSAADDICT20
The Products: Each month subscriber receives 4-6 items ranging from skin care, beauty, tea, snacks, wellness and lifestyle items.
Ships to: U.S. and Canada for free and International for $15
Check out all of our Namaslay reviews and more yogi boxes in the Women's Subscription Box Directory!
Keep Track of Your Subscriptions: Add this box to your subscription list or wishlist!
Instead of a mere information card, Namaslay sends along a little mini magazine that not only lists the products in the box but also offers information about ways to enhance your yoga or even just your meditation practice. 
New Age Smudges and Herbs Palo Santo Stick Bundle, Pack of 6 - Value $5.99 (Listed Value $12.00)
I've received Palo Santo (a sacred wood that can be burned and used like a smudge to cleanse a space) in many boxes before, but in those instances, it's usually been one or two sticks. This pack contains 6 sticks, each of which are about 4 inches long. That's enough to last me a good long while. The smell of Palo Santo is really unique—it has a woody incense aroma that I find has a gentle rubbery scent to it. I like it a lot, and just the practice of burning some of this wood while I wind down after a long day of work has become a nice ritual.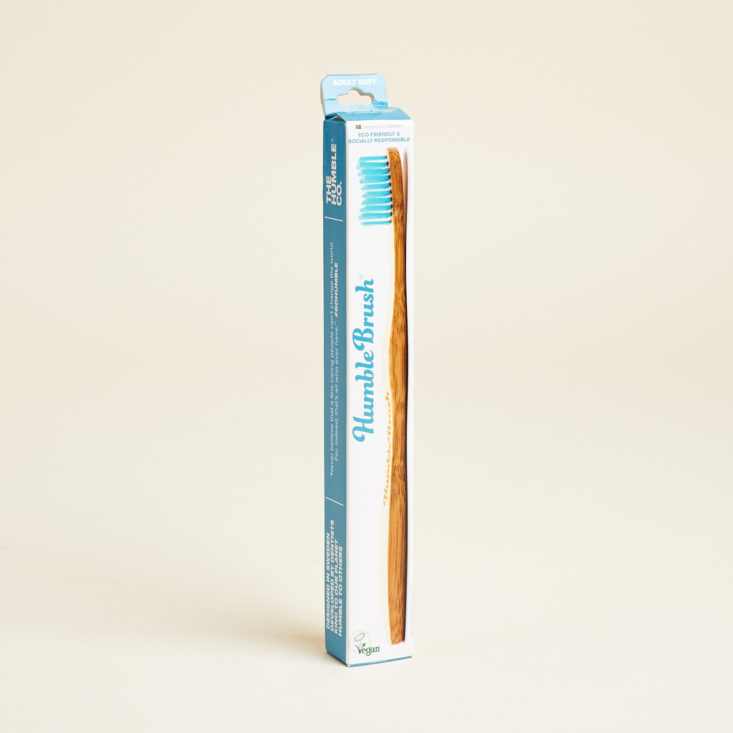 Humble Brush Bamboo Toothbrush in Adult Soft - Value $6.94 (Listed Value $4.99)
This brush is more expensive than your average plastic pharmacy toothbrush (it's actually more expensive on Amazon than it is listed for here in the info booklet), but the quality and eco-friendliness of this brush makes it worth it. I've been using a bamboo toothbrush, not unlike this one that I got in another box recently, and it's just as effective as my typical brush. I like the ergonomic shape of this brush's biodegradable handle and the vibrant blue color of the bristles. It's so light to hold, and the bamboo is actually naturally antibacterial. From a purely superficial standpoint, this wooden piece looks super crisp and sophisticated sitting by my sink. And from a more meaningful perspective, Humble Brush supports an organization aiming to provide preventative oral care to vulnerable communities around the world. That's something to feel good about each time you pick up this brush!
Green Aventurine Pyramid - Listed Value $24.00
This pyramid is about an inch tall and just over an inch wide on every side. It's small, so at first, I was surprised at the high value they listed it for. But maybe this stone (or at least, this quality of this stone) is on the rare side. According to the info booklet, this stone is known as the "Stone of Opportunity" and is meant to welcome vibrant energy, growth, and confidence to the people around it. Aesthetically, I love the pyramid, which is supposed to help focus and channel the powers of this rich green piece.
If you're not a crystals person, then hopefully you'll still enjoy using this little pyramid as a decoration for your desk or mantle. I'm new to crystals, so for me, this piece will give me something to focus my attentions on as I meditate, or as kind of a totem to inspire the intention for my yoga practice.
Do you use crystals in your day to day? How do you employ them? How do you recommend using this one in particular?
Frisky Fish Essentials "Vibe" Roll On, 0.35 oz - Value $14.00
Aromatherapeutic products are starting to become as common as lip gloss in my purses and dressing table. I have little spritzes and bottles all over the place these days, which means a moment to de-stress or reset is always within reach. I'm happy to add this roll-on into the mix. It's made with a combination of geranium and orange essential oils, which gives it a warm, richly floral fragrance. According to the info booklet, the aroma should help connect me with my heart center as I move through my practice. I do really love when I catch a whiff of a beautifully natural essential oil fragrance while I drift from one pose to another.
Hemp Hearts, 2 oz - Value $2.69 (Listed Value $2.99. Buy a 12-pack for $32.28 on Amazon)
Hemp Hearts are an easy way to add an extra pop of protein and Omega 3 and 6 to your meal. They look a bit like teensy sesame seeds and have a very mild nuttiness to them. They're ready right out of the bag, so you can pop 'em on a salad, in a smoothie, over another protein, or anywhere you might want a little extra nutrition or flavor. I like the idea of getting a bit more plant-based protein in my daily meals, so I might try sprinkling these over a big bowl of steamed veggies. They don't add a ton of texture nor all that much flavor, but the health benefits seem worth it!
Abbey Lane Farms Coffee Scrub, 4 oz - Value $13.00
This scrub smells so delicious! It's like opening up a fresh bag of grounds. The grit in this blend is literally ground up coffee, which provides a natural, gently abrasive texture. The consistency of this scrub is my favorite thing—it's made with coconut oil, which gives it a thicker, almost fudgy consistency, like chocolate sauce. But as soon as it hits your warm skin (or shower!), it'll melt down. As a coffee lover, I'm wild about how my apartment is going to smell!
Verdict: This was my first Namaslay box, and I was pleasantly surprised by it. I liked the quality of the items and how they appealed to all my different senses. The booklet really went above and beyond, too, explaining how each item in the box could be used to expand and enrich your practice. I did notice some inconsistencies between a few of the listed values and what things were going for online, but I think that's because the prices are Canadian. The value I got for the box was about $67.00 USD, which is great for the $44.95 a month cost (including free US and Canadian shipping). I do wonder if the small aventurine pyramid was actually worth the full $24.00... If you have crystal knowledge, let me know!
What do you think of Namaslay this month?