Jackie's Chocolate
0 Ratings | 0 Reviews
Jackie's Chocolate is an artisan chocolatier that makes its delicious, luxury chocolates by hand, the old-fashioned way. In addition to their regular chocolate packages and gift assortments, they also offer a chocolate subscription!
Jackie's Chocolate offers three subscription levels: A Little Taste (5-6 chocolates), Let's Induge (10-12 chocolates), and Enough to Share (20-24).
This is a review of the Let's Indulge subscription level, which gets you 10-12 chocolates for $19.95 per month.
This box was sent to us at no cost for review. (Check out the review process post to learn more about how we review boxes.)
The Subscription Box: Jackie's Chocolate "Let's Indulge" Subscription
The Cost: $19.99 per month, or save with longer commitments. Jackie's Chocolate also offers two other subscription levels: A Little Taste (5-6 chocolates) for $9.95 per month and Enough to Share (20-24 chocolates) for $39.95 per month.
ACTIVE DEAL: Save $10 on your first box!
CODE: WELCOME10
The Products: Handmade, artisan chocolates in assorted flavors and styles.
Shipping: U.S. and Canada. U.S. shipping is $5.95.
Check out other chocolate and sweets subscription boxes in the Food Subscription Box Directory!
Keep Track of Your Subscriptions: Add this box to your subscription list or wishlist!
Folks, I love chocolate. So the idea of a chocolate subscription, where tasty chocolates are delivered to my doorstep automatically each month, sounds equally blissful and dangerous. Hey, I'll gladly tack on some extra blocks to my jog if it means I can come home and treat myself to a bonbon every day!
I did have some concerns—well, one main concern—when signing up for a chocolate subscription. When you sign up for a chocolate subscription in the middle of summer, the first question is, of course, "It's not going to melt, is it?" Jackie's seems to go above and beyond in assuring their chocolates arrive perfectly in tact. The way the chocolates are packed is like a Russian nesting doll of insulation and protective padding. The actual box of chocolate is packed between two insulative pads (not ice packs, though, so there's no worry about condensation), inside a silver foil bubblewrap envelope, inside a slightly bigger box made of firmer cardboard, inside a standard USPS envelope with a big "Protect from Heat" sticker on it. I still wouldn't want it to linger on my stoop in the sun for too long, but these chocolates are as safe as they're going to get!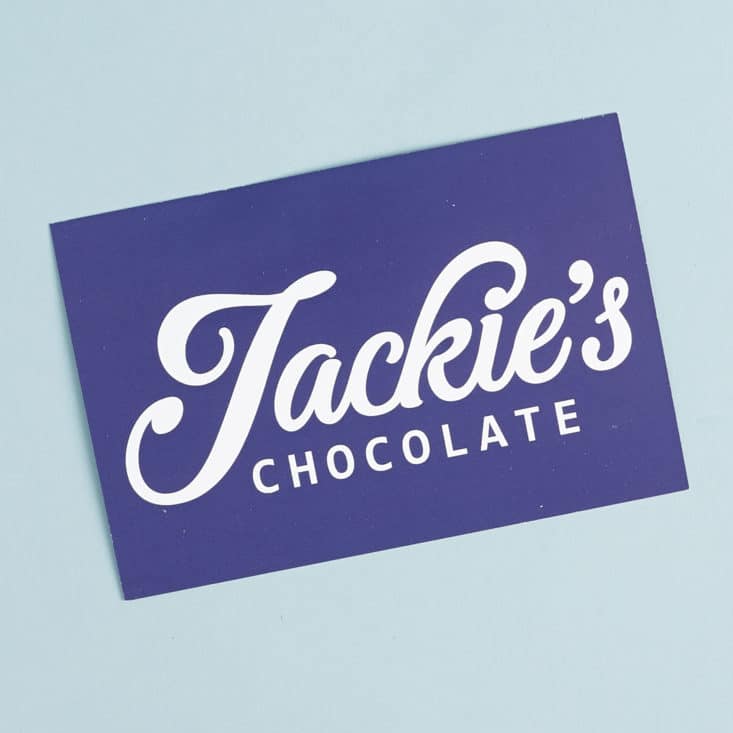 Inside the box, there's an info card about the subscription. I love getting a bit of backstory about the Jackie behind this chocolate company!
There's also a coupon code to use on the Jackie's Chocolate site shop, so if there's a treat I like particularly well, I can hop online and buy more. (This is going to be a real test of my willpower, I can tell.)
The innermost box of the package is surrounded by a few purple-and-white peppermints, too! How fun! These are so pretty. I might pop these in a dish and keep them on my coffee table. It feels a little grandma-ish to do so, but these round mints have a fresh, modern feeling to them, don't they?
Okay, but let's get to it. Here's the assortment that came in my first box of Jackie's Chocolates.
They're gorgeous, aren't they? I love the presentation—the chocolates look tidy and polished in their purple-foil cups, but they don't look too polished and precious like some mainstream or high-end boxes of chocolates can be. This isn't a metallic Valentine's box of chocolates served with a side of prosecco. This is a box of charming chocolates to be enjoyed on a comfy couch after a fun home-cooked dinner. In other words, this is a box of chocolates for me.
My only gripe with this box is that it doesn't come with a guide. I don't have any allergies or particularly strong aversions that I'd worry about, but frankly, I like to know what I'm biting into, especially when it's the first time I've tried a particular brand. There are some signals about what's to come (the bonbon with the pink drizzle, for example, had a cherry-ish truffle filling inside), but on the whole, it's kind of a mystery.
But nothing could hold me back from trying every last one of these chocolates! While I don't have any specifics or names to help identify them, I can say that this box included...
One or two fruity chocolates (both of which were cherry, I think).
Several chocolate-covered combinations of chopped nuts (walnuts, peanuts, maybe some almonds?) and either nougat or cream.
A white-chocolate-covered toffee rolled in nuts.
What I thought was going to be a pistachio-flavored treat that ended up just being a green-colored cream-filled chocolate-covered bonbon.
Several standard truffles filled with either chocolate or vanilla cream.
A coconutty truffle with toasty coconut on the outside.
Note that when I say "cream", I mean a stiffer cream, rather than something ooey-gooey, though there was one chocolate with oozy vanilla insides. I'm still not 100% sure what nougat is, apart from the fact that it's that good, creamy, very slightly nutty business inside a Snickers bar, and there seemed to be plenty of it inside these chocolates. It's a bit more of a tender bite that the super-soft cream fillings, and I really loved it. Most of those chocolates had some kind of nut suspended inside the nougat, too—these combinations of crunchy, creamy, and melt-in-your-mouth flavors were my favorite bites in the box.
And oh my gosh, the chocolate itself was soooo good. I really hate when chocolates pack so much sweetness, waxiness, or even milkiness into the mix that the rich flavor of the chocolate is kind of diminished. These chocolates, on the other hand, are super rich and flavorful with the kind of buttery, chocolatey goodness I dream about when my sweet tooth is tingling. The fillings, too, really pop. There's no chemical-ish undertone, no feeling like a bunch of sugar was added in lieu of deeper flavors... These recipes seemed balanced and carefully crafted.
Verdict: I loved my first go 'round with Jackie's Chocolate! I honestly can't believe I haven't heard of this company before because what they're churning out is so lovely. From the packaging to the beautiful flavor combinations, you can tell that the people behind Jackie's Chocolates are really considerate about what they're creating. I also love that there's no pretentiousness here—there's no stuffiness about the presentation nor the flavors, so you don't have to be a foodie to enjoy these gourmet-quality treats. Paying about $26.00 (after shipping) for a box of chocolates is a little expensive for an indulgence like this. Popular artisan chocolatiers near me have boxes of 20 or so chocolates for about the same price as this box of 12—well, 13 actually, as I got a bonus this time around! But if you don't have a reliable, quality chocolatier in town, I would 100% recommend this tasty subscription, either for yourself, or as a great gift!
Would you sign up for a monthly chocolate subscription from Jackie's Chocolate?