Mission Cute
8 Ratings | 3 Reviews
MissionCute is a monthly subscription box of cute items for your home and wardrobe, including finds from indie businesses. What's more, they donate 50% of their proceeds to a different charity every month.
MissionCute recently started offering a mini box subscription, in addition to their regular box. The regular box is now called their "deluxe box."
This box was sent to us for review purposes. (Check out the review process post to learn more about how we review boxes).
This review is of the MissionCute Deluxe Box ($39 a month). 
The Subscription Box: MissionCute Deluxe Box
The Cost: the Deluxe Box is $39/monthly, $108/3 months, $198/6 months, and $348/12 months. The Mini Box is $20/monthly, $57/3 months, $108/6 months, or $204/12 months. Shipping is free!
ACTIVE DEAL: Save $10 off your first box!
CODE: MISSIONTEN
The Products: the Deluxe box includes 4-6 hand-curated items. The Mini box includes 2-3 hand-curated items.
Ships to: U.S.
Check out all our Mission Cute reviews and the Women's Subscription Box Directory!
Keep Track of Your Subscriptions: Add this box to your subscription list or wishlist!
Each MissionCute box comes with an inspirational info card (5x7 graphic print). The back of the card notes that this month's proceeds go to the Osteogenesis Imperfecta Foundation (OI). I love when I know I can help a good cause with my purchases!
Designs by Katie Leigh: Bailey Bangle - Value $15.00
You can feel the love that went into making this handmade bracelet. I thought the $15 value seemed a little high, but when I read how each piece is handmade the total value made much more sense! It is made using gold leafing and welding techniques, and the white stone is surrounded by gold leaf. It looked a little small when I first took it out of the box, but luckily the bracelet is adjustable from 5.5 to 8 inches. I really love the look of this bracelet, but it isn't my style mainly because I rarely wear jewelry. I decided to gift it to my friend that was obsessed with the bracelet once I showed her!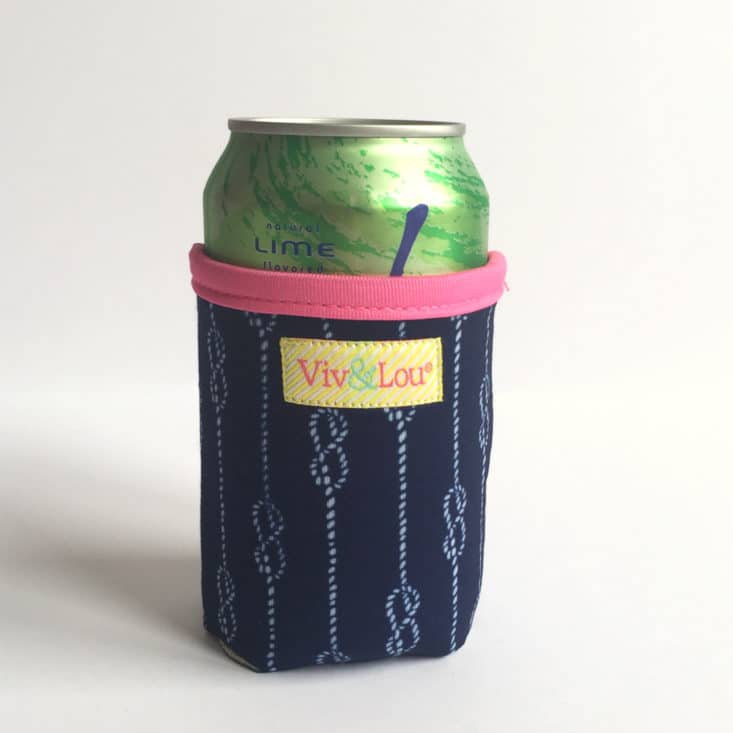 Viv and Lou: High Tide Drink Coozie - Value $9.00, currently on sale for $4.50
A coozie is always handy to have, especially during the summer when you are poolside! I really enjoyed the nautical theme with the pink piping along with the navy and white rope design. The fabric is a polyester and spandex blend so no risk of any condensation coming through this coozie! Overall, there wasn't anything too fancy about this coozie and I thought the $9 value was very high, but now that it is on sale I could absolutely see this being great to have ready for your friends at a pool party!
MissionCute: Do Good Washed Hat - Value $7.99?
The 90's 'dad hat' is a regular in my summer wardrobe so I was beyond excited to see this! The quality is great and matches a lot of the more expensive hats I've been wearing lately. The velcro back makes adjusting or putting your ponytail through way easy! I love the 'do good' message on this hat as well because it circles back to the mission behind MissionCute, I will proudly be wearing this hat!  
Peripeti Candles: Travel Candle - Value $8.00
I had this candle burning, and my when my husband came home he said 'oh what smells so good?' Enough said right?! This handmade candle is 100% soy with a cinnamon, apple, pear and sweet amber scent. The name Orchard Picnic makes sense because I really got an early fall vision with this candle scent. Peripeti Candles makes all of their candles in Cleveland, Ohio (my hometown!) so there isn't anything that I don't love about this candle!
Kashi Coconut Cashew Macaroon Chewy Nut Bar, 1.23 oz. - Value $0.70 (Buy a pack of 5 for $3.48 at Walmart)
Coconut is one of those things that I just can't eat. The entire top of this bar is covered in long coconut pieces so I am probably not the best taste tester for this. I took a few bites that I did enjoy! There is a great sweetness from the cashew butter, that mixed with the oats give it a rich creaminess that I would have really loved if it weren't for the very strong coconut flavor. I shared this snack with my Mom, who loves coconut by the way, and she devoured it! She said it was like eating a baked good without the guilt!
Verdict: I love that MissionCute donates a portion of their proceeds to a non-profit each month voted on directly by their community! Overall, I was very happy with this box, and even if there were some items that I didn't love I was able to share them with friends and family. I calculated a value of just around $36 (using the coozie's sale price), but I do think some of the items value was listed a little high. The items in the box this month skewed a bit younger to me as well, so I think this would make a wonderful gift to a high school, college age, or new graduate!  
What was your favorite item from the July MissionCute box?