Flaviar
11 Ratings | 0 Reviews
Flaviar introduces subscribers to premium liquors from around the world.
Flaviar isn't a typical subscription, and it's described as more of a membership. The membership fee is billed quarterly and includes the following: 
"Access to a ton of content, detailed distillery and bottle profiles, School of Spirits and in-depth articles on Flaviar Times.

Easy access to member reviews and tasting notes for 20,000 products through our iPhone app or on the web.

A choice of one complimentary Tasting Box upon each quarterly renewal, so you can try new drinks in sample-size and test your knowledge.

Invitations to tasting events, product launches, and industry events."
When you join Flaviar, you'll also receive a "Welcome to Flaviar" Tasting Box that includes three different spirits for you to try. This is a review of the "Welcome to Flaviar" Tasting Box.
This box was sent to us at no cost for review. (Check out the review process post to learn more about how we review boxes.)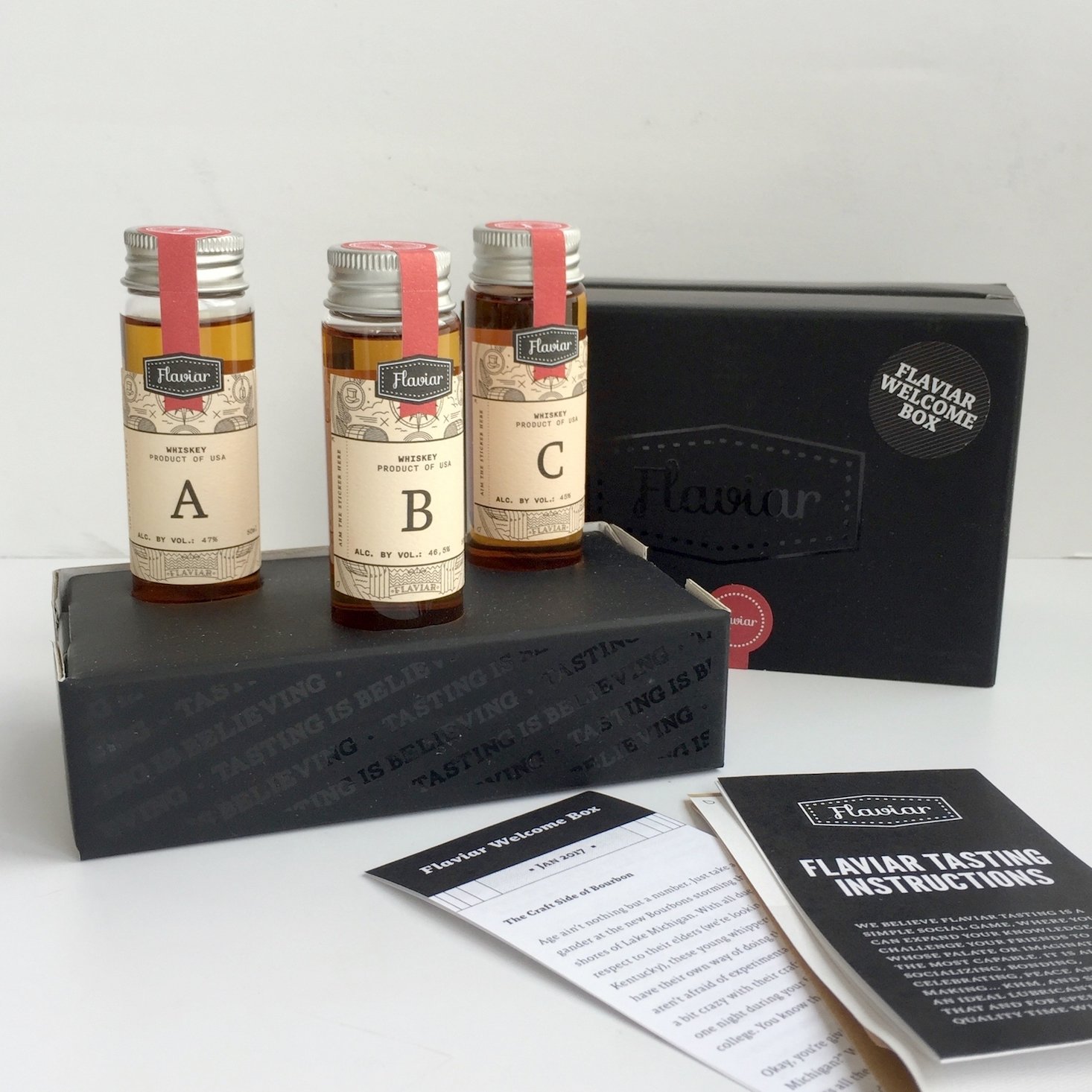 The Subscription Box: Flaviar
The Cost: $60 per quarter
The Products: Quarterly curated tasting packs that contain 3 x 1.5 oz. vials of premium spirits from around the world. (Membership also includes access to bottle offers and the Flaviar Vault, rare, vintage and exclusive drams in bottle and sample size, and free shipping on any number of bottles or Tasting Boxes.)
Ships to: EU and US (All states EXCEPT Alabama, Alaska, Arkansas, Delaware, Hawaii, Kentucky, Massachusetts, North Dakota, Oklahoma, Pennsylvania, South Dakota, Texas, and Utah)
A Note about Shipping: All boxes are shipped from Europe and can take 4-14 days to arrive in the US.
Check out all of our Flaviar Reviews and visit the Alcohol Subscription Box Directory for more boozy boxes!
Keep track of your subscriptions: Add this box to your subscription box list or wishlist!
This tasting box is the "Flaviar Welcome Box."
I received tasting instructions to help guide me through the tasting process.
The vials are marked with only "a," "b," and "c" to help ensure the blind tasting is truly blind, but Flaviar included decals with the name of each spirit that you can transfer onto the vials after the tasting is complete.
Now on to the tasting!
Koval Single Barrel Bourbon - $51.99 for 750 ml
The first bourbon I sampled was bourbon "A," which turned out to be a single barrel bourbon from Chicago's Koval distillery. When I first sniffed this bourbon, I picked up on a grain-like aroma that reminded me a little of freshly baked bread. Flaviar pinpoints the notes as wheat, barley, and corn, and also picks out aromas of vanilla and mango chutney. The flavor is sweet, a little spicy, and reminiscent of caramel and dried fruit. I like this bourbon! The flavor is tasty, and the finish is remarkably smooth.
Few Bourbon Whiskey - $67.92 for 750 ml
Next, I sampled bourbon "B," Few Bourbon Whiskey. Once I looked up this bottle online, I recognized it immediately! I've seen this bottle for sale locally, but this is my first time trying it. After taking a sip, the first thing I noticed about this bourbon is that it's a lot more heavily spiced that the Koval! I got lots of cinnamon and clove, and I also notice a malty flavor and a little smoky wood. The finish on this one isn't quite as smooth, but I like that the flavor lingers a bit longer.
Journeyman Featherbone Bourbon - $48.99 for 750 ml
Last up was sample "C," Journeyman Featherbone Bourbon. Unfortunately, this ended up being my least favorite sample. The predominant flavor for me is… well… alcohol. At 90 proof, this bourbon isn't any stronger than the other bottles featured in this shipment (the alcohol content is actually the lowest of all the samples I received), but I think it's missing the sweet, caramel-y notes I love in bourbon.
Verdict: It's important to point out that Flaviar isn't a traditional subscription. At $60 per quarter with one tasting pack included, I think Flaviar is best for those who plan to take advantage of Flaviar's other membership perks like free shipping and access to special bottlings. For me personally, I really enjoyed sampling the different bourbons in Flaviar's Welcome Tasting Pack (I think I've discovered a new favorite bourbon in the Koval!), but I don't know that I'm enough of a liquor enthusiast to maximize the value offered in Flaviar's membership perks.
Do you like trying spirits from around the world? What do you think of Flaviar?