Honest Diapers Bundle
11 Ratings | 3 Reviews
The Honest Company offers five different "bundle" subscriptions: Essentials (household items), Diapers & Wipes, Health & Wellness (vitamins), Organic Infant Formula + DHA  and Beauty.  
My Subscription Addiction pays for this subscription. (Check out the review process post to learn more about how we review boxes).
This review is of the Diapers & Wipes Bundle, $79.95 a month, box. 
Note from Liz: The Honest Company was recently in the news about cancellation issues. Currently, you have to call in to cancel your subscription (you can update the ship date from your online account, though.) Phone wait times were reported at up to half an hour in some cases. The Honest Company has issued this response:
"Our mission from day one has been to help people live happy, healthy lives by providing products that families everywhere can trust. We are constantly looking at ways that we can further improve our customer service policies and procedures. Online subscription cancellation is a feature we've been working on and plan to enable in the very near future as a way to provide our customers an easier way to make changes to their subscription preferences 24 hours a day/7 days a week. We look forward to implementing these changes shortly. In the meantime, we always offer refunds to any customer who wishes to cancel, without exception, as well as a 365 day return policy."
The Subscription Box: The Honest Company Diapers & Wipes Bundle
The Cost: $79.95 + tax per bundle
The Products: Each full-size Diapers & Wipes bundle includes 6 packs of Honest Co's plant-based diapers (quantity varies depending on diaper size) and 4 packs of wipes. Both products are free of petrochemicals, chlorine, harsh chemicals and common allergens. You can also add up to 3 additional items to your bundle with the "Add-Ons" feature. Each add-on is 25% off the cost listed online for individual purchase in the Honest Company online store.
Ships to: US, Canada, and APO/FPO addresses. Shipping on purchases and bundles over $50 is free for US deliveries only. See their FAQ for further details and restrictions.
Good to know: You must call to cancel your subscription (you can't cancel online) and consumers have reported being on hold for longer than normal before they're able to talk to a representative.  Even though you can't cancel online, you can adjust your shipping calendar dates for your Honest Bundle and customize the contents at any time in your account. If you sign up for the free trial, you will be billed for your first month 7 days after you sign up for the trial.
Check out all of our Honest Company reviews and our list of Subscription Boxes for Babies!
Keep Track of Your Subscriptions: Add this box to your subscription list or wishlist!
Honest Company Diaper bundles are always huge since they have enough (or more than enough) for a month! Here's what I got this month.
If you're not familiar with this subscription, here are the basics: You always get 6 packs of diapers and 4 packs of wipes each month. For the diapers, you can select your favorite patterns, and Honest will randomly pick for you depending on what's available. You can swap in Overnight Diapers or Pull-Up style diapers for any of the 6 packs. You can even change the size on just some of the diapers, and you can also add on extra products for a 25% discount.
I personally love the add-on discount and it's becoming a bigger part of why I like this subscription. Now that I get diapers delivered to my door, I make far fewer Target runs than I have in the past. Honest add-ons make it really easy to make sure I'm stocked up on other diapering products or even just hand soap and other essentials!
1 packs of Honest Overnight Diapers, size 5 - Regularly $13.95/pack ($0.63/diaper), save 22% with subscription
If you read my reviews regularly, you know that I've struggled with these overnight diapers in the last couple months. They were amazing at first, then for about 1.5 months straight it seemed like we had leaks every night! I tried sizing up and even tried different brand of overnights and still had issues - so I think the problem had more to do with the normal development of our toddler than the diapers themselves.
We started giving him his nighttime bottle about an hour earlier which has been the biggest help - and in the last two weeks, he is happily dry in the morning. Yay! I'm so happy I can keep using these and don't have to start finding another brand (and making a separate diaper run to buy them).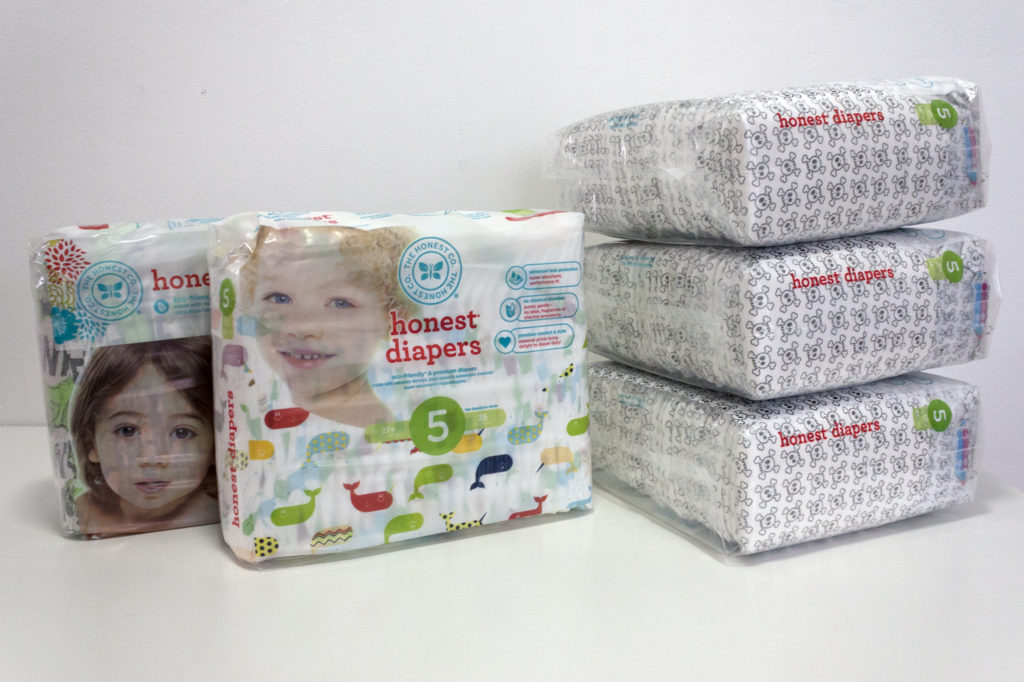 5 packs of Honest Diapers, size 5 - Regularly $13.95/pack ($0.55), save 22% with subscription
Honest had some new prints to choose from this month! Subscribers get to select their favorites, but you can't control how many of each you receive, and they're always subject to availability. This colorful whale print was too cute to pass up! I wish I would have gotten more than 1 pack, but I'm always happy to get the cute skulls and dinosaurs prints too (those are always available).
Here's a closer look- the whales have teeny tiny happy faces on them! Our son's vocabulary is exploding lately, so it's super fun to point out smiling faces and hear him go "Happy! Happy!"
This is a big stash of diapers and will last me until our next shipment. I usually alternate our deliveries between 5 and 6 weeks, though sometimes at 6 weeks I am on my last handful of diapers when the box arrives, so I've cut it close a few times!
4 pack of Honest Wipes - $18.95 ($4.95 individually)
Once again, nothing has changed about my love for these wipes! They're perfect in every way: gentle for baby, unscented, with a great thickness and just the right amount of texture. I love these so much that I'd buy them even if I wasn't a subscriber. I've also noticed that even though we have a habit of leaving the top open slightly after diaper change time, these don't dry out quickly.
I still have quite the overstock, though, so time to give some away or find a place to donate them. This is really my only complaint about this subscription - newborn babies need a TON of wipes, but once you hit toddlerhood you really don't go through 4 packs/month anymore.
I also got an add-on this month:
Honest Bubble Bath, 12 oz - $11.95 ($8.96 with the add-on discount when you subscribe)
Bath time has been getting out of control lately (read: lots of splashing), so I decided to switch things up with some bubble bath this month to distract my son a bit. This Sweet Orange Vanilla scent smells so good, like a creamsicle! I was worried about him getting this in his eyes at first... but he literally spent his entire bath picking bubbles up and smashing them onto his face and laughing, so I am happy to report these bubbles are kid-tested and definitely "tear-free". A good squirt made a lot of bubbles and lasted for the whole bath, too, so I'm sure I'll be picking this up again in the future.
Verdict: For $88.91 this month (bundle price + add-ons), I got $114.60 worth of products at their regular retail prices, delivered right to my door. My verdict is pretty much always the same: Honest is a little more expensive than some other diaper brands, but the quality and convenience are great, and I've really liked all of the add-on products I've tried so far. My only wish is to be able to swap out baby wipes for literally any other product (or even to ask Honest to donate them on my behalf) because I have at least 8 unopened wipes in our closet after this delivery!
Do you subscribe to Honest Diapers?