Birchbox Subscription Box Review + Coupon – November 2016
Birchbox
Every month, Birchbox lets subscribers pick between a curated box (all samples revealed) or a single sample choice and be surprised by the rest of the items.
My Subscription Addiction pays for this subscription. (Check out the review process post to learn more about how we review boxes).
This review is of the Sample Choice, $10 a month, box. 
The Subscription Box: Birchbox
The Cost: $10 a month (get one month free and $10 to spend in the shop with an annual subscription!)
LIMITED TIME DEAL: While supplies last, use coupon code TWOFORONE to get a FREE extra Birchbox with your first month of a Birchbox subscription! The box design—and the goodies inside—will be a surprise.
OR
Get $5 (50 points) to spend in the Birchbox shop when you subscribe with coupon code SUBSCRIBENOW50
OR
Try any of these free gift with purchase coupons on orders of $35 or more!) And don't forget your free mystery sample pack on orders of $35 or more!
The Products: Beauty and lifestyle samples selected by the Birchbox team.
Ships to: US, France, Spain and the UK and Canada
Check out all of our Birchbox reviews and the Beauty Subscription Box Directory!
Keep Track of Your Subscriptions: Add this box to your subscription list or wishlist!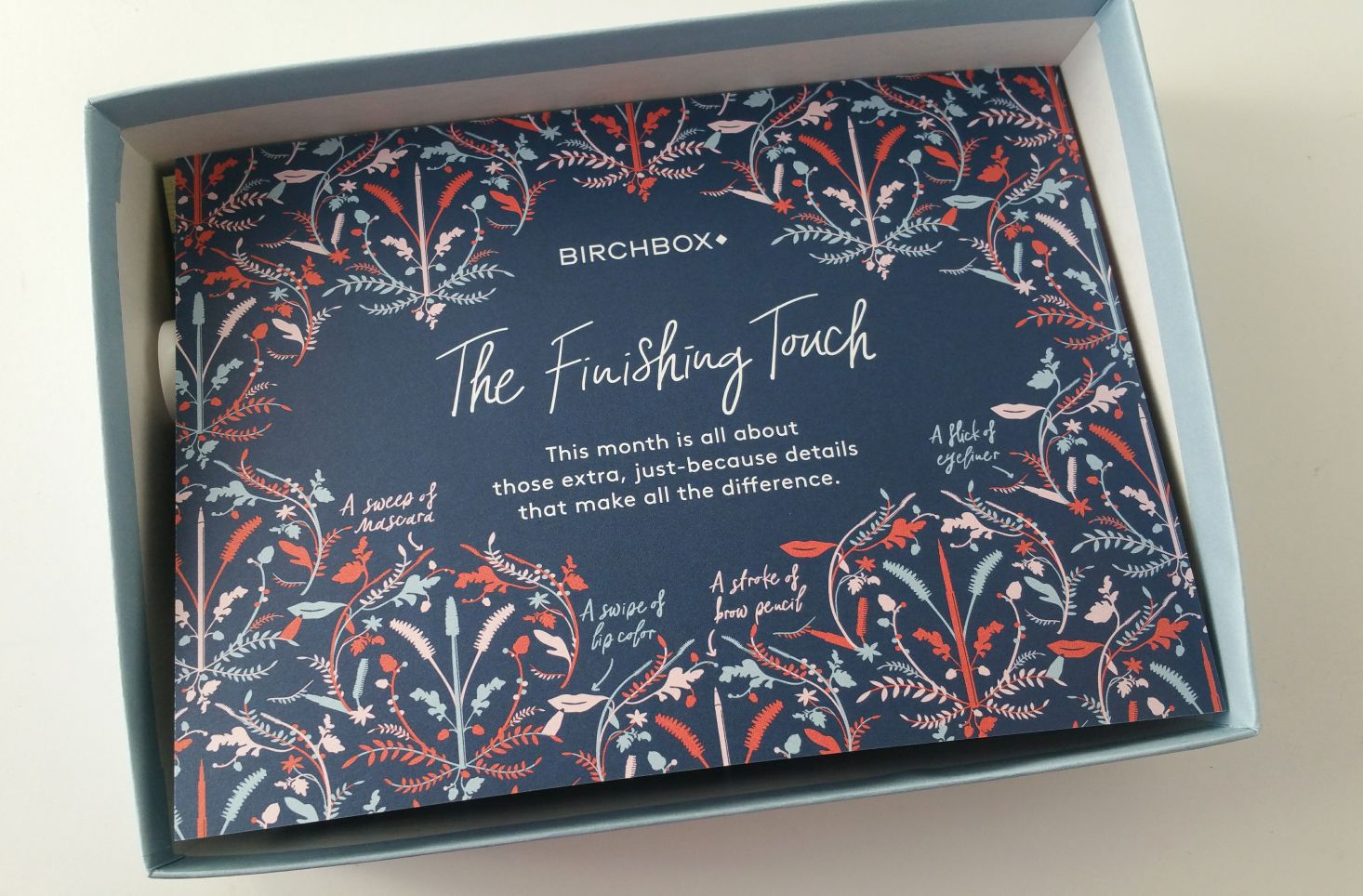 Each box comes with a card that has a blurb of the month's theme and focus. November's theme is about the "extra, just-because details that make all the difference."
And the flip side of the card always lists the names and details of the items in your box!
Dr. Jart+ Ceramidin Cream – 0.2 fl oz, Value $6
I've heard a lot of good things about Dr. Jart's Cermidin products so I was looking forward to trying this. I think it works well and the formula is definitely ultra-moisturizing, but it just has an odd smell… slightly medicinal, maybe? I'm not sure. It works well so it may just be that I have to get over it. It dissipates quickly for me anyway.
R+Co ANALOG Cleansing Foam Conditioner – 1.5 oz, Value $7.25
I've tried a cleansing foam conditioner before from the Macadamia brand, but that's it aside from this one. I've never tried an R+Co product before, though! All in all, I really like this product. It smells really good and I need less than I thought I did. My hair feels hydrated, clean, and the good smell has lasted all day.
Living Proof Full Thickening Cream– 0.5 fl oz, value: $3.65
I wish this sample were bigger because this is my new favorite discovery! Living Proof products have been a hit or miss for me with the ones I've tried before, but this product works really well. You apply a pea-sized amount to your damp hair, starting just past the roots and going all the way to your ends and then blow-dry "to activate." My hair is usually fine and a little wispy, but this cream really helped it feel thicker/more voluminous and had a hydrated feeling weight to it all day. I'll have to add the full-size to my cart for when I run out of this!
Coastal Scents Blush & Bronzer Palette – Value $1.50?
This was my sample choice this month – a little blush + highlighter duo samples from Coastal Scents's new Blush & Bronzer palette. I do have to point out that I think this could possibly be a little confusing for some subscribers because the big words on the packaging says "blush and bronzer" but when you open it, it's actually blush and highlighter. That's fine for me, because I'll use a highlighter more, and the rest of the packaging clearly states "this sample includes a blush and highlighter from the new…. palette."
But I'm mostly clarifying this because I noticed that one of the handful of reviews of this on Birchbox's site is negative saying that the "bronzer" in this sample didn't work at all for her even though she's super pale… sounds like she didn't realize it was a highlighter, not a bronzer, and hopefully others won't be dissatisfied due to confusion/misunderstanding.
All of that being said, I really like this duo! I think the packaging could be better… the shape (and size) of the tins makes it hard to apply ideally to my brush and face. I could make it work with a little extra effort, though, so it wasn't unusable. The blush formula is highly pigmented and blends well – a little goes a very long way! Just this sample would last me quite some time if it was easily usable… The highlighter is really pretty, too. The formula is just right for me – a very fine shimmer so that it's not "sparkly." It definitely adds some glow to my complexion.
Ardency Inn Modster Smoothe Ride Supercharged Eyeliner – 0.8 g, Value $14.10
This waterproof eyeliner had actually been on my "to try" list for a while! The formula is creamy and very soft/smooth. It applies with zero tugging on my lid at all. It has great, opaque pigmentation and stayed put all day. I'd love to try some of their brighter and bolder colors.
Here are swatches of the eyeliner, blush, and highlighter.
Here I am wearing the eyeliner, highlighter, and blush. I was pleasantly surprised with how much I love the color of the blush because it's a little warmer than I usually reach for. Also, I think the highlighter adds a great touch of glow. The eyeliner formula is so much softer than I'm used to working with so it took a bit of patience and a steady hand for me to really be happy with the application and create a solid line, but I think it's a really nice product all in all.
Verdict: I wasn't super excited about my November Birchbox just from opening and looking at my samples, but after trying each on I'm actually really happy with it. I think every single item (except for maybe the ceramidin) pleasantly surprised me! I know I'll use up as much as I can from every sample. The value of my box adds up to $32.50 which I'm happy with for a $10 box filled with new happy product discoveries for me!
What do you think about Birchbox? What samples did you get this month?
Birchbox ($15 per month) was one of the very first beauty subscription boxes—we've been reviewing it since 2012! Each month, subscribers get a new mix of 5 beauty samples, such as makeup, skincare, haircare, and fragrance items. Birchbox lets you choose whether you'd like a box of items picked just...
read more.
Haley Faye first discovered the wonderful world of subscription boxes in 2012 and began writing for MSA in 2014. Over the years, she has found many subscriptions to love. Now a mom of three, her favorite boxes are ones that dress her kids, help her get organized, feed her family, send her snacks, and offer educational fun for her children.
Haley Faye first discovered the wonderful world of subscription boxes in 2012 and began writing for MSA in 2014. Over the years, she has found many subscriptions to love. Now a mom of three, her favorite boxes are ones that dress her kids, help her get organized, feed her family, send her snacks, and offer educational fun for her children.
You Might Also Like
Our reviewers research, test, and recommend the best subscriptions and products independently; click to learn more about our
editorial guidelines
. We may receive commissions on purchases made through links on our site.