Allure Beauty Box Review – November 2016 (Box 2) + $5 Coupon
---
This post may contain referral/affiliate links. If you buy something, MSA may earn a commission. Read the full
disclosure
.
Allure Beauty Box is a monthly beauty subscription from Allure Magazine. Each month they send out a mix of deluxe and full-size samples from mostly high-end brands!
This box was sent to us early for review purposes. (Check out the review process post to learn more about how we review boxes).
FYI – there are two versions of the box this month. I'm reviewing Box 2. (Check out the review of Box 1 to see both versions.)
The Subscription Box: Allure Beauty Box
The Cost: $15 a month
COUPON: Use this link to save $5 off your first box!
The Products: Deluxe and full-size beauty and makeup samples.
Ships to: the US
Check out all of my Allure Beauty Box reviews and the Beauty Subscription Box Directory!
Swap for any item in this box from the Allure Beauty Box Swap page!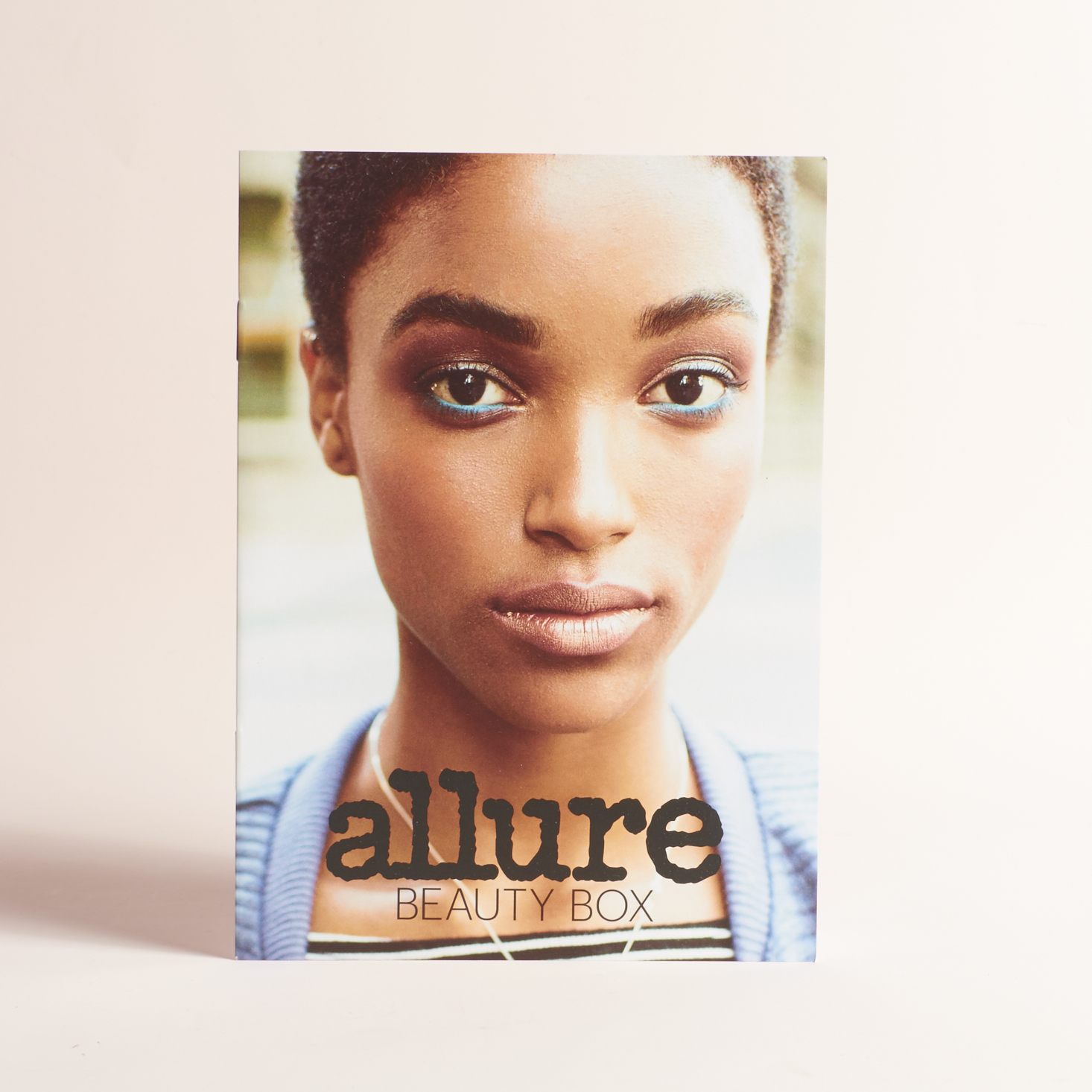 Each box comes with a booklet detailing the items included and why the Allure Beauty Editors selected them.
Now, onto the items!
Red Flower Icelandic Moonflower Moisturizing Body Lotion – 1 oz Value $3.25
(This item is in both box variations)
This is a lightweight lotion that absorbs almost immediately. I like the subtle floral fragrance, and this lotion is ingredient-conscious and made in the USA!
Bulgari Fragrance – Omnia Crystalline – 5ml Value $8.25
(This item is in both box variations)
This scent is described as a blend of Bamboo, Nashi, Lotus Flower, Balsa Wood.
FYI – this mini is tricky to open! Make sure to follow the illustration on the lid. You want to pull the silver part off from above. Here it is opened up:
Allure has sent different versions of this perfume before and I always enjoy getting them in boxes – the minis are so cute!
Eyeko Eye Do Liquid Eyeliner – .04 oz Value $11.40
(This item is in both box variations)
This eyeliner is waterproof and the felt tip marker makes it super easy to apply a straight line, too. Here it is swatched:
Bonvivant Alone Sheet Mask – Value $3
(This item is in both box variations)
This mask is made is made with aloe, lightly-scented, and it was super hydrating.
Seche Nail Polish Set
(Subscribers will either receive Refined Red OR Goddess Silver shade.)
Seche Color in Refined Red – Value $10
I've tried the Seche top coat before (it is amazing), but their color polish is new to me.
This polish is HIGH SHINE. Here it is on without the top coat:
Just two coats, too. I'm impressed!
Seche Vite Dry Fast Top Coat – 3.6 ml Value $2.30
This top coat is a cult classic for a reason! It's great for speeding up drying time on your polish, and it gives an amazing high-shine finish, too.
Verdict: This box has a value of about $38. That's good for a $15 beauty box. While the value of this box is lower than Box 1, I think I prefer this box more because of the Seche nail polish discovery!
What do you think of the November Allure Beauty Box? Which box are you hoping for?
This box is regularly $15 a month, but you can use this link to save $5 off your first box. (If you sign up before the end of November, your first box will be the November box.)
All views in this review are the opinion of the author. My Subscription Addiction will never accept payment in exchange for a review, but will accept a box at no cost to provide honest opinions on the box. This post may contain affiliate/referral links. If you buy something, MSA may earn an affiliate commission. Read the complete My Subscription Addiction
disclosure
.