Jerky Snob
2 Ratings | 0 Reviews
Jerky Snob is a monthly subscription that sends artisan jerky from small-batch producers across the country.
This box was sent to us for review purposes. (Check out the review process post to learn more about how we review boxes.)
The Subscription Box: Jerky Snob
The Cost: $27/monthly for 8 oz of jerky (3-4 bags) or $54/monthly for 1 pound of jerky (6-8 bags)
ACTIVE DEAL: Save 10% off of 1, 3, 6 and 12 month subscriptions and/or gifts!
CODE: ADDICTION
The Products: Small-batch beef jerky made without MSG, nitrates, nitrites, or corn syrup.
Ships to: US
Check out all of our Jerky Snob reviews and the Food Subscription Box Directory for more food boxes!
Keep Track of Your Subscriptions: Add this box to your subscription list or wishlist!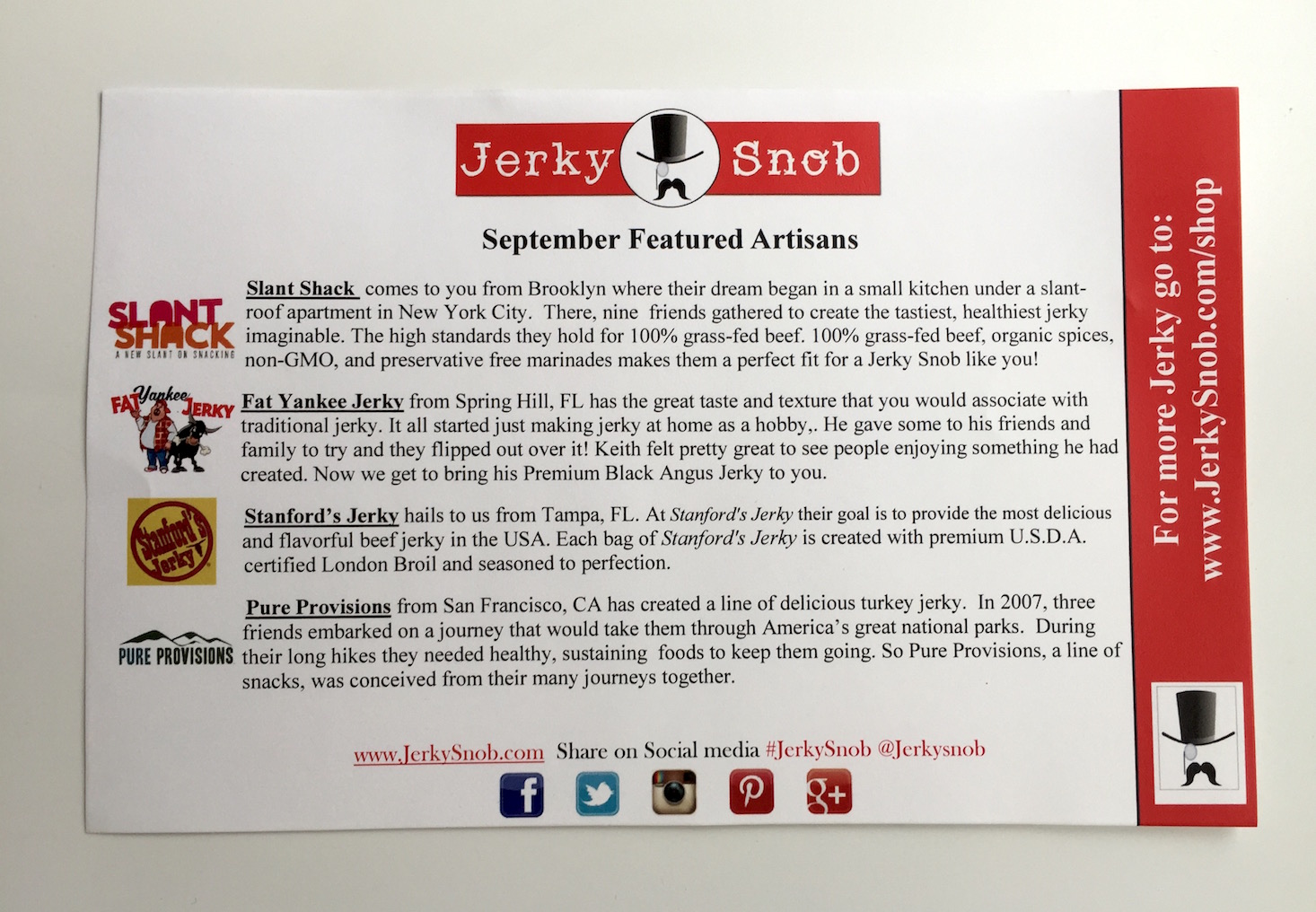 This box contained a Jerky Snob business card, as well as an info card outlining this month's jerkies.
Slant Shack Maple Garlic Steak Jerky (2 oz.) - Value $7.49
The texture of this jerky is really interesting. It's much softer than most of the jerkies I've had before, and Slant Shack claims to use "unique cooking methods" to keep it soft and "steak-like." The flavor is sweet and a little tangy. Garlic and maple aren't a flavor combination that pops up very often, but it works in this jerky.
Pure Provisions Orange Ginger Turkey Jerky (2.2 oz.) - Value $5.99
Unlike garlic and maple, orange and ginger are a classic flavor combination. It's sweet and a little zippy, and it works really well on this turkey jerky. The texture is chewy and a little soft, and I'm surprised (and pleased) to see that this jerky is fat-free!
Fat Yankee Sweet & Spicy Jerky (3 oz.) - Value $7.99
Unfortunately, this jerky arrived moldy. I reached out to Jerky Snob to let them know, and they passed along their apologies. They also explained that they inspect all bags as best they can before sending them out to subscribers but that with natural and preservative free jerky it's impossible to completely avoid spoilage. Luckily, it does seem that spoilage is rare, and Jerky Snob was great about shipping out a replacement bag to me right away.
I'm a fan of spicy jerky, so this flavor is one of my favorites in the box. The jerky starts out sweet and then the spice slowly builds to a nice burn. I like how the beef is cut into long strips. This jerky is chewy, but not too chewy. I'm a fan.
Stanford's Campfire Jerky (1.5 oz.) - Value $4.99
(Note: I couldn't find this particular flavor for sale online, so I've estimated the price based on the others flavors that are currently available.)
The first thing that struck me about this London broil jerky is that the pieces are all cut a little differently. Some slices are cut against the grain of the meat and others are cut with the grain. Interestingly, this results in some pieces that are chewier than others. The primary flavor note is definitely smoky (which seems appropriate for a flavor called "campfire"). I don't think I would purchase this jerky again, but it's certainly unique. I don't think I've had jerky like this before.
Verdict: The jerky included in this shipment adds up to approximately $26.50, which almost breaks even with the cost of the box ($27). I like that Jerky Snob seeks out small-batch jerky makers, and I like that they send a variety of jerkies made from different cuts and types of meat. It's also great to know that they avoid products that are made with nitrates, nitrites, MSG, and corn syrup. I'm not sure that I'd be able to get through 8 oz. of jerky every month, but I think this subscription could be a good option for meat lovers who regularly snack on jerky and are looking to discover tasty new brands.
Are you a Jerky Snob? Have you tried any of the brands featured in this month's box?