Geek Chic Monthly
6 Ratings | 2 Reviews
Geek Chic Monthly is a monthly subscription box that sends you jewelry curated to a geeky theme. Each box contains 4-5 pieces that include necklaces, earrings, adjustable rings, brooches, keychains, hair bows or collectibles.
This box was sent to us at no cost for review. (Check out the review process post  to learn more about how we review boxes.)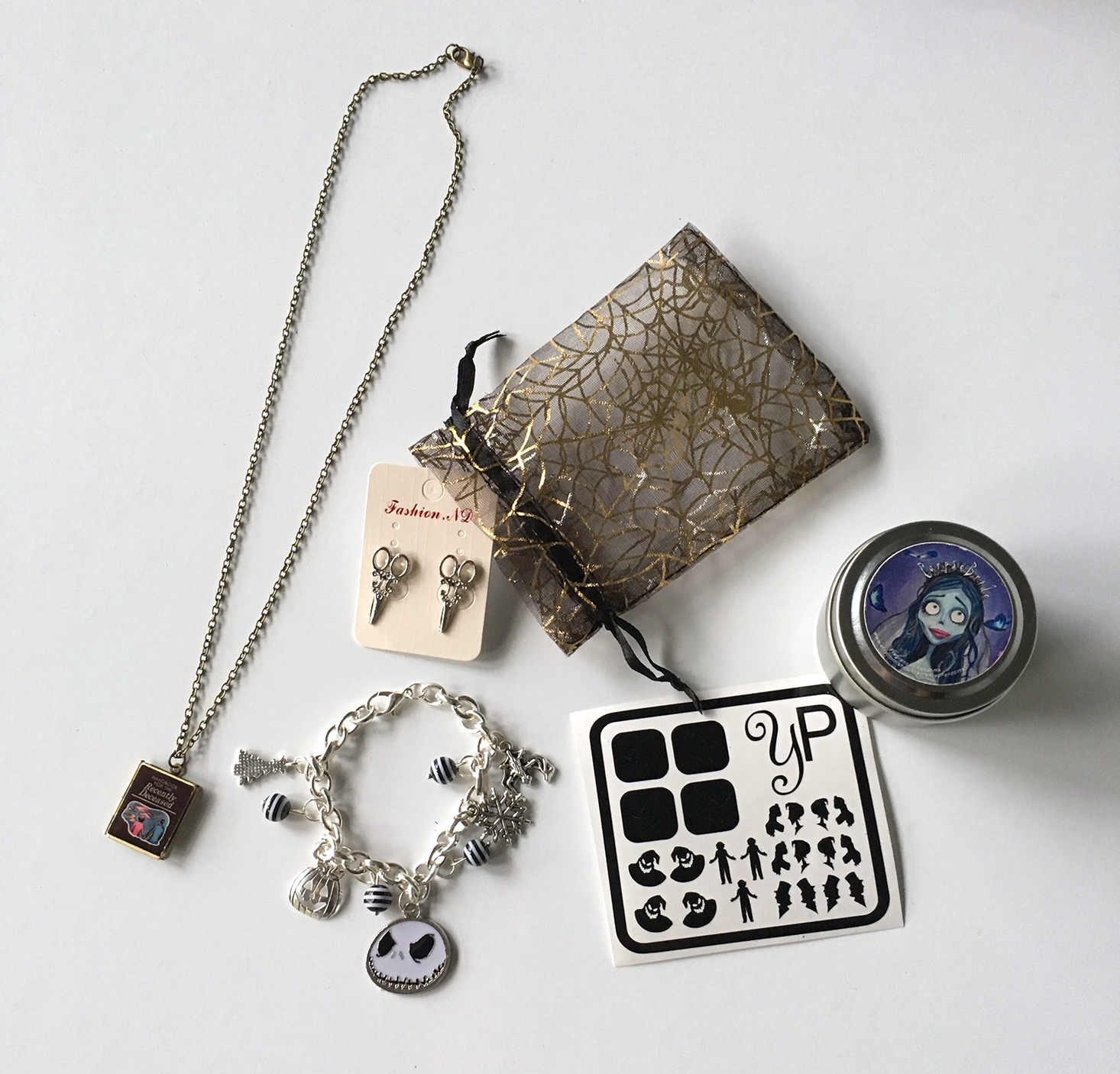 The Subscription Box: Geek Chic Monthly
The Cost: $15 per month + $3 shipping
The Products: 4-5 jewelry pieces curated to a geeky theme
Ships to: USA ($3 shipping), Canada ($10 shipping), and everywhere else ($15 shipping)
Check out all of our Geek Chic Monthly reviews and the Geek + Nerd Subscription Box Directory!
Keep Track of Your Subscriptions: Add Geek Chic Monthly to your subscription list or wishlist!
October's theme was the Tim Burton box.
Beetlejuice Inspired Necklace
This is an antique brass-toned necklace with a book-shaped pendant that reads "Handbook for the Recently Deceased."
The book opens up like a locket and features a tiny clasp closure. I think the locket is functional but it is just so tiny! I doubt I have anything small enough to place inside this. All in all, I adore the whole aesthetic.
YouPolish Nail Decals
These are adorable Tim Burton themed nail decals from YouPolish. Each tiny decal is amazing! I'm completely in awe of the precision and detail in each sticker. The four black decals pull away to show Zero from The Nightmare Before Christmas in the negative space.
Edward Scissorhands Inspired Earrings
These are super adorable scissors-shaped earrings with rubber backings. They seem well-made for fashion earrings. The details on each earring are impressive. It is just my style but I don't have piercings! I'm sure I can find a good home for these, though.
The Nightmare Before Christmas Inspired Bracelet
I always appreciate more Jack Skellington. This is a fun charm bracelet with a handful of cute references to The Nightmare Before Christmas. One of the charms did fall off when I received it so I would be careful and make sure the links are all safely secured onto the bracelet before you wear it out!
Fragranced Fandoms Corpse Bride Candle - Value $3.50
This candle is described as a mix of antique sandalwood, rose, and english garden. I absolutely love the scent. I'm usually more into fruity or citrusy scents but this one smells warm and cozy, like a nice hug, which is sorely needed now that temperatures are dropping fast.
Verdict: This is one of my favorite Geek Chic Monthly boxes! Everything was my style, and while I don't have piercings I certainly wish I could wear the earrings. The nail decals may be my favorite, though, I'm just in love with the amount of detail and precision in each small piece. The cost breakdown is $3.60 per piece, which I believe is a great deal for what you receive.
Do you subscribe to Geek Chic Monthly?