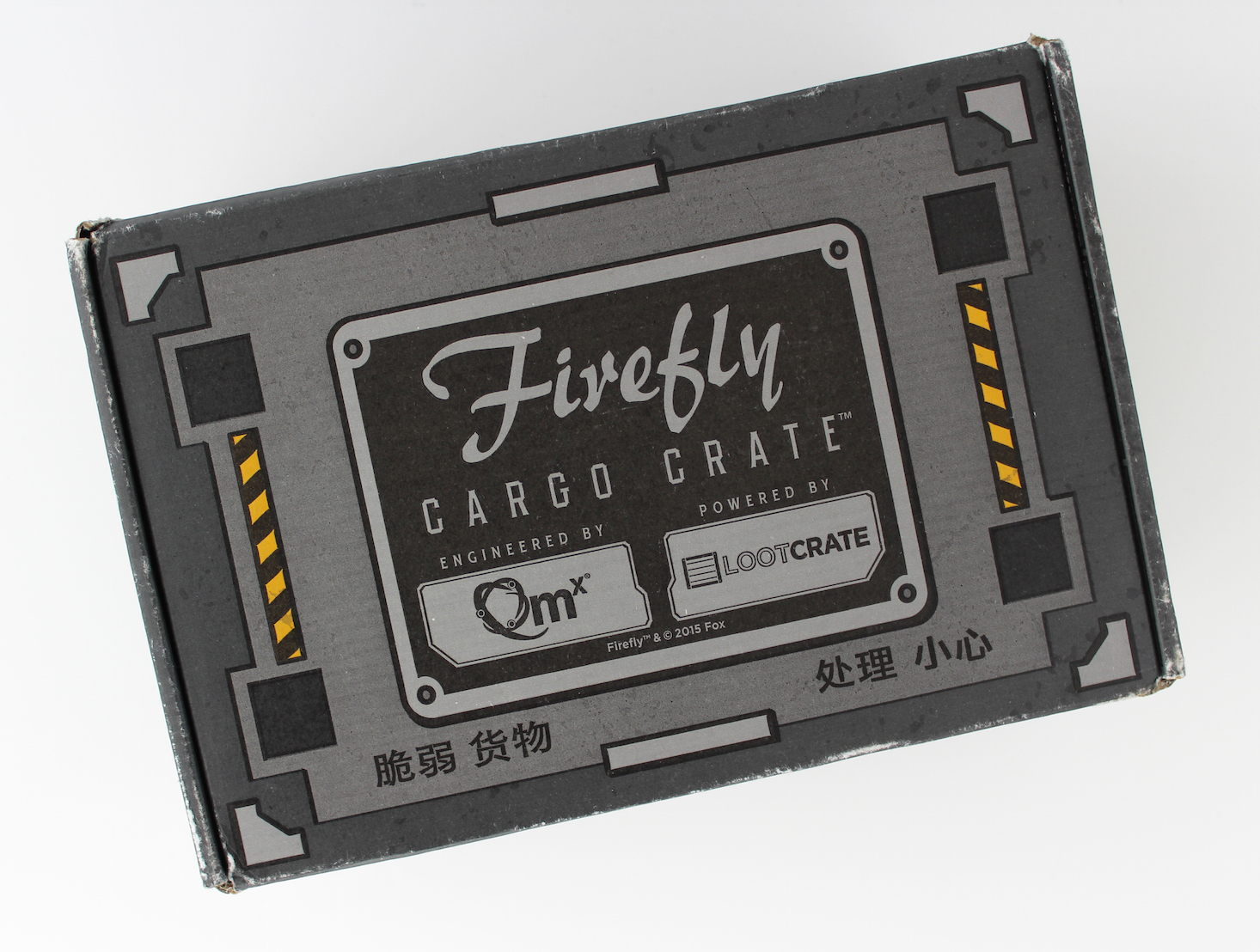 Firefly Cargo Crate
13 Ratings | 4 Reviews
Loot Crate has recently launched a bi-monthly subscription dedicated to all things Firefly!
This box was sent to us for review purposes. (Check out the review process post to learn more about how we review boxes).
The Subscription Box: Firefly Cargo Crate
The Cost: $34.99 + $5 S/H
ACTIVE DEAL: Save 10% off any length subscription, or $3 off month-to-month
CODE: ADDICTION or SAVE3
The Products: 5-7 exclusive collectibles, a $65+ value!
Ships to: Worldwide!
Check out all of my Firefly Cargo Crate by Loot Crate Reviews to get more information on this subscription. Check out all of our Geeky Subscription Boxes in the Subscription Box List. Rate, review, and follow this subscription on the Firefly Cargo Crate by Loot Crate profile page.
Each bi-monthly delivery has been themed around one of the characters. So far, we've had Kaylee and Jayne - this month featured Zoe!
You'll always get a copy of The Signal. Inside you'll find information on each product along with stories from Firefly!
This month, we get a great interview with a Firefly writer.
Exclusive "Stand Firm" Shirt - Value $15?
This shirt was made exclusively for the crate by Firefly Costume Designer, Shawna Trpcic. That, in itself, is so cool! Does anyone know what exactly this is referencing? Is it just about the war? Did we see this on the show?
Zoe Washburn Qm Mini Masters - Value $20-25
The best part of collecting this box is building out the Mini Masters Firefly collection! Zoe is the latest edition - and she looks ready to battle, as per usual.
Each month you'll received that themed character's vinyl figure. The crew is assembling!
QBit Figure - Value $10-15?
You'll also get a blind box QBit figure. Up to this point in the subscription, it seems as though you'll get one of two possible figures each delivery. This month I pulled Malcolm Reynolds!
This month you could have received Malcolm or Hoban Who did you get?
Serenity Journal - Value $10-15?
Next up is a faux-leather journal. I've received a lot of journals in subscription boxes - and they're useful to me for keep notes - this is easily one of the best I've received. The faux-leather is firm enough to use as a good backing for writing, while still being a bit flexible for transporting.
Independents SDCC 2016 Chellange Coin - Value ?
This coin comes straight to us from SDCC 2016 - which is nice for us unlucky people that couldn't attend. One side says "Keep Flying" with a partial shot of Serenity. The other says "Never Forget Serenity Valley". I don't have much use for collector coins - but it's one of the cooler ones I've received.
Zoe Certificate of Valor - Value $5?
They include a replica Certificate of Valor for Zoe from her life as a soldier.
Big Damn Heroes pin - Value $5?
This month's pin comes straight from Zoe's line in the show:
Exported From Hera Sticker - Value $2?
So far, there has always been a stick from a location in the 'Verse as well - this month is from Hera.
Verdict: I've really been enjoying Firefly Cargo Crate so far - this keep the good times rolling. Overall, I'm totally in it from the Mini Master vinyl figures now - I'm a completionist, I NEED to finish the set now! For me, there has yet to be an issue with value, either - if you're a fan of the show, you're going to love all the loot in your crate!
What did you think about the July Firefly Cargo Crate?