Moustache Stationery
1 Ratings | 1 Reviews
Moustache Stationery is a monthly subscription box that sends out unique and 'awesome' stationery products.
My Subscription Addiction paid for this box. (Check out the review process post to learn more about how we review boxes.) 
The Subscription Box: Moustache Stationery
The Cost: $39.95 per month
Ships to: US (free), Canada ($5.00), and the rest of the world ($10.00)
The Products: "We scour the earth for the most amazing stationery products.  Every month we curate an exclusive box for our subscribers.  Many of our boxes contain limited edition items only available to Moustache Stationery Subscribers."
Check out all of our Moustache Stationery reviews and the Paper Subscription Box Directory!
Keep Track of Your Subscriptions: Add this box to your subscription list or wishlist!
The theme this month is "Shabby Chic." I got my June box in July, and then left on a trip for a week, hence the late review. This isn't unusual for Moustache Stationery, just an FYI - the box ships late in the month and sometimes doesn't arrive until the next month. I don't mind, because I usually love the contents!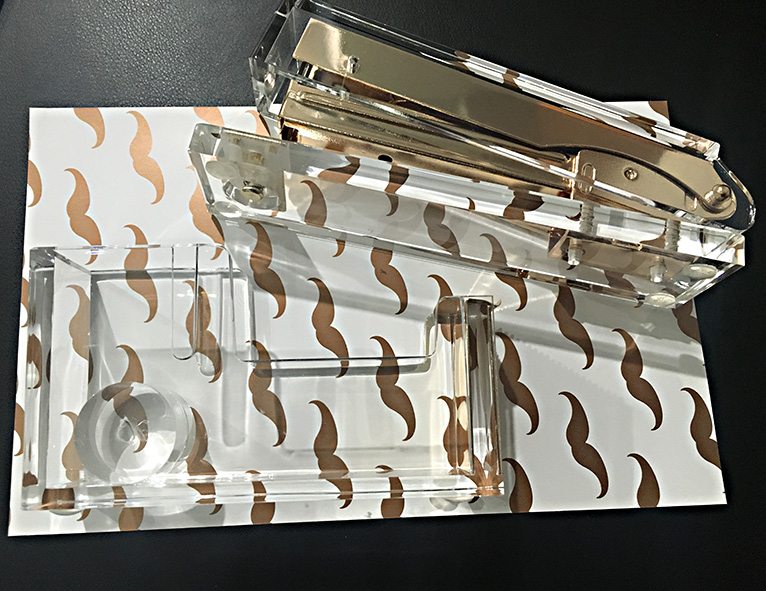 Gold Acrylic Tape Dispenser - $19.99?
Gold Acrylic Stapler - $19.99?
I love these! They match my office perfectly. This tape dispenser and stapler are unbranded, so I am guessing on the price. I've linked to similar items on Amazon just because it was incredibly difficult to get pictures of these that show them accurately. These seem to be really great quality desk supplies - I've already put staples in my stapler and am using it regularly. My tape dispenser did arrive broken though. The little piece that holds the tape in place is broken. When I contacted Moustache Stationery, they were great about it and asked me if I wanted a partial refund of the box (they offered $19.99) or if I wanted them to include it in my box this month. I opted for them sending it this month since I love it so much!
Tombow Irojiten Grayscale Colored Pencils - $9.26
The colors in this set of colored pencils is gorgeous. The tones are muted and soft, while still packing a nice punch. I love these pencils! 
Pastel Mint MT Washi Tape - $3.50 
This washi tape is such a pretty color! I have amassed a ton of washi tape since getting addicted to subscription boxes - so this one will probably be passed to a friend. It really is gorgeous though.
6 Shabby Chic Wall Art Prints - $29.94 ($4.99 each)
These are available for sale in the Moustache Stationery store for $4.99 each, which I actually think is reasonable for an art print. I love all of the designs, and again, they match my office really nicely. I already have two of them on my wall!
3 Greeting Cards - $10.00?
These greeting cards are beautiful as well. Everything in this box is just gorgeous and perfectly curated. The cards I received are blank on the inside, making them perfect for just about any occasion!
Verdict: This was a pretty high value box for Moustache Stationery, based on my estimates! Even if my estimates (total box value of $92.69) are off a bit, I still think this box was absolutely worth the $39.99 price tag. I've been watching this box since last year, and subscribing off and on since then. I honestly think it just keeps getting better!
Have you tried Moustache Stationery yet?