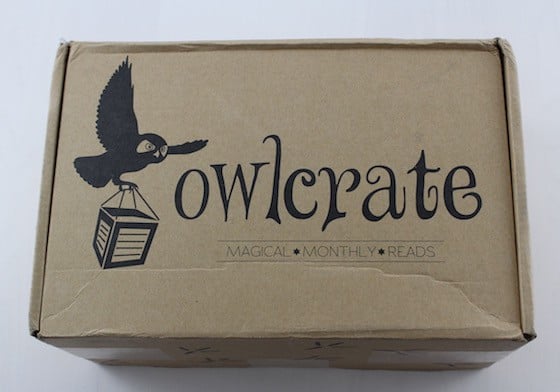 OwlCrate is a relatively new book subscription box. Each month they send you a newly released YA book with some bookish goodies.
My Subscription Addiction pays for this subscription. (Check out the review process post to learn more about how we review boxes).
The Subscription Box: OwlCrate
The Cost: $29.99 plus shipping ($6.99 to US, $10.59 to Canada, $19.99 Worldwide)
The Products: A new YA book and 3-5 book-related goodies.
Ships to: Worldwide!
Good to Know: Subscriptions for the June box open up Tuesday, May 26th, at 11 PM ET.
Each box comes with a card detailing the items included. For May, the theme is Parallel Worlds.
Magonia by Maria Dahvana Headley - Retail Value $17.99 (On Amazon for $12.78)
This book comes with a signed bookplate and exclusive bookmark. (I can't get over that gorgeous cover!)
Book summary from Amazon:
Maria Dahvana Headley's soaring YA debut is a fiercely intelligent, multilayered fantasy where Neil Gaiman's Stardust meets John Green's The Fault in Our Stars in a story about a girl caught between two worlds . . . two races . . . and two destinies.

Aza Ray Boyle is drowning in thin air. Since she was a baby, Aza has suffered from a mysterious lung disease that makes it ever harder for her to breathe, to speak—to live. So when Aza catches a glimpse of a ship in the sky, her family chalks it up to a cruel side effect of her medication. But Aza doesn't think this is a hallucination. She can hear someone on the ship calling her name.

Only her best friend, Jason, listens. Jason, who's always been there. Jason, for whom she might have more-than-friendly feelings. But before Aza can consider that thrilling idea, something goes terribly wrong. Aza is lost to our world—and found, by another. Magonia.

Above the clouds, in a land of trading ships, Aza is not the weak and dying thing she was. In Magonia, she can breathe for the first time. Better, she has immense power—but as she navigates her new life, she discovers that war between Magonia and Earth is coming. In Aza's hands lies fate of the whole of humanity—including the boy who loves her. Where do her loyalties lie?
GeekTat Alice in Wonderland Temporary Tattoos - Value $7
Obvious State Notebook - Value $6
I think these are both great picks for a parallel worlds themed box. I've been a little obsessed with Obvious State's shop since I first discovered them through a Book Riot box.
Crazy Aaron's Thinking Putty - Value $15
This putty is heat sensitive, so it changes color when you heat it up with your hands or throw it in the freezer. I think it will be a good desk distraction item!
Verdict: I'm pretty excited about my first OwlCrate, and I already can't wait for the June box. (The theme for June is diversity). The value of this box seems pretty great for a book box too. For $37 shipped to the US, I received about $41 worth of products (and that's with the discounted Amazon book price). Plus if you value the signed bookplate and exclusive bookmark that adds to the value.
I should also mention this book was on my wishlist, so I'm happy about that too! I decided to read A Darker Shade of Magic after seeing it was the book for a previous month, and I loved it, so I'm hoping their curation streak continues with Magonia!
What do you think of Owl Crate? What's your favorite book subscription box?