Beauty Box 5 Review – November 2014
This post may contain referral/affiliate links. If you buy something, MSA may earn a commission. Read the full
disclosure
.
Beauty Box 5 is a monthly beauty and makeup subscription box. It's also one of the cheapest beauty subscription boxes – only $8.25 a month with an annual subscription. They tend to feature more drugstore brands, and usually the product sizes are deluxe or full size. (Sometimes they still send out the dreaded foil packets though).
My Subscription Addiction pays for this subscription. (Check out the review process post to learn more about how we review boxes).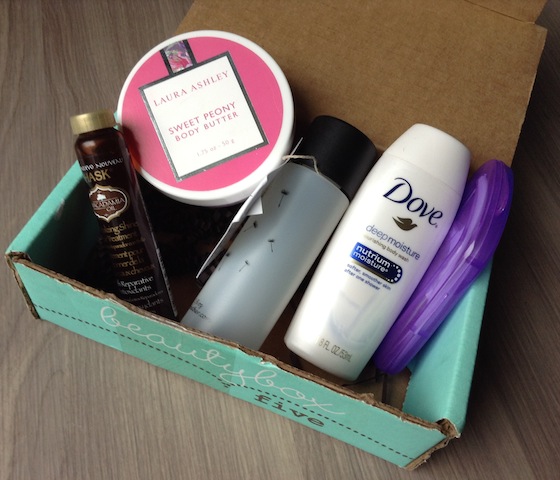 The Subscription Box: Beauty Box 5
The Cost: $12 a month (or $10 a month with a 3-month subscription; $8.25 a month with annual subscription)
COUPON: Use coupon code FREEBOX1 to get the previous month's box free when you sign up for a subscription. (You will still pay for the current box at time of purchase).
The Products: 4-5 full size and sample size beauty products.
Ships to: US and Canada
Check out all of our Beauty Box 5 Reviews and the Beauty and Makeup Subscription Box Directory!
Each Beauty Box 5 box comes with an informational card detailing each item in your box for that month.
DenTek Floss Picks + Case – Retail Value $.75
After Feather Refillable Travel Bottle – Retail Value $4.50
I was not happy with either of these items. They are perfectly fine, but not what I want from a beauty subscription box. (Also as a subscription box addict I have enough travel sized samples to last forever, so I don't need an empty travel bottle!)
Dove Deep Moisture Body Wash – 1.8 oz Value $.50
Laura Ashley Body Butter – 1.75 oz Value $3
I feel like I am being such a downer in this review – but neither of these two scents are for me. I'm going to add the body wash to the donation pile though!
HASK Macadamia Oil – 18 ml Value $3
This oil works on both wet and dry hair, and I like the scent. (It reminds me a little of the Beauty Protector scent).
Verdict: This month's box was not for me. The value is pretty bad too – about $11.75. I would expect at least one makeup item in the box, and a higher value.
What did you think of the November Beauty Box 5 box? If I'm being too harsh let me know!
All views in this review are the opinion of the author. My Subscription Addiction will never accept payment in exchange for a review, but will accept a box at no cost to provide honest opinions on the box. This post may contain affiliate/referral links. If you buy something, MSA may earn an affiliate commission. Read the complete My Subscription Addiction
disclosure
.