I know, New Year Resolutions can be tough to keep. We've all joined a gym in January only to cancel it 5 months later after stepping foot inside just a few times, right? Eating healthy can feel very "New Year, New Me" but I personally find it hard to avoid some of my favorite unhealthy snacks and then get frustrated and scrap the whole thing altogether.
Rolling into 2020, we have more options than ever before to help us become a better version of ourselves with apps, streaming services, and yes, even subscription boxes. But hey- they don't all have to be grueling to stick with. Maybe all you want to do is spend more time with your kids, travel more often, or practice more self-care. Any adjustment that makes you a happier or more well-rounded person should be celebrated as a win. And even if you falter- that's okay. We are all human!
Here at MSA, we thought we'd share some of our resolutions and which subscription service or box we're counting on to help give us that extra push.
Selected by Liz: MSA Founder, Thirsty for Knowledge
Subscription: MasterClass
Cost: $180 for a year subscription with the All-Access Pass
Why she chose it: "I always thought that Masterclass was such a cool idea, but I never pushed myself to sign up for it until the Sara Blakely class on Self-Made Entrepreneurship launched. It was so inspiring and helpful. (If you enjoy the How I Built This podcast, I think you will love this class, too.) And thanks to the Sara Blakely class, I'm a little addicted to MasterClass. If you aren't familiar, MasterClass All-Access Pass is an annual subscription that gets you unlimited access to classes taught by 75+ instructors who are world-famous experts in their fields. So my resolution is to take one class every week of 2020 to make the most of my subscription (that works out to under $3.50 a class). I have a long list of classes I'm excited to watch, and the next ones on my list are taught by Bobbi Brown, Judy Blume, Bob Iger, and Anna Wintour! I think this is a super manageable resolution, something I'm genuinely excited about, and it will be great to broaden my education and appreciation of different fields!"
Selected by Lacey: Site & Analytics Guru, Occasional Reviewer, Mom
Subscription Box: Green Kid Crafts
Cost: $29.95/month with free shipping. Save with longer commitments.
ACTIVE DEAL: Limited Time Only! Offering an unheard of TWO-MONTHS LONG Black Friday Event and it starts now
CODE: JOLLY50 12/10/2022
Why she chose it: "I already try to eat healthily and have a good workout routine going (yay!), so my resolutions for the next year are focused more on my family: less TV for the kids and less time scrolling on our phones for my husband and I. My preschool-age son (age 4.5) loves doing projects and is really into learning about nature and geology, so I am thinking of trying Green Kid Crafts to keep us busy during those cold winter months when we can't be outside exploring. Even though this is definitely too advanced for our 14-month-old at the moment, they do offer projects for kids as young as 2, so he might be ready to join in the fun sooner than I think."
Check out all of our reviews of Green Kid Crafts!
Selected by Rachel: Office Coordinator, Self-Care Aficionado
Subscription Box: The POSE Box
Cost: $89.95 every other month + $10 shipping. Save with longer commitments.
Why she chose it: "This is a triple-banger as far as resolutions go since the box includes:
Activewear: top or sports bra & leggings -- get fit for the new year! Like many, I tend to easily get off-track with my fitness routine, especially once the colder weather hits. I'm hoping some great new workout gear will motivate me to sweat!
Lingerie: bra & panty set or bodysuit -- get my sexy back! After having a unilateral mastectomy done last year, buying bras/lingerie has been an utter nightmare. I'd love to get served up options to try on at home--options that will hopefully have me feeling great about my new body!
A self-care beauty product -- get de-stressed! Self-care purchases are not very high up on my list of priorities, however, I definitely need to do more of it. This box would give me no excuses to not indulge!"
Selected by Christen: Copywriter & Editor, Music Lover
Subscription Box: Magnolia Record Club
Cost: $27.00/month with free shipping. Save with longer commitments.
Why she chose it: "I have an amazing vintage record player, but I barely use it because my record collection is a little unimpressive. It's mostly made up of warped hand-me-downs, with a few favorites given as gifts or purchased as treats mixed in. I am all about exploring new artists and would love to delve into new records at home, in a slowed-down, hygge type of way, rather than just in my car. This sub would be amazing for that!"
Selected by Marne: Content Specialist & Photographer, Cat Mom
Subscription Box: Pet Treater Cat Pack
Cost: $15.00/month with free shipping.
Why I chose it: "I have two cat boys, Kit and Gregg, who are the center of my universe. I have been traveling a lot this year though and feel bad that I don't spend as much time with them as I used to. Kit loves string toys while Gregg loves anything with catnip, especially huge crinkle toys he can tear apart. In 2020 I'd like to be a better cat Mom and play with my children more, so getting Pet Treater would be fun for all three of us."
Check out all of our reviews of Pet Treater Cat Pack here!
Selected by Savannah: Editor & Review Coordinator, EDM Wallflower
Subscription Box: Festival Fashion Box
Cost: $99.00/quarter with free shipping
ACTIVE DEAL: Get 10% off your first box!
CODE: MSA10
Why she chose it: "After a wild, wonderful year full of loud music, international travel, and oftentimes a combination of the two, my goals for 2020 are to keep that momentum going and to really lean into all the fun that's yet to come. A return to Electric Forest is on my itinerary for late June, and while I know my covered-up, soft goth aesthetic works well for my day to day, I'm looking to the Festival Fashion Box to demolish my comfort zone and thrust me (and my look) fully into the rave experience—even if it's just for a night."
Selected by Sara: Partnership Manager, Snacker, Fashion + Beauty Discovery Box Enthusiast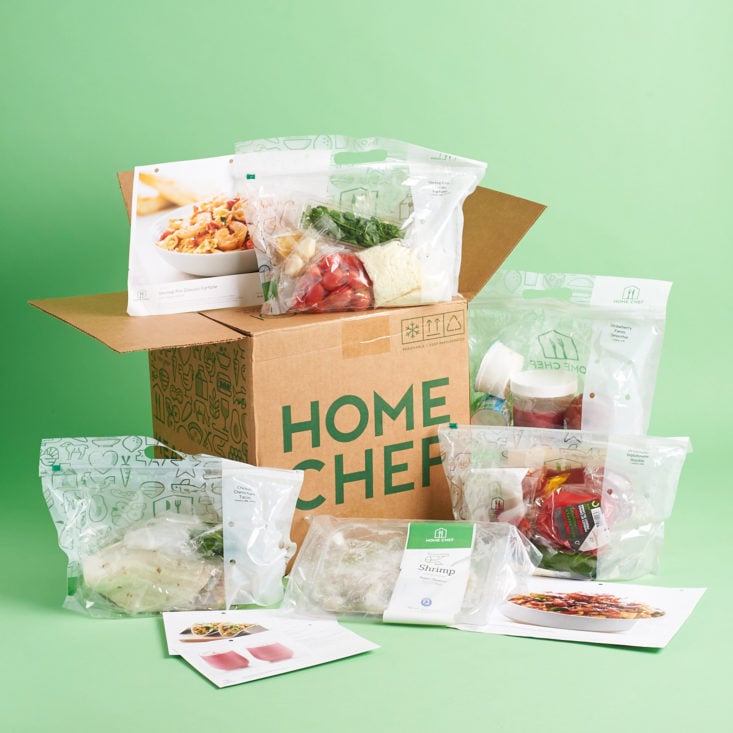 Subscription Box: Home Chef
Cost: Meals start at $9.95 per serving, and delivery is free for orders over $45. Shipping is $10 for orders less than $45.
Why she chose it: "As much as I'd prefer to live on cold pizza and candy bars, I want to step up my cooking game in 2020. I'm always impressed by the recipes Savannah whips up and I like how Home Chef offers quick options including snacks and breakfast!"
Check out all of our reviews of Home Chef here!
Selected by Megan: Content Creator, DIYer, Dog Lover
Subscription Box: SketchBox
Cost: $35.00 + $5.00 U.S. shipping for the premium box.
ACTIVE DEAL: Save $5 off your first box!
CODE: SKETCH5
Why she chose it: "I feel like winter is a great time to dive back into skills I have let fall by the wayside during the nicer months since I will be stuck inside anyway. It can be really easy to look at a blank sheet of paper or canvas and feel intimidated, but a box like this provides a chance to try out new materials I may have never reached for before, which is a great jumping-off point for a new project. The social media aspect is also fun too because with the #sketchbox tag I can see what other artists have created with the same items for even more inspiration!"
Check out all of our reviews of SketchBox here!
Selected by Emily: Creative Director, Vegan Person
Subscription Box: Hungryroot
Cost: $69.99/week with free shipping for the small plan (11 items per week, suggested for one person)
Why she chose it: "I've been vegan for a long time and have been terrible at packing lunch for myself for even longer. My go-to lunches at the office have been frozen meals or take out (which adds up fast), but I've wanted to try something healthier. I tried Hungryroot for the first time after reading Lacey's review as a way to cook healthy lunches for myself at work. Except for the time I made the whole office smell like Brussels sprouts, I felt so good about taking a break to cook something fresh for myself (veggie noodles + a veggie protein + a savory sauce was my fav formula). When our busy season hit, I fell back into my bad habits but in the new year, I want to get back into those tasty Hungryroot lunches."
Check out all of our reviews of Hungryroot here!
Selected by Andy: Photography Director, Cocktail Enthusiast, Flannel Wearer
Subscription Box: Taster's Club
Cost: $44.00-$79.00/month (depending on the type of alcohol selected) + shipping
Why he chose it: "Over the past year or so I've been getting more and more into making my own cocktails in the evenings, but I don't know a lot about how to choose the correct liquors to start with. I go for the most interesting looking bottles or maybe the cheapest depending on my mood. I'm hoping Taster's Club, with their educational component on the flavors and notes of various liquors, helps not only to expand my horizons but also helps me make better choices when it comes to crafting delicious and interesting tipples at home!"
Check out all of our reviews of Taster's Club here!
What are your goals for 2020?