Seed's DS-01™ Daily Synbiotic is a  2-in-1 probiotic + prebiotic that caught my eye for a few reasons: the science behind the formulation, the ingredients, and if I'm being totally honest, the packaging. (It's gorgeous! And it turns out Seed has thought a lot about sustainability in its packaging, too.)
If you aren't familiar, DS-01™ is $49.99 a month, and Seed offers a 30-day risk-free guarantee. You can also save 15% off your first month with coupon code MYSUB15.
I've been taking it for over 60 days now, so I wanted to give you my honest take on this synbiotic subscription, what you should expect, and if I think it's worth it.
What I am looking for: A gentle, allergen-free probiotic. 
First, I should give you some context on what I'm looking for in a probiotic supplement. I have a super sensitive stomach, so a probiotic that can support my gut health is the dream, but of course, trying out different probiotics can actually upset my stomach, so finding the perfect one is quite the challenge.
I'm also intolerant to gluten and dairy, so in addition to needing a probiotic that would be gentle on my stomach, I also needed an allergen-free one. I have tried multiple probiotics over the years (ranging from super pricey ones to relatively inexpensive probiotics from Nature Made) and hadn't found one I loved enough to keep ordering.
Basically, my digestive system and body are pretty high-maintenance when it comes to any type of supplement. I am a challenge when it comes to vitamins/probiotics/and just about anything else. And while everyone's body is different, I'm hoping that if a supplement doesn't upset my stomach, it's a good indicator that it should be gentle enough for most people.
It's also important to note that their final product is tested for mycotoxins, 420 different pesticides (including glyphosate and its breakdown product, AMPA), and 14 of the most common allergens as defined by the EFSA. Their naturally occurring probiotics strains have GRAS and/or QPS status, which designates them as safe for consumption by the United States and European Union, respectively. Additionally, they monitor purity under both US and European protocols (including cGMP + HACCP) throughout the production cycle with no skip-lot testing (this means, they test each ingredient batch prior to encapsulation and each batch after manufacture).
Now, let's open the box, and let me walk you through what you should expect in your first shipment:
First, let's talk about the lovely (and sustainable) packaging. DS-01™ comes in a frosted green glass jar. And the capsules even coordinate:
In addition to the standard-sized jar, you also get a mini tube of a jar for travel:
This should hold at least a week's worth of doses. After this initial shipment, you'll receive your refills in a slim mailer to restock the jars - again, they are doing their best to minimize packaging and keep things sustainable. The refill comes in a home-compostable safe biofilm pouch, which is made with bio-based materials for oxygen and moisture protection and is protected by a water-dissolvable, corn-based barrier foam. I never thought I'd say this about figuring out how to properly recycle/dispose of packaging - but dissolving the corn foam was fun!
Also, see that biodegradable algae paper tray keeping the jars in place? It's made from algae that would otherwise damage fragile marine ecosystems. (Check out all the details on their packaging here.)
OK, now onto the actual supplement!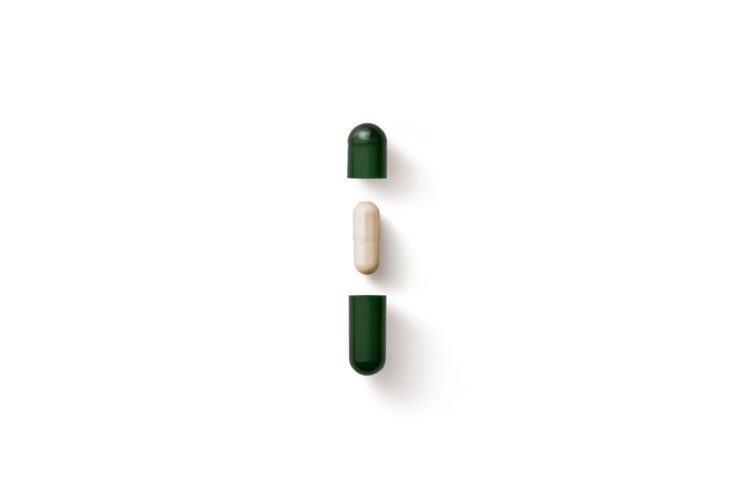 Can you see the second capsule inside the outer green capsule? Seed uses a 2-in-1 capsule known as the ViaCapⓇ to protect against stomach acid and digestive enzymes to ensure that the probiotic makes it to your colon, alive. (The outer capsule houses the prebiotic, and the inner capsule houses the probiotic.)
Here are the basics of this formulation:
DS-01™ combines 24 clinically and scientifically studied probiotic strains with a new class of patented plant-based, non-fermenting prebiotics sourced and concentrated from Indian pomegranate — punicalagins and ellagitannins. While digestive health was certainly top of mind in formulating DS-01™ —this product takes a systemic approach with clinically and scientifically studied strain-specific benefits beyond the gastrointestinal system—including cardiovascular health, micronutrient synthesis, and skin health. Lastly, DS-01™ undergoes extensive testing including whole-genome sequencing (to characterize probiotics down to the strain level), human-simulated survivability testing to ensure that the probiotics survive the trip through your GI tract, and heat/humidity testing to mimic the most extreme conditions the product may encounter during shipping.
My experience trying DS-01™: 
I started the first few days taking only one capsule (per Seed's instructions) and went up to the full dose of 2 capsules on the 4th day. I experienced no stomach discomfort even in that first week, (PHEW!), and it has easily become part of my morning routine pre-coffee. (Seed recommends taking DS-01™ on an empty stomach.) The capsules have no taste, so they are easy to swallow with just water.
Any difference after 2 months?
DS-01™ is supposed to help support skin health, gastrointestinal health, gut barrier integrity, heart health, gut immune function, and micronutrient synthesis.
Can I notice these differences? Honestly, for most of them, it is tough to say for certain, and in cases where I do think I've seen benefits, I can't always isolate the contributing factor(s). For example, I think my skin appears clearer and smoother, but I'm also taking collagen supplements and always trying out different skincare beauty products thanks to subscription boxes. So it could be a combination of those things + DS-01™, it could be just DS-01™, not DS-01™ at all, etc.
One thing I do feel relatively confident I can attribute to DS-01™ is the ease of bloating — I can notice a big difference! And that's a big deal for me. I also feel like anything I can do to promote my gut health is going to be very beneficial to my long-term health, so even if this was the only benefit from DS-01™, that's more than enough for me.
Do I recommend DS-01™?
Honestly, if you already have an inexpensive probiotic that is working well for your needs, I'm not sure you need to upgrade. But if you haven't found the right formula for your body yet, I definitely would recommend trying it. (They offer a 30-day risk-free guarantee, too, so that should give you enough time to see if it's a good fit for you, and if it isn't, just get a refund.)
Personally, I'm very impressed by the research and care that has gone into every aspect of making this product (including the packaging). I also appreciate that synbiotics are all they do. Unlike other supplement companies that can have a large range of vitamins, probiotics, supplements, etc., Seed is focused on making the best probiotic + prebiotic possible.
For now, I'm happy with the results, I'm continuing my subscription, and I'm probably going to end up signing my husband up for a subscription, too.
If you're interested in trying DS-01™, learn more about it here. And save 15% off your first month with coupon code MYSUB15.
Interested In Seeing More Seed's Probiotic Reviews? Read This
Want another opinion? Here are a few reviews left by our MSA readers on Seed probiotics:
I discovered this through FabFitFun and decided to give it a go. Note: I think I've tried every single brand in existence for the past 15 years – okay maybe not all – but a ton. I've been taking this for 13 months and I'll never go without it as long as it continues to be this effective. And when I say this effective – the big big deal for me is that I have been able to stop taking claritin (antihistamine) every single day. My allergies have always been horrible and I hated having to take Claritin daily. I didn't go into purchasing this thinking that it would solve that issue but a terrific added bonus. It doesn't upset my stomach or cause other issues. - Kristina

I have been diagnosed with a very serious autoimmune disease and became constipated due to it (never had that problem). However, I always had an issue with bowel movements that were on the runny side (sorry tmi). After a month of seed-no constipation issues WHATSOEVER. And bowel movements are perfect. I didn't change anything else. I am so happy with this product. Got two other friends to try it-and they said that their constipation issues also subsided and they have better bowel movements. - Devorah

I've suffered from Seborrheic dermatitis since a kid, I've been taking Seed for 3 months and my face is completely clear! I haven't had a flare up in 3 months. - Patrick

I've taken Seed for a year now. I started taking it because I have rosacea. I wanted to see if it would improve my gut health. So last year my gut health was very very bad. I was Flush red after every meal. Even just basic meals. Just chicken and salad (no tomatoes). So I knew if I took something that it would take about a year to see any kind of results. So as of today, my gut health is better but it's not the best. I'm able to eat more things than before but not everything. I dont think that it helps me with bloating or bowel movements. I just take it because something is better than nothing. I was going to stop taking it to see if there is a difference next month. But overall, I FEEL good about the product. I really like that it's a symbiotic and that I know specifically which probiotics I'm ingesting. I'm just staying positive because honestly it's the only product they has made a small difference and that's ok with me. - Jasmine

This brand is AWESOME! My husband is off his stomach medicine after 2 months of using Seed, and we both have had major digestive health improvements. - Jane