Mascara is my most used product and as a mature beauty product junkie myself, I can't tell you how many tubes I've tried throughout the years that promised to both lengthen and volumize my lashes, only to be disappointed when they didn't live up to the promise.
I've been putting two popular mascaras to the test for a few months now. Both the Prime Prometics Primelash mascara and the Thrive Liquid Lash Extensions mascara lived up to my expectations but one clearly outperforms the other.
If you're looking for a product formulated to nourish lashes… PrimeLash
Because our lashes get thinner as we age, we must treat them with care. Having a mascara with ingredients that nourish the lashes is the key feature that attracted me to Prime Prometics' PrimeLash. It's formulated for women over 50 with essential vitamins, and bioactive nutrients and is pH balanced to help lashes grow longer, thicker, stronger, and more hydrated with continued use.
Thrive's Liquid Lash Extensions mascara uses a different type of technology called tubing. It coats a "tube" of product around each lash. The product contains an Orchid Stem Cell Complex to promote longer and healthier-looking lashes. I like the PrimeLash better because my lashes look light and feathery compared with the thick and heavy look my lashes get from the Thrive product. In addition, I'm over 50 and the PrimeLash is formulated specifically for women like me and our needs.
If you want more even coating with an elongated wand… PrimeLash
I love the feeling when opening a new tube of mascara. The first thing that I look at is the wand. I want to be sure that the right amount of product is distributed across the wand for the best application without clumping up on my lashes. Both wands are made of my favorite silicone material and are tapered toward the tip, however, the Prime Prometics PrimeLash wand is slightly longer and the bristles are longer too. This allows me to get between my lashes easier for even product distribution and it also allows me to coat my shorter lashes with ease. Because of this, the PrimeLash mascara is the winner for me in this comparison.
If you're looking for clean alternatives that are affordable… It's a tie
Both products are similar in price and are made from clean beauty formulas with ingredients that are considered pure and safe. They're vegan, cruelty-free, sulfate-free, and paraben-free, and contain no synthetic fragrances. This is always a big plus for me. PrimeLash is slightly more expensive at $28 compared to Thrive's Liquid Lash Extensions at $25 but I preferred the more natural-looking lift that PrimeLash gave me. Since I'm more likely to reach for the PrimeLash for everyday wear, I declare a tie for this comparison.
However, Prime Prometics is currently running their best sale of the year! You can get up to 30% off of Prime Prometics's best products – including PrimeLash. If you want to try PrimeLash for less, now is the perfect time!
If you prefer less clumping and flakes with easy-to-rinse-off removal… PrimeLash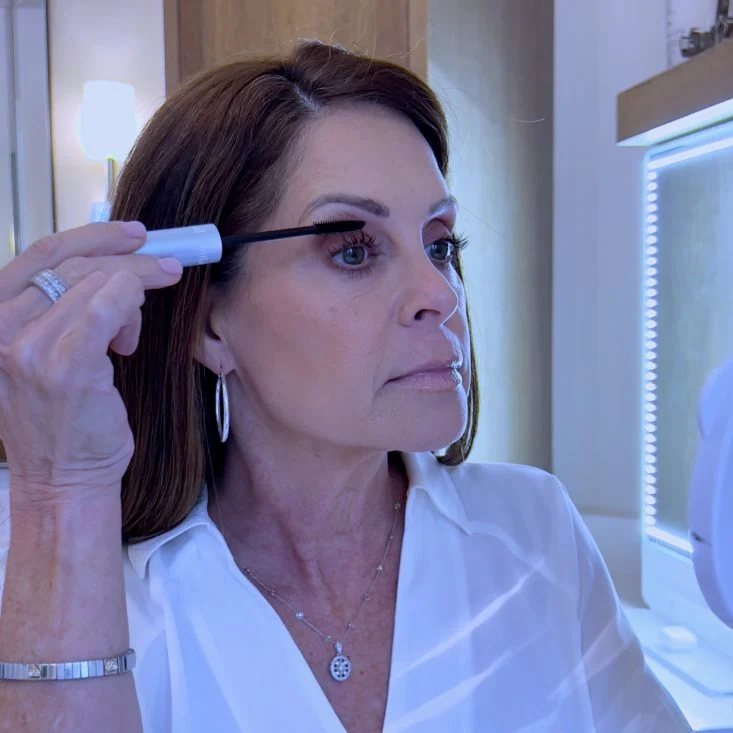 In terms of performance, PrimeLash was easier to apply, stayed on all day, and was easier to remove in the evening. I liked that I can apply more than one coat of the PrimeLash mascara without getting clumpy-looking lashes, while the Thrive Lash Extensions Mascara clumped up resulting in me having to really work at separating my lashes. Because the Thrive mascara seems to be a thicker formula, I did experience some flaking off throughout the day, while the PrimeLash stayed perfectly in place. When it comes to removal, PrimeLash just washed away, while the Thrive brand took a little extra work to get the "tubes" off of my lashes.
The Ultimate Winner… PrimeLash
The ultimate winner in this face-off is the PrimeLash mascara from Prime Prometics. The mascara lived up to every expectation that I had and MORE. My lashes look long and luscious and I get compliments on them daily. I love that the mascara stays put all day because I'm not one who does makeup touchups throughout the day. I'll be wearing this mascara from now on. No more dry, brittle, sparse lashes for me!