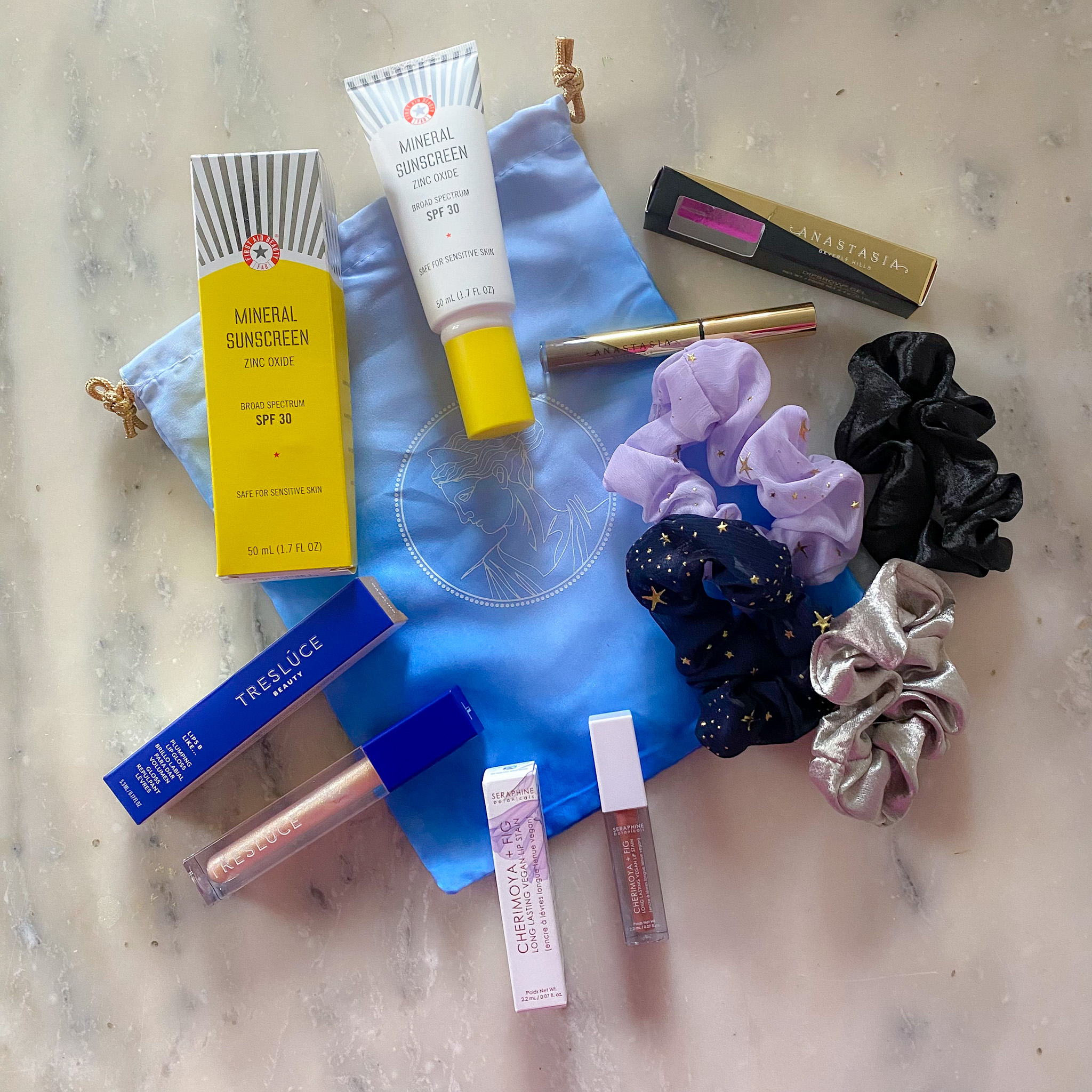 Ipsy Glam Bag Plus
253 Ratings | 39 Reviews
IPSY Glam Bag Plus is a $28 per month subscription box from IPSY. Every month you'll receive five full-sized beauty products. The box will have a retail value of at least $120. (This box was voted as one of the best makeup subscription boxes and best beauty subscription boxes by MSA readers!)
My Subscription Addiction paid for this box. (Check out our editorial guidelines to learn more about how we review boxes).
First Impressions
Heads up! Big Boxycharm+Ipsy changes are coming in April. This is likely the last time we see this subscription delivered in this way. For more details on what to expect, keep an eye on our Boxycharm+Ipsy merger news. 
As far as I know, this might be the last Ipsy Plus bag design I ever get in the mail. It is a blue and white ombre design with Aphrodite on the front.
Now, on to the items!
I feel like spring deliveries always bring sunscreen, and I am here for it! I am of the opinion that every day is a day that needs sun protection. This is a mineral formula that is formulated to be safe for sensitive skin. I found it to be lightweight and absorb easily. On my fair skin tone, I had zero white residue but I realize this might differ for anyone with a richer tone. The description from Sephora states it should be great for anyone, but I can't personally vouch for that. In my opinion, this is a solid choice for daily sun protection and its lightweight natural finish should make many very happy.
So, sure, Treslúce is an Ipsy Collective brand, and I know some subscribers don't love the connection. I, personally, have loved pretty much every product from this line. This lip gloss is no exception. The packaging feels luxe, the formula is great, and I have been using it nonstop since I received it. What's not to love? This clear gloss features a subtle golden glitter that adds just enough to a natural makeup look. You could also layer this on top of some color for more impact. The doe-foot applicator is wonderfully oversized and it makes my lips smell like vanilla frosting. Love it.
This, on the other hand, I did not like. I appreciate the natural vibes of the Seraphine Botanicals brand but the colors always seem off for me. This reads as a true light brown on my lips (it isn't cute on me) and the formula has this weird fruity smell that I can't seem to enjoy. I also feel like this is much more of a matte liquid lip formula than any kind of stain.
This product is one I have used and purchased many times. In fact, it was one of my go-to brow products before I swapped to a similar formula from Kosas. I have a lot of natural white in my ashy hair and I find that a grey or ash brow product looks so much more natural on me than any "blonde" shades. Just a few swipes of this to tine and shape my brows and I am out the door.
This last item felt a little random, but I do use a ton of scrunchies. I pretty much sleep in them nightly, with my hair in a twisty bun to create morning waves. These felt a little cheap and scratchy, but I have to admit that they get the job done and look super cute.
Verdict
This month's IPSY Glam Bag Plus was worth $100. That feels low compared to my normal haul, but I know there is a lot going on behind the scenes with this brand right now. The wins here were the SPF, lip gloss, and brow tint. I wasn't so crazy about the lip "stain" or the scrunchies, but there was enough here to make this feel like a decent delivery. I still want a little more from this subscription, and I am excited to see what the new Boxycham + Ipsy merger brings in the upcoming months. 
Keep Track of Your Subscriptions: Add this box to your subscription list or wishlist!
To Wrap Up:
Can you still get this box if you sign up today? This is the last month of this subscription delivered in this format. Click here for more info!
Cost Breakdown: This box costs $28, meaning each of the 5 items has an average cost of $5.60. Here is how that breaks down per item:
SPF  $7.84
Lip Gloss $4.48
Lip Stain $5.04
Brow Gel $5.60
Scrunchies $5.04
What do you think of the March IPSY Glam Bag Plus? Which items did you get?