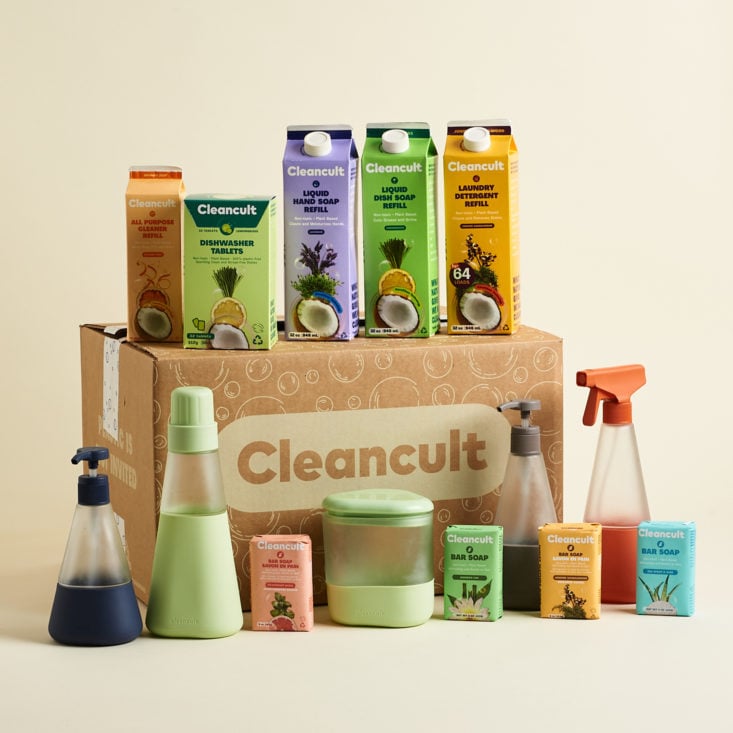 My Cleancult Review
Cleancult is a sustainable cleaning subscription service that uses coconut-based ingredients to make cleaning greener.
Pros
Glass containers are all refillable to reduce your carbon footprint
Refill packaging is recyclable
There's a variety of scents available for your products
Delivery is carbon neutral
Containers are sleek and modern with different color options to fit your home aesthetic (and prevent confusion between different soaps)
Cons
The bar soap scents are incredibly strong
Not all glass containers are available in the same colors — so if you want lemon yellow everything, for example, you're out of luck
Not all scents (or its fragrance-free option) are available across the board, so you may find a favorite scent in one product, but have to go with another option in a second product
ACTIVE DEAL: Use codeDIRTYDESK for 20% off sitewide
CODE: DIRTYDESK
This box was sent to us at no cost for review. (Check out our review process post to learn more about how we review boxes.)
I try to live a pretty eco-friendly lifestyle between recycling, taking my reusable bags to the grocery store, and flipping off light switches and the water faucet. But couldn't we all be a little more sustainable? That's what made me curious about trying Cleancult, a subscription service that's all about sustainable cleaning.
All About Cleancult
How Cleancult Works
Cleancult is a sustainable cleaning subscription service that uses coconut-derived ingredients to make laundry detergent, dish soap, and more. The brand offers everything from dishwasher tablets to bar soaps that you can use to wash your hands (or your body), and they promise a greener, more eco-friendly home to boot.
Cleancult calls its subscription service a membership, and members start off by ordering glass containers and cleaning supplies that can be put in them. Deliveries of cleaning supplies after that come in the form of refills for those glass containers, and you can add-on products such as wool dryer balls or a stain stick.
You also have the option to start with a pre-built bundle of fillable glass containers and cleaning supplies to fill them with. This option takes away some of the customization but does allow you to save money!
What glass containers does Cleancult offer, and how much do they cost?
Since not everyone has a dishwasher or uses liquid laundry detergent, Cleancult allows you to build your own home cleaning subscription. That includes choosing glass bottles in a color that suits your style, as well as choosing the kinds of containers that you'll need to keep your home sparkling.
Here are the containers you can get:
Refillable All Purpose Cleaner Spray Bottle
Available in matte black, clay, off white, or periwinkle
Holds 16 fl oz.
$14.99
Refillable Hand Soap Bottles
Available in matte black, off white, midnight blue, or periwinkle
Holds 12 fl oz.
$14.99
Refillable All Dish Soap Bottles
Available in matte black, charcoal, off white, or periwinkle
Holds 15 fl oz.
$14.99
Refillable Laundry Bottles 
Available in matte black, lime green, off white, or periwinkle
Holds 44 HE loads
$14.99
Tablet Jars
Available in matte black, lemon yellow, lime green, off white, or periwinkle
Holds 34 tablets
$14.99
How does the Cleancult refill membership work and how much does it cost?
Cleancult ships empty glass bottles, and the relationship with the brand can stop there if that's all you want. If you want to go forward with a refill membership, now's the time you can choose cleaning products — and specific scents — for products to fill them. The brand will also allow you to set up an auto-fill service where they pick the scent (but what's the fun in that?!).
Here are the refills you can get as a member:
All Purpose Cleaner Refills:
Available in orange zest, bamboo lily, or blue sage scents
16 fl oz.
$6.99
Hand Soap Refills
Available in blue sage, grapefruit basil, lavender, and sweet honeysuckle scents
32 fl oz.
$9.99
Dish Soap Refills:
Available in blue sage, grapefruit basil, lemongrass, and sweet honeysuckle scents
32 fl oz.
$9.99
Laundry Refills (liquid):
Available in juniper and sandalwood, sea spray and aloe, sweet honeysuckle, and fragrance-free scents
64 HE loads
$9.99
Dishwasher Tablet Refills:
Available in lemongrass scent only
32 dish loads
$14.99
Bar Soap Refills:
Available in lemongrass, bamboo lily, blue sage, juniper and sandalwood, sea spray and aloe, sweet honeysuckle or grapefruit basil scents
5 oz.
$4.99
Where does Cleancult ship and how much does it cost?
Shipping is free on first-time orders and all orders over $70. Cleancult ships anywhere in the US as well as to US Military APO, FPO, and DPO addresses, Puerto Rico, Guam, the US Virgin Islands, and Saipan. The brand does not offer expedited shipping to APO, FPO, and DPO addresses.
Is Cleancult vegan, cruelty-free, and gluten-free?
Cleancult's products are cruelty-free and Leaping Bunny certified. Most Cleancult products are vegan as well, with the exception of its Wool Dryer Balls which are made from 100% cruelty-free natural New Zealand wool.
Are Cleancult tablets sustainable?
If you buy Cleancult's dishwasher tablets and are surprised to see a plastic film around the sustainable product, that's because it's not actually plastic! Cleancult says its dishwasher tablets are wrapped in a water-soluble film called PVA (or Polyvinyl Alcohol). PVA is non-toxic and biodegradable, and it will completely dissolve in water (yes, we tested!).
How often do Cleancult refills arrive?
When you first set up a Cleancult membership, the brand will set you up for refills to be delivered in 2 months, but you can adjust that after you order — or at any time — by logging into your account to speed up delivery when you're running low, delay an order if 2 months seems too soon, as well as adding or canceling specific refills.
My Cleancult Review
Opening my Cleancult order to find glass containers in mod colors gave me an instant boost of feeling good about the journey I was about to embark on. Not only were they sleek and stylish, but knowing I'd be able to ditch the plastic containers that just about every cleaning product (even the greenest ones) come in made me feel better about my family's carbon footprint.
I admit, however, that I was nervous about how well the products would stand up. Could these coconut-based dishwasher tablets really stand up to the well-known brand I've used for 20 years? Would the all-purpose spray work when put up against a mess left on the dining room floor by my puppy or a (sorry for this) vomiting cat? There's a reason I was dubious. I've used some green products in the past, and it's been hit and miss. There are some I still use — among them Seventh Generation hand soap and Method anti-bacterial spray — but many just didn't do as good a job as I'd like.
The good news? From running dishes coated in hamburger grease with the brand's dishwasher tables, to popping a bar of their soap in the shower for the family to use, Cleancult's green versions of cleaning basics have been just as good — if not better — than most of our standards.
Here's what trying out this brand was like:
Unboxing My Order
Cleancult's initial order arrives in a cardboard box that's covered in little soap bubbles — it's whimsical and fun. Open it up, and inside I found cardboard dividers similar to those that you'd find in a case of wine. These were designed to keep the various glass containers safe, and there was extra paper wrapped around them as well. Not a single glass item was broken, and not a single one of my refills had spilled out!
Here's what I found inside the box:
1 Refillable All Purpose Cleaner Container
This is the glass container I was most curious about when I placed my order, because unlike my soap and laundry detergent containers, which pretty much stay in one place, my all-purpose cleaner is constantly being moved around the house. I was nervous at the idea of a "glass" container ,because this is the container most likely to be accidentally dropped (or, let's be honest, knocked off the table or counter by a cat acting like… well, a cat).
I was pleasantly surprised to find that all of Cleancult's glass containers are made from a glass far thicker than that of your average drinking glass, and each has a silicone base covering the glass for extra protection in case of drops. While I did not throw the container hard (I mean... would you?!), I did drop it for the sake of this test, and it fared just fine.
The spray bottle of the all-purpose cleaner container also has a handy "on/off" nozzle, just like the plastic bottles most containers come in, and the spray was steady and even. Overall, it's been a perfect container to grab and clean up all my animal messes, and with three dogs and two cats, let's just say there are a ton of messes to clean up in my house!
1 Refillable Dish Soap Container
The dish soap container is made from the same glass with a silicone bottom as the all-purpose cleaner, which again protects it and makes it appear as though it will have a long life. Aside from that, it's sleek and modern-looking, and the pump is easy to work. It's not a lot different from other soap containers I've had in my life, but then again that's not a bad thing. It does it's job!
1 Refillable Hand Soap Container
The hand soap and dish soap containers I chose were different colors, and I would recommend you make the same choice if you intend to use both at your kitchen sink because they're otherwise very, very easy to mix up! While the hand soap container is slightly shorter, the difference is pretty minute!
1 Refillable Tablet Jar
The refillable tablet jar for dishwasher tablets was my least favorite of the refillable items to arrive in my box. It's made from the same thick glass with the silicone base plus a silicone lid, but it's an odd triangle shape which makes it hard to place in the cabinet beneath my sink. I think it would probably have been a bit easier if it were square, as I could stack other items on top.
I also found that when I filled it with my first box of tablets, I had to jam down the lid as it was just a teensy bit too small. This was also the one container that I felt I could have… skipped. While you need a spray bottle to dispense cleaner, pump containers to get your hand soap, and even the easy-pour spout of a laundry detergent dispenser, I don't see why I can't simply pull the dish tablets out of the cardboard container that they arrive in. My guess is that this is to keep your tablets dry — after all, the second they get wet, they're useless — which means this may be a great option if you're going to keep your tablet container on the counter near the sink or in another place where you fear they may get wet.
1 Refillable Laundry Detergent Container
I've refilled spray bottles and soap containers before, but I have to admit this is my first time ever using a refillable laundry detergent. The bottle is just like the others in terms of sturdiness, but I especially appreciated that you can spin off the whole top for filling, and that there's an easy pour spout at the top for filling the soap section of the washing machine.
1 All Purpose Cleaner Refill
The All Purpose Cleaner refill is a perfect fit for the All Purpose Cleaner bottle, which means I was able to immediately recycle the cardboard milk carton-like refill container the liquid came in and then get to work wiping down my countertops. The orange zest scent I tested has a light citrusy scent that I love (I'm particularly partial to all things orange), and I appreciate that it's so far kept up not just with kitchen messes but animal ones too without leaving behind a soapy residue on my countertops or floors.
My one (tiny) quibble? Many cleaner refills are "concentrated," which means you're supposed to dilute them. You don't have to do that with Cleancult, which actually makes refilling your all purpose bottle a lot easier. Then again, I wasn't sure what to do because the packaging didn't make it clear.
1 Liquid Hand Soap Refill
Like the All Purpose Cleaner refill, the hand soap refill arrived in what I soon would learn is Cleancult's signature milk carton-shaped refill containers. Each is recyclable, so you don't have to feel like you're adding to the landfill when your goal is to cut down on waste! And yes, that applies even to the "plastic" appearing spout — it's made from a biodegradable material that will break down!
I tested the lavender scent of this hand soap, and I found this to be another winner with a scent that's not too heavy but not overly floral either. What's more, as someone who suffers from myriad skin allergies that are triggered by many soaps on the market, the ingredient list was a relief to see. Its primary ingredient is coconut oil, along with other largely natural ingredients, and it lacks any of the common allergens that show up in other green products. Typically my hands will start to react after a day's use of a soap with an allergen in it, and I've been able to use this with no problems for more than a week. Checking out the ingredient lists of the other products from Cleancult, I found the same thing held true — the ingredients are pretty clean. If you do have a coconut allergy, you may want to take note since everything is built of coconut oil, but if you don't, this may just be the perfect option.
The refill container comes with 32 ounces of soap, while the glass hand soap container holds just 12. Personally I found this convenient as it means I'll be able to refill my glass container several times over before I need to get a refill, but this may not be a great thing for people who have small kitchens and/or bathrooms and don't want to store the refill container.
1 Box of Dishwasher Tablets
The dishwasher tablets were the first item that I actually put to the test, and I was confused upon opening the box. They were covered in what appeared to be plastic, sending me back to the box to find out what was going on. How was this sustainable?! Fortunately Cleancult was way ahead of me, assuring me that the film on the tablets is actually something called PVA. It's non-toxic and biodegradable. In fact, you can pop your tablets into the dishwasher with the PVA film on them, and it will simply dissolve!
Even better, I've run my dishwasher several times since switching over to the tablets and have not seen a single dirty dish. Even plates covered in hamburger grease (hey, it's summer grill season!) have come out ready to be eaten from again.
Finally, the lemongrass scent is pleasant but not overpowering. I wish all of Cleancult's products were available in lemongrass — I'd definitely buy them!
1 Box of Liquid Dish Soap Refill
In the same fresh lemongrass scent as the dishwasher tablets, the liquid dish soap was another favorite from my Cleancult box. Unlike many of the more popular dish soaps on the market, it's easy to wash off your hands — in fact I could see using it as a hand soap, which would save me from having to have two different soap containers perched on my sink. As far as the cleaning power, I'm finding that it's as good as the dish tablets. Is it the power of the coconut oil that Cleancult uses as a base for all its products, or is it the lemongrass? I'm not sure, but I'm most definitely hooked.
Like the hand soap, this refill container also comes with far more liquid than you can fit in the pump bottle, but once again I found this to be a good thing! The more I get in one container, the longer I can go before I need to refill.
One thing to know: A little bit of this dish soap goes a looooong way. If you're squeezing it onto a sponge, don't overdo it, or you'll have a sea of bubbles on your hands.
1 Box of Laundry Detergent Refill
This was the one cleaning product that wasn't a win for me. For starters, no one in my family liked the sweet honeysuckle scent — we all found it to be a bit too sweet. This is an easy enough fix — I'd opt for a different scent (like the amazing juniper and sandalwood of the bar soap!) in the future.
The other problem was also personal. I gave up on liquid laundry detergent several years ago in favor of pods and tablets. In part that was to be more sustainable when my garbage company told me they wouldn't take my liquid detergent containers due to soapy residue on the bottom.
But using this detergent made me realize all the things I love about pods that liquid doesn't offer — namely convenience! Not is it much faster to throw a pod in the washer than it is to measure out a precise amount of liquid, but pods allow you to avoid the soapy residue that inevitably runs down the side of the bottle from using the lid to measure. This isn't Cleancult's fault per se. It's an issue with pretty much all liquid detergent bottles, and if it doesn't bother you, then Cleancult's laundry detergent system may just do the trick for you!
4 Cleancult Bar Soaps
The four bar soaps arrived in four different scents, and each one smelled divine with my teenager grabbing the juniper sandalwood directly into the shower for the family to use. That's where our feelings divided a bit. My teen loved everything about the soap from how it lathered on a washcloth to how it cleaned the skin to how it smelled.
I, on the other hand, found the smell to be incredibly overpowering once the bar had been unwrapped from its paper packaging and set up in the bathroom. I got into the shower, and it was all I could smell! It didn't smell bad. It just smelled STRONG.
Overall, I'm still a fan because the smells are all pleasant, and the ingredients are once again clean and allergen-free. But I've wondered if we should chop the bar in half to reduce the smell or maybe put it in a soap dish with a lid?
What I Loved
The Dishwasher Tablets
Sparkling clean dishes in a more sustainable way? Yes, please! From the lemony scent to the fact that these pods can cut through even the gross grease left behind by hamburgers on my plates, I was impressed by how well the Cleancult tablets stood up, and I'm definitely buying more.
The Glass Containers
The sustainability angle is what really attracted me to Cleancult, and I was immediately impressed by the sturdiness — and prettiness – of the containers. Each is sure to be used for a long time to come, and the fact that I can order refills rather than having to cart glass bottles with me to a store makes this both convenient and accessible for someone like me who lives in a rural area. I'm also a big fan of the various colors, although I could see some folks getting frustrated that not every container is available in the same colors (if you're more of a matchy matchy type person).
The Scents
With one exception, I was a big fan of the Cleancult product scents, especially the lemongrass and the juniper and sandalwood, which vaguely reminded me of an old cologne my husband used to wear but without the musky undertones of a cologne. The best part? Nothing smelled "chemically" which is often a problem with cleaning products, and as an asthmatic, I had no problems with the scent hanging in the air.
What I Didn't Like
The Tablet Container 
Between the strange triangle shape that didn't quite fit in the cabinet under my sink to the fact that I just didn't feel like I needed a second container to hold the tablets, this was the one item that I could have just done without. Wondering if you should get it? Think about whether or not water is a risk — if it is, you probably need a container to protect your tablets.
The Sweet Honeysuckle Scent
I will confess this is a me problem as I'm sure there are plenty of folks out there who would love this scent. The good news is Cleancult has a ton of scents available, so folks can simply pick one (or several) they DO like!
The Laundry Detergent
Yup, this is another "me" problem, but I don't think I'll be buying a refill of the laundry detergent. I'll simply go back to using pods. Again, Cleancult has actually thought this through as they allow individuals to customize their plan rather than forcing everyone to get each item — so I don't see this as an overall knock on the brand.
My Verdict - Is Cleancult Worth It?
Overall Appeal
The greener I can be, the better, and Cleancult's overall mission to create a more sustainable way to keep your home clean is incredibly appealing. While I wasn't sold on every single product, overall this box made me a big fan – especially because I know I can simply customize my refills moving forward to fit my personal needs.
Price and Value
I won't pretend that Cleancult isn't a little on the pricey side. The dishwasher tablets I love so much, for example, cost $14.99 for 32 tablets. That works out to about 46 cents per load of dishes. My grocery store sells a package of my regular brand for around $17, and you get 62 pods in the container. That's just 27 cents per dishwasher load, and when you add in coupons — which I almost always do — the price drops even lower.
The math is similar when you look at the various other products that Cleancult sells. I stock up on green hand soap from Seventh Generation at Amazon and save big by buying in bulk, and the same goes for items like laundry detergent.
But when you're buying from Cleancult you aren't just paying for the products themselves but for the sustainability (more on that in a minute), something you certainly don't get when you're buying plastic-packaged items from the grocery store or getting items shipped to you from Amazon.
So while Cleancult may not be able to compete on price, the value concept comes down to what YOU value. Is it saving money? If so, I get it. I am a big couponer, and I am always looking to cut my costs. But if you are also valuing the planet and have the ability to splurge on something more sustainable by cutting your costs elsewhere, this may be worth the increased cost to you.
Convenience
I can't tell you how many times I've gotten home from the grocery store only to realize that I forgot to pick up dish soap or laundry detergent. And because I live in the middle of nowhere, it's not as simple as getting back in the car and driving a few minutes to the store to grab the one thing I forgot. The store where we regularly shop is a 20 minute drive, one way. Delivery of refills for these basic home staples is a huge load off my mind, and it helps that Cleancult allows you to change up your delivery dates and specific cleaning needs any time you want.
Sustainability
The sustainability factor is definitely what makes Cleancult most attractive. From the reuse of the glass and silicone containers over and over and over again to the recyclable and/or biodegradable refill packaging, I truly felt like I was making a shift forward in my family's attempts to be more eco-friendly. One thing that's held my family back from moving to glass and refillable containers has been simple lack of access. We live in a rural area where there aren't stores that allow you to bring in your own containers. The Cleancult subscription model gives us that access, and the fact that they've managed to make shipping carbon neutral is a big load off my mind!
You can try Cleancult for yourself here:
ACTIVE DEAL: Use codeDIRTYDESK for 20% off sitewide
CODE: DIRTYDESK
---
Have you tried Cleancult? Head to the comments section and let us know!
---