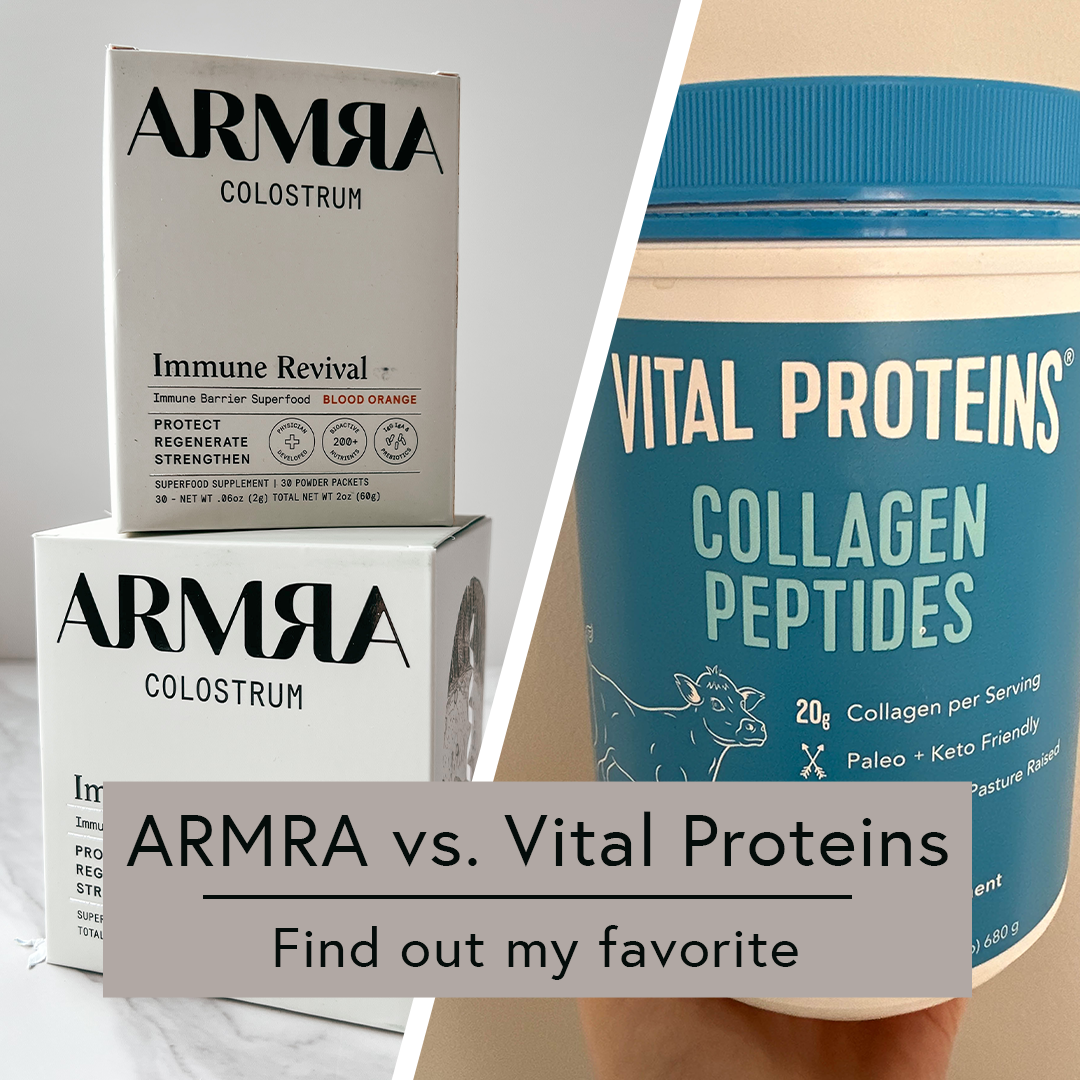 As more people learn about the importance of nourishing their bodies from the inside out, collagen supplements have increasingly been on wellness enthusiasts' radars. I've also recently heard about ARMRA, which is a nutrient-rich colostrum powder that has been gaining a lot of traction lately.
I chose the popular Vital Proteins' Collagen Peptides to compete against ARMRA, as they're both powdered supplements claiming long-lasting skin, hair, and joint health benefits.
Let's break down the key differences between these two beauty supplements to determine the winner:
If you want to actually see results... ARMRA
Colostrum powder is actually a dairy superfood that mammals produce for the first 48-72 hours after birth, and it's incredibly rich in vitamins, minerals, proteins, growth factors, and antibodies, many of which cannot be found in any other natural source, that boosts newborns' immune systems.
ARMRA's colostrum is a nutrient powerhouse which has over 200+ natural bioactives, or molecules that promote healthy bodily functions, so it really works with your body for optimal health. Among ARMRA's bioactives include protective antibodies, prebiotics, peptides, amino acids, antioxidants, and other immune compounds.
Interestingly, ARMRA's bioactives trigger the body's own collagen production to improve skin elasticity and hydration for gorgeous, plump skin.
ARMRA is rich in growth factors + peptides that have been shown in research to reverse aging and wrinkles–I really feel like the texture of my skin has improved massively since I've started taking ARMRA's colostrum.
A big distinction between ARMRA and collagen is that while collagen is simply a raw ingredient, ARMRA is a concentrate of bioactive nutrients from colostrum, which is a whole, living food and actually gives your cells instructions.
If hair loss is a concern for you, ARMRA's bioactive can actually stimulate hair regrowth by activating hair follicles!
On the other hand, collagen's efficacy leaves much to be desired. When I did some research, I found that there are no high-quality studies showing collagen provides benefits for skin, hair, nails, and joints, as collagen gets digested and broken down during digestion, so you don't really absorb collagen supplements.
So, as far as Vital Proteins' Collagen Peptides performance goes, my skin wasn't any more glowy and my joints weren't less achy. However, I appreciated the inclusion of Vitamin C and Hyaluronic Acid.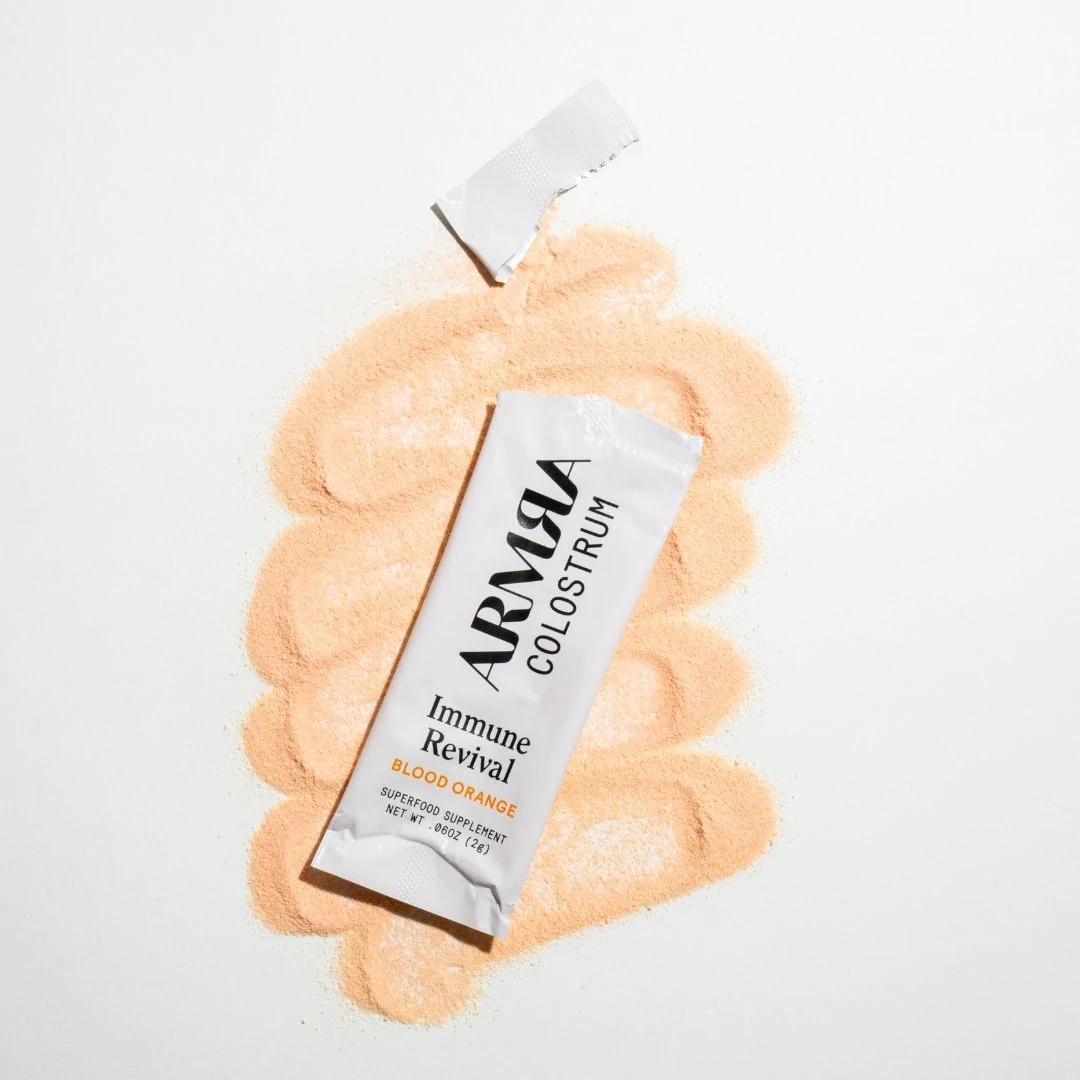 If you want the best ingredient... ARMRA
Between the two products, ARMRA really touts their sustainable sourcing practices. Colostrum is a dairy food that is typically considered a waste product in the dairy industry.
ARMRA upcycles the surplus colostrum after baby calves get fed, from grass-fed, family owned farms. This type of ingredient quality just isn't found in collagen. I couldn't find any sourcing info on Vital Proteins' site, but in researching on the internet, collagen typically comes from cow bones and tendons.
Also, a lot of the collagen products are loaded with chemicals like maltodextrin and/or refined sugars. You won't find any artificial fillers or additives in ARMRA's colostrum.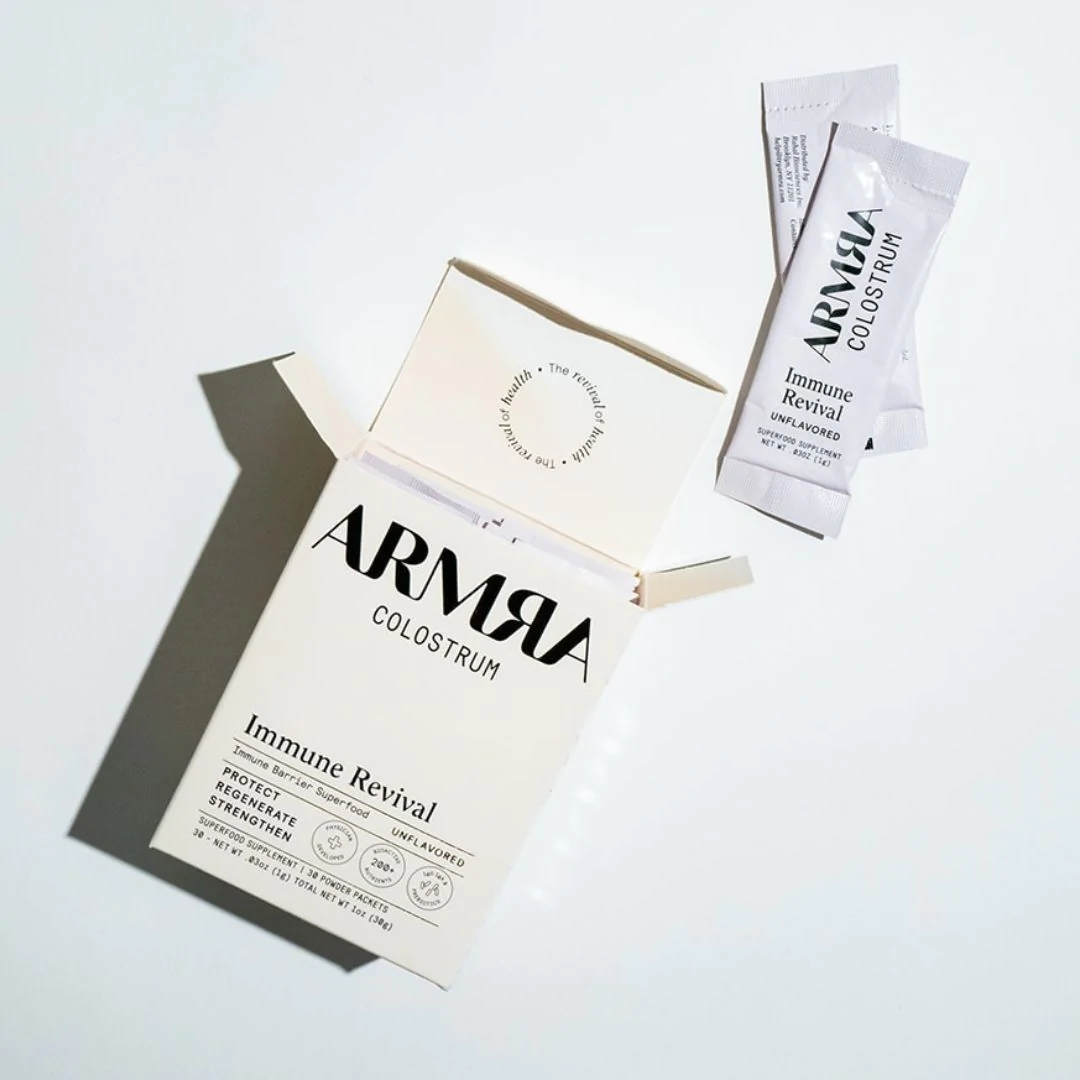 If you're looking for the most options… Vital Proteins
The original versions of both products are unflavored, so they can easily be added to any beverage. ARMRA's colostrum sticks also come in a natural blood orange flavor, which tasted great and is keto-certified.
But Vital Proteins' also offered a host of other options, including lemon, matcha, and chocolate, and I enjoyed most of them.
If you're looking for the cheaper option… It's a tie
Vital Proteins and ARMRA are pretty comparable in price. The best value is ARMRA's 120-serving bulk jar. Costing $109.99 (subscribe and save for better deals), each serving costs about $0.91 cents. Vital Proteins' Collagen Peptides are priced at $27 for a 10 oz jar or 14 servings ($1.92 a serving), whereas ARMRA comes in at $40 for a 30-serving sticks pack ($1.33 a serving). Something to note is that Vital Proteins' serving size can be either 1 or 2 scoops; 1 scoop per serving would mean $27 for a 10 oz. jar with 28 servings ($.96 cents a serving).
So, it's safe to say it's a tie when it comes to a one-time purchase.
If you're looking for the easier to use… ARMRA
With ARMRA, all you have to do is mix one scoop or stick into 6 oz. of water or your favorite  beverage, and you're good to go! My favorite are the sticks because they can be tossed into a purse or a gym bag, and they're great for flights, too.
From personal experience using collagen like Vital Proteins, collagen needs to be blended into a smoothie or dissolved into hot liquids for it to not clump up. With ARMRA, you don't have to worry about it clumping.
The Winner Between ARMRA and Vital Proteins... ARMRA!
After comparing these two supplements side-by-side, it's clear that ARMRA offers superior nutritional value and convenience compared to Vital Proteins' collagen, all at an affordable price.
If you're looking for an easy way to get a host of over 200+ nutrients, while also reaping benefits for your skin, hair, and body, ARMRA seems like the clear choice.