Color Curate
27 Ratings | 6 Reviews
So Susan Color Curate is a monthly makeup subscription service that sends four full-size beauty items in a makeup bag for $20.95 a month. All products are 100% cruelty-free, vegan, and paraben-free!
This box was sent to us at no cost for review. (Check out our editorial guidelines to learn more about how we review boxes.)
What's Inside The Bag
So Susan Limited-Edition Makeup Bag, June 2023 - Retail Value $12
June's bag is a real treat! It feels more like summer around here every day, and this bag just adds to the vibe. The ice cream pattern is cute, but I can't look at it without my sweet tooth pinging me with requests, which I indulge 90% of the time.
I am usually pretty nitpicky about single and duo eyeshadows, because of course I prefer a variety, but this duo can hold its own. I only used these two colors for a full, rich eye look, and I was impressed with how it held up. The colors' texture reminds me of velvet and is a little heavy for summer, but I was never one to follow those rules anyway.
Before opening up this month's bag, I thought about how much I missed getting tools in this subscription, then tada! I love when a subscription can read my mind. This lip brush is sturdy and well-made. Its gold trim and white brush tip look fancy, although the white did not stay that way for long. I used this with the lip and cheek palette below, and it was perfect, hugging every curve of my lips with a precise application. I prefer my lip brushes to come equipped with a cap, but I guess I will just have to use this brush at home.
Oo! The colors of this palette are so me. They are all peachy-toned and look fantastic with a bit of a tan, be it from the sun or a bottle. These creamy shades impart a nice glow to the skin which can be tamed with a touch of powder. I was impressed that the color lasted all day without getting greasy or completely disappearing.
Lip Treacles are my new favorite finds from Trifle Cosmetics. The product is moisturizing and has a great feel to it. I love the shine and pigment to this shade, and it is my new go-to in the morning. The glossy finish lasts for about an hour, but the color lasts longer, fading into a nice stain that doesn't look like it needs any touching up. This type of no-maintenance lippie is totally my jam!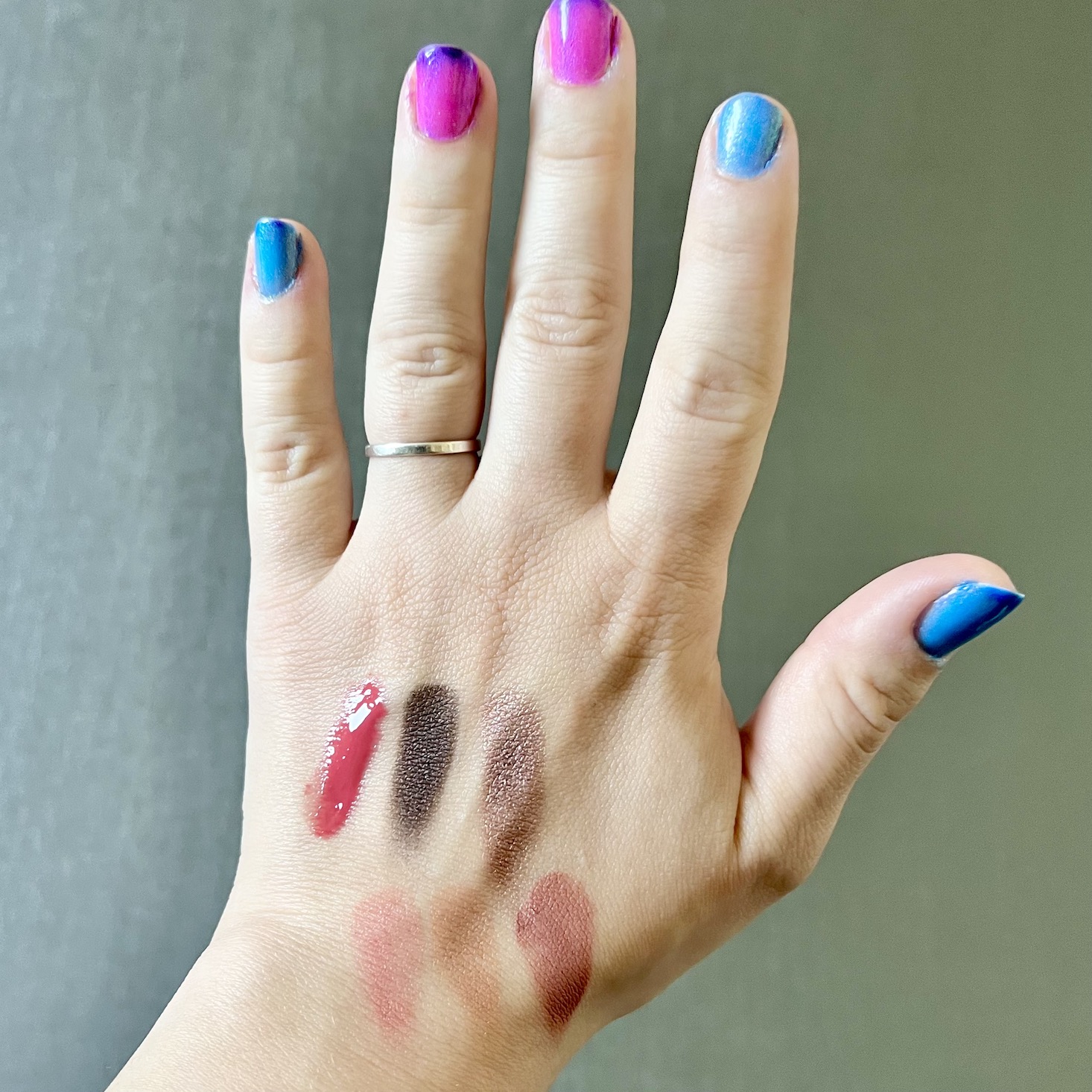 Swatched above: Trifle Cosmetics Lip Treacle, Jelly Pong Pong eyeshadow duo, and So Susan Lip/Cheek palette
Oh hi! It's me, again. I am wearing each product from this month's bag. I am loving each product this month, especially the lip and cheek products!
Verdict
This month's So Susan Color Curate was fab, again! I can't get enough of the Trifle Cosmetics lippie, and I will definitely get a lot of use from the So Susan lip/cheek palette. The eyeshadow duo helped me create a look in under a minute, and I always love to receive beauty tools, so So Susan's lip brush found a very welcoming home. This month's bag's retail value comes to $95.00; you're getting four products for $20.95, a fantastic deal!
Keep Track of Your Subscriptions: Add this box to your subscription list or wishlist!
Value - Was This Box Worth It?
The Cost: $20.95
Value Breakdown: This subscription costs $20.95 which means you are paying about $5.23 for each of the 4 items in this box.
To Wrap Up
Can you still get this box if you sign up today? Yes, you can still order this box while in stock!
What do you think of this month's So Susan Color Curate subscription? Be sure to click below to write a review!