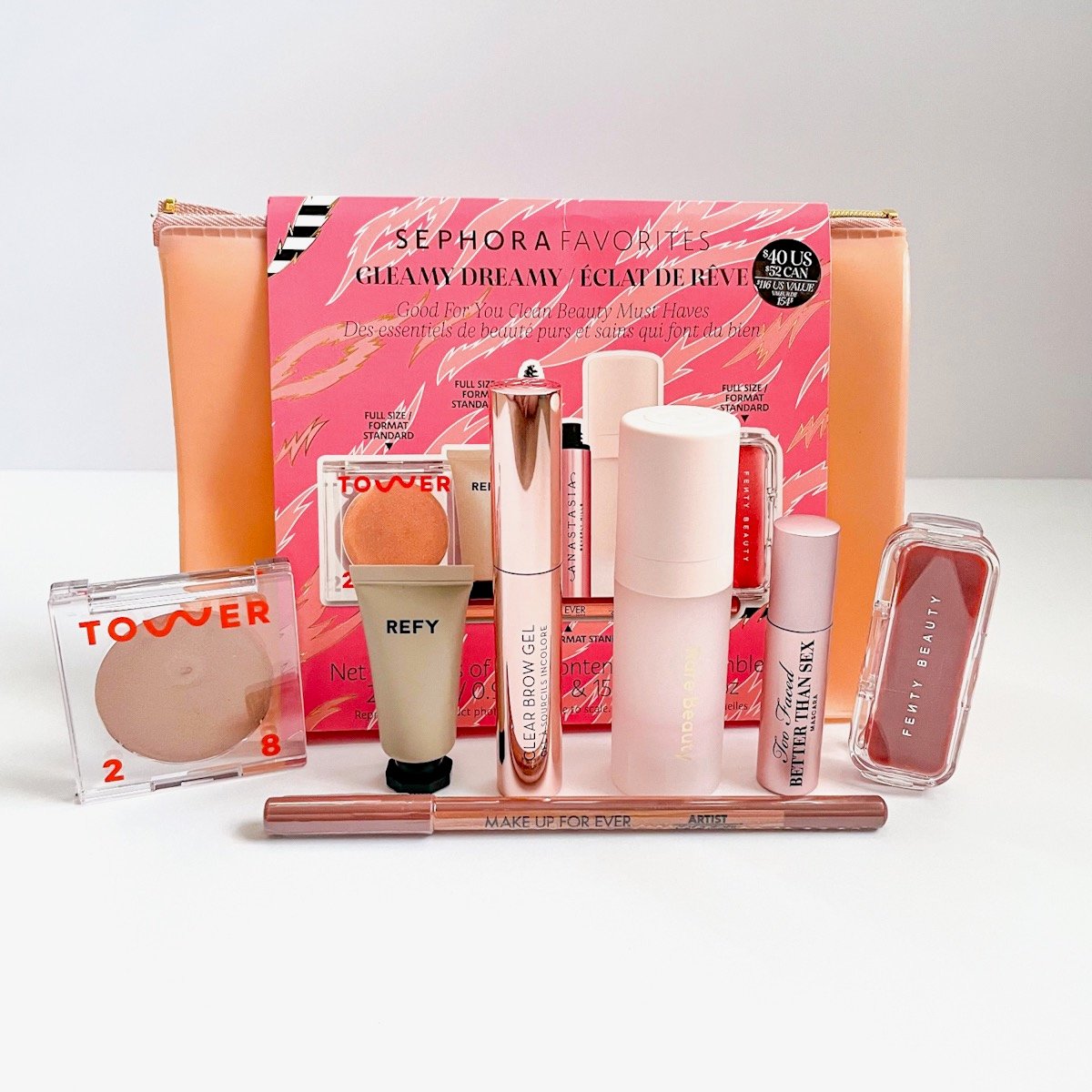 Sephora Favorites
0 Ratings | 0 Reviews
Everyone knows Sephora is a beauty store where you can find almost anything and everything related to makeup, skincare, body care, hair care, and self-care, but they also released curated sets under their Sephora Favorites brand. A few times a year you can count on them to release a new makeup set that includes a few full-size makeup products and other goodies for a discounted price, and the newest set released is the Gleamy Dreamy All-Over Face Makeup Set- Sephora calls this the "no makeup makeup set."
FYI – this set is still available, while supplies last.
My Subscription Addiction paid for this box. (Check out the editorial guidelines to learn more about how we review boxes.)
First Impressions
This set comes with everything securely packaged inside pretty peach makeup bag made of silicone, with a paper sleeve wrapped around it that give you more information about the products inside.
Every Sephora purchase lets you use choose two free samples when you check out. When you make a purchase over $25, you're also eligible to add on a gift with purchase. I didn't choose a GWP this time around, because Sephora had a promo running where I could get quadruple points instead of a sample of a beauty product if I used the point multiplier code.
The Breakdown – What's Inside This Limited Edition Box From Sephora
I've enjoyed the Tower 28 products I have tried, and I've been curious about their cream bronzer- I was actually thinking about it a few days before I saw Sephora had released this set, so it felt a bit serendipitous. I've only applied it with my fingers so far to my eyes and the bridge of my nose, and I love this soft light bronze shade- but I haven't figured out which makeup brush would be best suited for buffing this out into my hairline and the contours of my cheeks to really try and illuminate my face (I rarely use cream makeup products). I'm excited to keep playing with this, and I love how easy it is to blend out.
I've tried this iconic mascara from Too Faced more times than I can count, and have even owned a full-size tube or two. This is one of the classic volumizing mascaras that Sephora sells- most people who like makeup have either tried it or at least heard about it. I do find that it gives my lashes good definition and volume, but I also find that when I wear this I can have issues with it flaking on me. This isn't my all-time favorite mascara, but it's a really solid one.
I adore Rare Beauty, so I am always happy to try a new-to-me product from the brand. This showed up at the perfect time, too- I was trying out a new foundation that lightly oxidized on me, but when I used this primer with it I didn't have that issue! I don't particularly have large pores that I am trying to minimize, but I do live somewhere with incredibly humid weather so I need a primer that is going to help my foundation stay in place. This is lightweight and felt gently hydrating to my skin, and I really loved the way it looked under my foundation.
This pencil from MUFE is awesome- you can use it on your eyes, lips, and brows. This shade "Wherever Walnut" is the perfect nude lip color for me, so I have been exclusively using it as a lip liner (also, even if a product is multi-use I don't like to mix products I apply to my eyes with products I apply to my lips and vice versa). It has a creamy formula that is still firm so I can line my lips with precision, and it blends out really nicely. I've been reaching for this almost every day since receiving it in this set.
I am a way bigger fan of tinted brow gels than I am of clear brow gels, but hey- at least we know a clear brow gel should be a universal shade match for all. This gel will help shape your brows and hold them in place all day long, and I like that it doesn't give a crunchy finish the way some other brow gels do.
This lip gloss has some fun packaging- it just screams "90's" to me, and I can totally see it being a thing clipped to jeans while wearing one of lace tank tops layered underneath an Abercombie or American Eagle shirt. The plastic clip is removable, too, if you'd like your lip gloss to be less bulky. The Fenty Glow color is a gorgeous nude-pink color with a tiny hint of shimmer, and it pairs beautifully with the MUFE pencil. The only thing I don't like about this is using my finger to apply it- let's be honest, I'm not going to carry around a lip brush to apply a lip gloss, but I don't love applying it with my fingers, either.
REFY Gloss Highlighter in Topaz, 0.23 oz – Estimated Value $8.92 (buy the 0.67 oz version for $26)
This is the first product I've ever tried from REFY, and it absolutely brings the glow. Maybe it's because I stopped doing a lot of social things when the pandemic hit, but I was left feeling a little flummoxed as to how to apply this very liquid highlighter- I'm used to powders! I ended up using my fingers with success, but I do think there is a better way to do it. This has a very thin formula that allows the highlighter to really blend out so you only need a tiny bit, and I am really interested in trying a small drop mixed into my foundation as a base to see how luminous that looks.
Here are the swatches! From top to bottom we have the MUFE pencil, the Fenty lip gloss, the Tower28 Bronzer, a heavy swatch of the REFY highlighter, and a sheered-out swatch of the highlighter.
Here I am wearing everything in the kit. I used the Rare Beauty primer under my foundation, applied the Tower28 bronzer to my nose and eyes, the highlighter to my cheekbones, the brow gel to my brows, and the mascara to my lashes. To finish I lined my lips with the MUFE pencil before applying the Fenty lip gloss on top. What do you think?
Value – Was This Box Worth It?
The Cost: $40
Cost Breakdown: 
Tower28: $20 → $6.67
Too Faced: $16 → $5.33
Rare Beauty: $14 → $4.67
Make Up For Ever: $22 → $7.34
Anastasia Beverly Hills: $22 → $7.34
Fenty Beauty: $19 → $6.34
REFY: $8.92 → $2.97
This set promises a $116 value and my math adds up to $121.92. That means this set is worth three times the cost of the box!
Keep track of your subscriptions by adding this box to your subscription list or wishlist!
Key Takeaways
This was another lovely set from Sephora- I adore that it came with four full-sized products and two travel-sized products- the only product that came in a size not currently available for sale was the REFY highlighter. This set definitely pushed me a tiny bit out of my makeup comfort zone, but I am really happy it did because I think the look this set helps create is quite pretty. The value is great, too- it's a few dollars above the promised value of $116, and it has a high personal value to me because I have already been using multiple products in the set multiple times. If you're on the fence about giving this set a try, I think it's worth it- but it may stay in stock long enough for you to be able to grab it at a discount when Sephora has their VIB sale later this year!
Other Things You Should Know
Can you still get this box if you order today? Yes, this is still available.
---
What do you think of the Sephora Favorites: Gleamy Dreamy All-Over Face Makeup Set? What makeup product would you like to see in a future Sephora Favorite's set?