CURATEUR
269 Ratings | 78 Reviews
CURATEUR has a new introductory Welcome Box to choose from when you become a member: The Golden Hour Box. Like all of CURATEUR's Welcome Boxes, this one has a list price of $34.99.
Get a taste of Rachel Zoe's world of curated style with one of our introductory boxes! Each featuring 3 pieces that are sure to elevate your style, we're letting you choose your own adventure this season!
COUPON: Use code WELCOME10 at checkout and save $10 on your Welcome Box for a cost of just $25!
Here's what you'll find inside CURATEUR 's Golden Hour Welcome Box:
ANNA NEW YORK Amethyst Ombre Wine Glasses, set of 2 (
$59 value)
Add a touch of glamour to your next happy hour with these effortlessly elegant wine glasses topped with a 24k gold rim. 
TALIANNA Lilypad Catchall Tray (
$75 value)
Whether you decide to add a splash of style to your work from home setup, or need to spice up your bedside table—look no further than the TALIANNA Catchall Tray. Perfect for showcasing your jewels or keeping your favorite beauty products nearby.
For your last Golden Hour Welcome Box selection, you can choose between the following two jewelry items:
AMBER SCEATS Reese Earrings (
$229 value)
Crafted with 24k gold-plating, the Reese Earrings ooze luxury with its textured and sculptural finish. Perfect for adding a touch of decadence to your everyday style. 
AMBER SCEATS Emery Cuff (
$169 value)
Timeless enough to wear year-round, this gold-textured cuff is adjustable for any wrist size and any look. Loosen the cuff and stack amongst other bracelets for a bangled-look or fasten it tighter around your wrist and wear it alone. 
The other Welcome Box currently on offer is the Glow Getter Box, which has been available for some time now: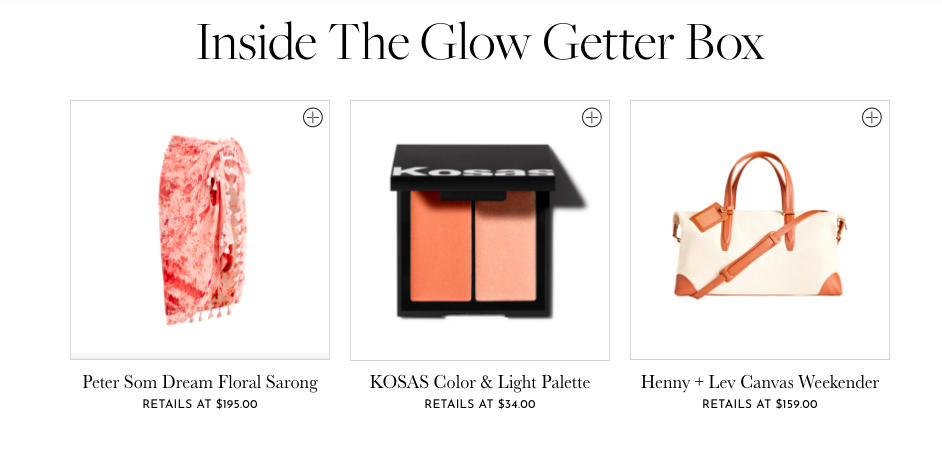 Once you begin your quarterly subscription with your Welcome Box, the team at CURATEUR hand-selects five luxe products from cult-favorite and up-and-coming brands that deliver directly to your doorstep every season for $99.99 per seasonal box. The best part? All five items together retail at a minimum of $400 (and up)!
From beauty to wearable fashion and everything in between, each piece is Rachel Zoe-approved and curated just for you.
Thinking of getting this box? See our full review of CURATEUR'S Spring 2021 curation here.
Check out all of our CURATEUR reviews to learn more about this quarterly subscription box, or click here to find out why we named CURATEUR one of our best subscription boxes of 2021.
Are you going to shop this deal?