Vegancuts Beauty Box
40 Ratings | 8 Reviews
The Vegancuts Beauty Box is a monthly beauty and makeup subscription box. All of their products are vegan (and they tend to be natural, too). They also typically include a nice mix of full-size and sample beauty items. Vegancuts also offers a monthly Snack Box and quarterly Makeup Box.
This review is of the $24.95 a month Vegancuts Beauty Box.
Vegancuts sends a single package to subscribers who get both the beauty and snack boxes. The beauty items are separated into a little bag, which looks like more of an environmentally-friendly material than the old bags. (If you do not get the snack box, I don't think you get the little bag.)
FYI, COVID-19 Update: Learn more about how Vegancuts is focusing on safety and supporting the community right here.
This box was sent to us at no cost for review. (Check out the review process post to learn more about how we review boxes.)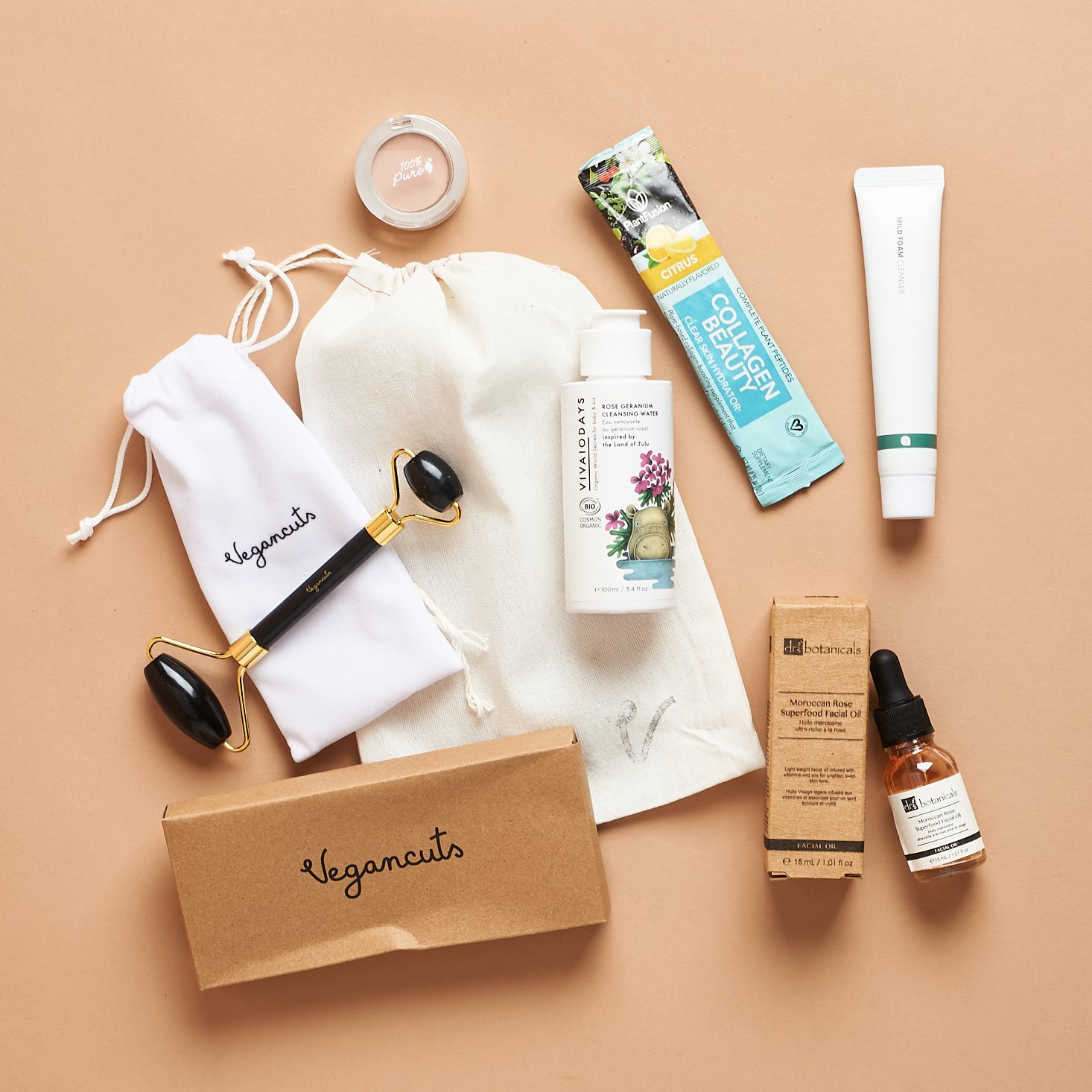 About the Vegancuts Beauty Box
The Subscription Box: Vegancuts Beauty Box
The Cost: $24.95 on a month-to-month basis. Save with 6- and 12-month subscriptions.
ACTIVE DEAL: $40 off. No coupon needed - just use this link.
The Products: Each box contains a mix of 4-7 full and sample size cruelty-free beauty must-haves, ranging from cosmetics to skincare to haircare. All items are void of toxic ingredients and animal byproducts.
Ships to: The U.S. for free, Canada for $6.95, and worldwide for $14.95.
Vegancuts Beauty Box December 2020 Review
The Vegancuts Beauty Box usually contains a variety of hair care, skincare, and bath and body products. There's often one makeup product, as well, although there's been less makeup lately.
The box was missing an information card this month.
On to the items:
Obsidian Roller
I only know this is obsidian because it was a spoiler item this month since there was no information card with this month's box. (Granted, there are a limited number of black stones in existence and it wouldn't be something like onyx, which is usually dyed, because you wouldn't want to expose something with dyes to skincare products!) Anyway, this seems like nice enough quality – it's put together well and the rollers on both ends roll freely. I have just never really been a person who wants to use tools like this on the face (I also can't stand Beautyblenders). I know there are some people who swear by these and it is my understanding that there are some benefits, including temporary de-puffing from the coldness of the stone, as well as the general benefits of any facial massage.
As with any other facial tool, do remember to clean this after each use – a lot of natural, preservative-free skincare items are great nutrient sources for bacteria. Although obsidian is less porous than some other stones (bacteria thrive in pores), better safe than sorry. Here is an article I found that I believe discusses stone rollers in a fairly neutral manner. (I have opted not to list a value because you can find similar items ranging from $7 on Amazon to $45 elsewhere.)
Dr. Botanicals Moroccan Rose Superfood Facial Oil (1.01 fl oz) – Retail Value $39
This is the product with which I tested the obsidian roller. It's nice to receive a product to go with the roller in case the roller is a product type that's not part of your typical beauty routine. I have very oily skin but I find that I can use facial oils if I exfoliate really well every day, and they work a little better for me in winter when my face dries out from puppy walks in the wind. This has quite a few moisturizing ingredients, a lot of which are chemically modified fatty acids (like PEGylated almond oil esters, which means polyethylene glycol is chemically added to almond oil components), so this has a texture that is not quite the same as a plain oil, so it's worth a try if you don't like other oils. There are some other interesting ingredients like hydrolyzed pearl (a common ingredient in Asian beauty products although whether it is hydrolyzed enough to penetrate the skin is iffy), seabuckthorn fruit oil (a great source of antioxidants), rose oil, shea butter, and aloe. This does also contain red 33, which is a synthetic dye produced from petroleum or coal tar. As of yet, it has not irritated my skin, which is fairly sensitive at the moment.
100% Pure Fruit Pigmented Eyeshadow in "Flax Seed" (0.07 oz) – Retail Value $20
This is the first makeup item we have received in a while, which is OK by me as I haven't worn makeup since March (have been working from home). If you are wondering why you don't see a swatch, it's because I couldn't get it to show up on my arm in a photo – this is a very similar color to my skin. That's not a bad thing, I definitely like having neutral eyeshadows around. They can be good for highlights and also for covering up a little when I've gone too intense with bright color and want to tone it down, which is something I do more often than I'd like to admit (at least when I am wearing makeup on a regular basis) and it's important to replace makeup products that have been open for a while to avoid getting infections, so a new one was needed. I also like this brand in particular because it doesn't irritate my eyes.
The Vegan Glow Mild Foam Cleanser (1 fl oz) – Estimated Value $4.71 (buy 3.4 fl oz for $16)
This is a new brand for me and I do like discovering new brands. Cleansers make up the one category of skincare item I've been really consistent about using during the pandemic (i.e. when I am basically not leaving my house except for grocery shopping and vet or doctor appointments). Do be careful opening this, as a bunch shot out when I removed the foil seal. (I was probably squeezing the tube without realizing it…) This is free of fragrances and silicones, which is great. Although silicones work for some people, they are not compatible with my skin. This was quite gentle but also effective and is really rather affordable as vegan, natural cleansers go.
Vivaiodays Rose Geranium Cleansing Water (3.4 fl oz) – Retail Value $16
This reminds me mostly of micellar waters or cleansing waters, which I definitely like to keep around for times when I am wearing makeup, as even though I try to cleanse thoroughly, sometimes I don't get quite everything scrubbed off and look up from washing my face to find mascara streaks or something else left behind. This is so gentle you can just put it on a cotton ball and wipe – even close to your eyes – to remove stubborn traces of makeup. You don't have to really rinse it off afterward, so it may be a good product for when you are on the go, especially as an alternative to facial mists, if you don't like spraying yourself in the face. This has bitter orange peel extract and lactic acid, both of which have mild antibacterial properties and is fragrance-free. Rose geranium extract, another ingredient, is said to be anti-inflammatory. I can't comment on the effectiveness in those areas as I wasn't having those particular problems the couple of days I tried this, but I don't have any other cleansing water at the moment, so this was handy to receive.
Plantfusion Collagen Beauty Clear Skin Hydrator, Citrus (1 serving) – Buy 18 Servings for $31.99 (found here for $23.99)
Collagen-building supplements seem quite popular in vegan food and beauty products these days. This is one you are supposed to just mix up and drink. I tried, but the natural sweeteners are just not my thing. This has stevia, lucuma, and yacon, and I am not particularly a fan of any of these flavors, especially in drinks (they tend to work better for me in foods). Reading past the marketing language to the actual ingredients list, this appears to have a lot of plant extracts with antioxidants (including grapeseed, white tea, and amla, also known as Indian gooseberry) as well some mung bean protein (which includes the amino acid proline that is important in collagen). If you like the flavor this certainly may supply some amino acids that are hard to come by in a vegan or vegetarian diet. If you are not a fan of the flavor, the Complete Plant Collagen Builder from the same brand is a little more to my taste and comes in flavors that work with my morning smoothies.
Verdict: I was unable to calculate a total value for this month's Vegancuts Beauty Box because the obsidian roller was not available for sale anywhere. The facial oil, cleanser, cleansing water, and eyeshadow together totaled about $79.71 so I can buy the "over $100" value claim from the spoiler post for this month. Although facial rollers aren't really my thing, I will probably try to use it a few more times and see if I can find a way to make it really work for me, and I appreciate receiving an oil to go with it. Cleansers and neutral eyeshadows are always useful, especially because we don't often get either with this box, so I am not overloaded with them at the moment. I discovered a few new brands as well, which is always fun.
To Wrap Up:
Can you still get this box if you sign up today? Yes! The month in which you sign up is the box you'll receive.

ACTIVE DEAL: $40 off. No coupon needed - just use this link.
Value Breakdown: At $24.95 for the box, you are paying approximately $4.16 per item, or if you count the collagen-building supplement as a bonus, about $5 per item.
Check out all of our Vegancuts Beauty Box reviews and the best beauty subscription boxes of 2020!
Keep Track of Your Subscriptions: Add this box to your subscription list or wishlist!
What do you think of the December 2020 Vegancuts Beauty Box?