Geek Fuel
36 Ratings | 5 Reviews
Geek Fuel EXP is a monthly subscription box filled with fandom tees, figures, comics, and goodies.
FYI: Geek Fuel is now a monthly subscription!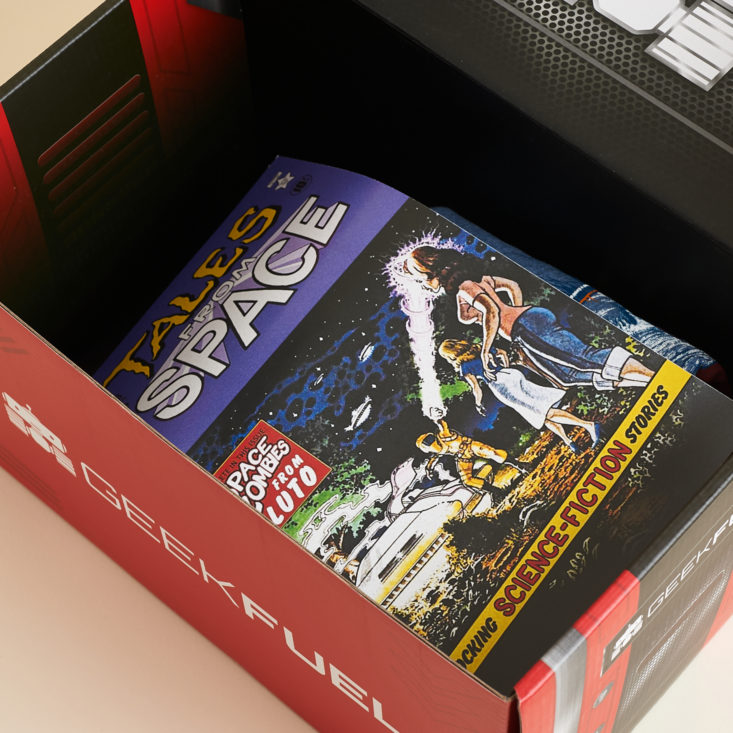 This box was sent to us at no cost for review. (Check out the review process post to learn more about how we review boxes.)
About Geek Fuel
The Subscription Box: Geek Fuel
The Cost: $29 a month, save with longer subscriptions.
The Products: Games, toys, collectibles, and other exclusive gear.
Ships to: The US for free!
Geek Fuel July 2020 Review
Included was an info card with details about each item.
Included was a Geek Fuel sticker that was designed to look like the Stranger Things logo.
JAWS Amity Island Tee
I like this shirt! It is totally summer (and Shark Week!) appropriate and the heathered blue is very handsome. I like the retro styling and the 1975 year on it, too.
Back to the Future Delorean Die-Cast Trio - Retail Value $14.90
I grew up watching Back to the Future pretty often and I really like smaller scale models so this trio of Deloreans is very cool in my book. These little die-cast cars are slightly different depending on the movie they were styled after.
Stranger Things Bandana Scarf
I tend to like very subtle nods to shows and games and this scarf is covered in Christmas lights, 20 sided dice, milkshakes, baseball bats, and other iconic elements of the Stranger Things series. You can wear it as you would a normal bandana, or use it as a face covering (though, maybe aim for something more protective!).
Harry Potter Hogwarts Notecard Set - Retail Value $12.99
Our last item is a set of 1o notecards beautifully embossed with the Hogwarts crest. These are actually super nice but feel very random in this box, IMO. Still, they will be nice to keep around to send quick notes to my Slytherin and Ravenclaw friends.
Verdict: Geek Fuel is feeling a wee bit random. I get it, geek interests have a very wide span across comics, movies, video games, and more. With only 4 items inside and such a wide subject matter though, it can be really easy to only like 1 or 2 items inside your box. The value is there for this $29 box, but I just wasn't blown away by anything in here. I am also a little disappointed that at least 2 of the items weren't box exclusives.
To Wrap Up:
Can you still get this box if you sign up today? You'll likely start with the August box.
Value Breakdown: At $29 per month + free shipping, each of these 4 items has an average cost of $7.25 (I did not include the sticker in this breakdown).
Check out all of our Geek Fuel reviews and all of our Geeky Subscription Boxes in the Subscription Box List.
Keep Track of Your Subscriptions: Add this box to your subscription list or wishlist!
What did you think about the new monthly Geek Fuel?