Beauteque Mask Maven
8 Ratings | 1 Reviews
Beauteque Mask Maven is a monthly K-beauty subscription box dedicated to masks. If you love trying new Korean sheet masks, this subscription is for you!
FYI: This box has had significant shipping delays.
My Subscription Addiction paid for this box. (Check out the review process post to learn more about how we review boxes.)
About Beauteque Mask Maven
The Subscription Box: Beauteque Mask Maven
The Cost: $18.95 month-to-month ($15 subscription + $3.95 US shipping). Save with 6- and 12-month subscriptions.
ACTIVE DEAL: Save 10% off of your subscription
CODE: SHEETFACED
The Products: 9 masks of all kinds, straight from Korea and Taiwan. Most are facial sheet masks, but you will sometimes see a hair mask, hand mask, or lip mask, too.
Ships to: The US, Canada, Europe, Australia, and parts of Asia (see international shipping costs during checkout)
Beauteque Mask Maven July 2020 Review
The number of sheet masks out there for sale must be incredibly large. Mask Maven almost never sends repeat items, and I discover something new every month:
The box came with this information card. This month's theme was "Rise and Shine."
On to the items: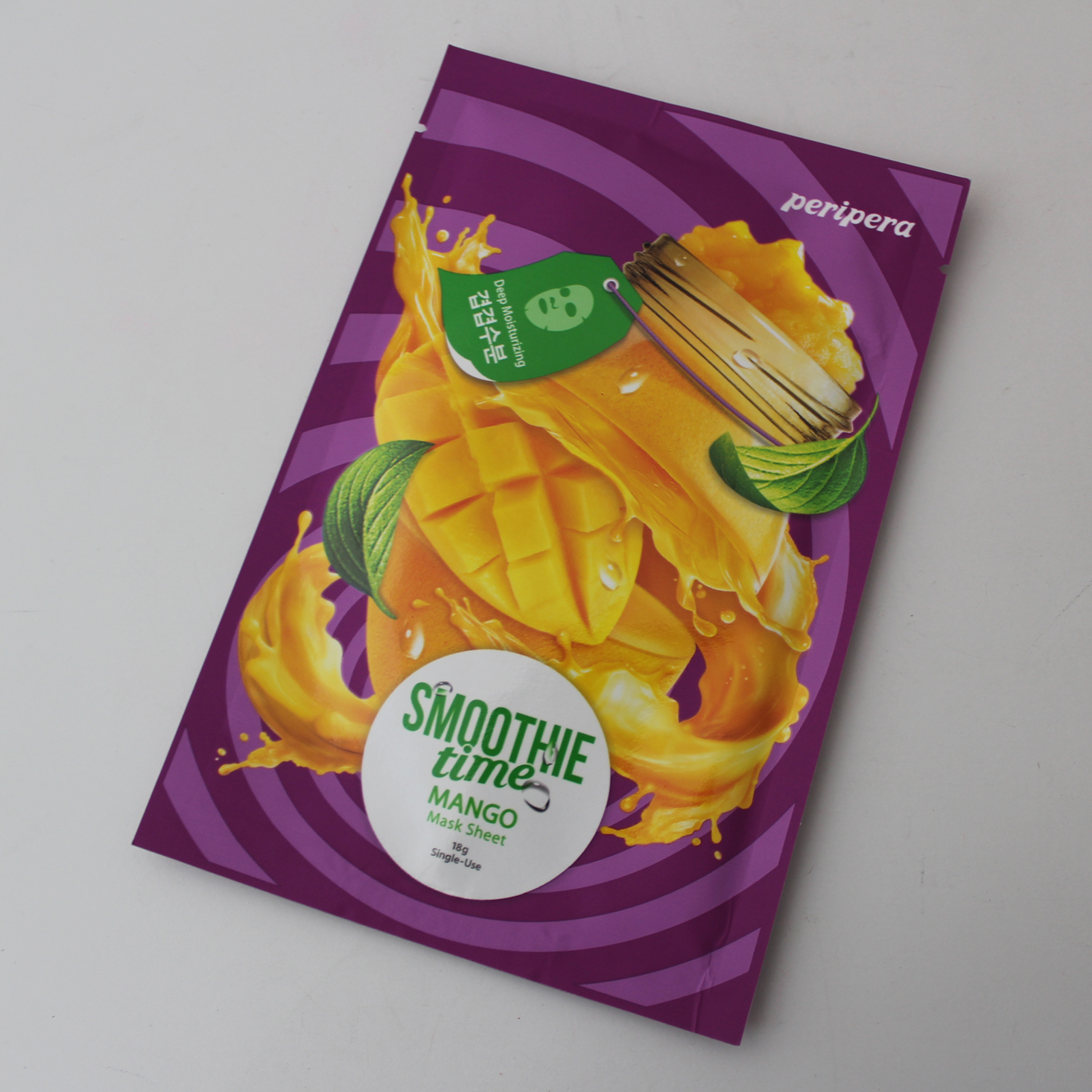 Peripera Smoothie Time Mango Mask - Retail Value $0.82 (found here for $0.53)
I can't find a lot of information about ingredients for this one, although it is listed as being for "deep moisturizing." I did find it quite moisturizing; the sheet was pretty flexible to conform to the face well and also very, very drippy, like all over my shirt (but then I wasn't going anywhere after using so I guess that's OK). My face was not particularly oily at the end of the day after using this, which was nice for a change. Mango will have some vitamins and antioxidants, which may help prevent free radical damage. This one did have quite the fruity scent.
Peripera Smoothie Time Pomegranate Mask - Retail Value $0.82 (found here for $0.53)
This one was pretty similar to the one above, also highly scented and moisturizing. This one is listed as being for "glowing" although I don't feel I can adequately assess that after only one use. Pomegranate will have a slightly different set of antioxidants and vitamins but with essentially the same end result. If you are looking for a general antioxidant/moisturizing mask, these both are pretty affordable at the moment. For what it's worth, you'll often get a couple of different masks from the same product line in this subscription, which I think is a good way to try out some related products in case something about one scent doesn't work for you, as the others may not be a problem.
The Saem Natural Aloe Mask - Retail Value $4.90
One reason not to put too much stock into price comparisons for K-beauty products is that they vary a lot depending on whether you are ordering 1 or 10, shipping from the US or Korea, etc. Like, you have to pay almost 10 times the cost of the previous one to purchase this one. This has aloe, which is very moisturizing (in a non-sticky way, for me). The mask sheet is free from synthetic fibers, which is nice as that means it should be biodegradable. (I do worry about waste, sometimes, with sheet masks. Still looking for a good way to recycle the packaging.) I think this one has undergone a packaging change at some point because the images I found online don't match what I received, though the name and brand are the same.
I only found this for sale from Malaysia, in Malaysian currency, so I have not provided a price. This is a new brand for me as well as a new product line. This mask was pretty heavily scented and may be worth using while in a hot bath if you are trying to clear up some nasal congestion. Seriously! This has arbutin, which is supposed to reduce hyperpigmentation, although I'm not sure I buy that. It is probably small enough to penetrate the skin, the structure is not all that large. Eucalyptus is also supposed to help with breakouts. My skin was in pretty good shape when I used this so I can't say whether that's true or not, but it is something I hadn't heard before, so I guess I learned something.
I also couldn't find a US source for this one. (Although Beauteque has a shop, they don't always send masks that are in their shop.) This one was quite similar to the one above, although the scent was different, of course. Honey has a lot of minerals and antioxidants and is also anti-inflammatory and antimicrobial, so this is another good one to use if you have breakouts, assuming you can find it for sale somewhere!
JM Solution Mama Pureness Firming Up Mask - Estimated Value $1.74 (Buy 10 masks for $17.39, found here for $7.46)
Although I did find an ingredients list for this one, it involves some very bad machine translation and/or optical character recognition, so I don't know how much I trust it. However, I believe the serum for this one does include collagen, which is a large protein molecule that holds on to a lot of water near the surface of your skin, although it is most likely too big to penetrate the skin. At any rate, that should help with the appearance of fine lines, which kind of translates to firmness in a way. This also has Brussels sprout extract, which should have some antioxidants as well as sulfur compounds (may be antibacterial and/or otherwise help with breakouts) and allantoin which should help with smoothness. I do not remember much in the way of a scent for this one, but did find it moisturizing.
Cos.W My Real Skin Egg White Mask - Retail Value $1.99
This is supposed to help tighten pores and I guess I noticed that a little after using it, at least on my nose. This is also supposed to help strengthen the skin's barrier function and it kind of makes sense that egg white would do that as it is full of nutrients, including protein/amino acids. This also has sodium hyaluronate, a carbohydrate polymer that holds on to moisture near the surface of the skin (and it's true that moisturized skin is a better barrier than super dry skin). This also has lavender extract, which is calming, although this one didn't have a scent I readily identified with any of the ingredients listed.
Cos.W My Real Skin Coffee Mask - Retail Value $1.99
I'm kind of glad this one didn't smell like coffee, which is a scent I don't care for. It reminded me more of patchouli, although that is not an ingredient. (But there are some other plant extracts I'm not familiar with and perhaps one or more of those combine to give the fragrance.) Coffee has caffeine, of course, which can help with blood flow to the skin. This one also has plenty of moisturizers including sodium hyaluronate and trehalose, lavender extract, and propolis, a bee-related ingredient that has some of the same properties as honey. (This is probably a good time to mention that most K-beauty items should not be assumed to be vegan. Collagen can never be vegan and a lot of the hyaluronic acid used in industry comes as a byproduct of poultry processing.)
NOHJ Milky Glow Nourishing Mask - Retail Value $2.99
This one has "milky" in the name because the serum isn't clear, but more of a translucent, milky white. This has lemon extract, which has lots of vitamins and antioxidants, and milk extract, which has protein as well as minerals (think calcium!). This also has aloe, which is moisturizing, and actually quite a lot of other fruit extracts including apple, blueberry, and kiwi, which will have slightly different sets of antioxidants. It also has niacinamide, which can help reduce redness. This is a good one to cover quite a few bases although it's a bit pricy for everyday use (unless you can find a discount on a whole box).
Verdict: I couldn't calculate a total value for the July 2020 Beauteque Mask Maven because not all the items were on sale from reputable, US-based sources. However, there were 9 masks across a variety of price ranges (when I could find prices), and that's pretty standard for this subscription. This month had more products that were strongly scented than past months, but none of the scented masks irritated my skin. As always, the packaging was fun, ranging from a little silly (JM Solution mask) to brightly-colored (Peripera masks) and everything in between. Many of the items were new for me, too, even if I was already familiar with some of the brands.
To Wrap Up:
Can you still get this box if you sign up today? No, this was the July package. You have to sign up by the 15th to get a box for the month, so your first box would probably be August's box, arriving in early September.
ACTIVE DEAL: Save 10% off of your subscription
CODE: SHEETFACED
Value Breakdown: At $18.95 for this box, you are paying approximately $2.11 per mask.
Check out all of our past Mask Maven reviews and the best skincare boxes of 2020 as voted by MSA readers!
Keep Track of Your Subscriptions: Add this box to your subscription list or wishlist!
What did you think of the July 2020 Beauteque Mask Maven? Do you get any K-Beauty or Asian Beauty subscriptions?